There's almost nothing I love more than making and discovering new cheese ball recipes, especially when I'm entertaining.
They never disappoint a crowd, and they always disappear fast! That's why I like to keep plenty of options in my back pocket.
Want to save this recipe? Enter your email below and we'll send the recipe straight to your inbox!
When I tell you that I have dozens upon dozens of cheese ball recipes stored away in my files, I'm not exaggerating. I'm a cheese ball-aholic, if such a thing exists.
This list of 20 cheese ball recipes contains some of my all-time favorites, and boy, was it hard to narrow it down to just 20!
20 Party-Ready Cheese Ball Recipes You'll Love
One of the best things about cheese balls is that they blend contrasting flavors in a complimentary way.
With this one, you get the sweetness and tanginess of crushed pineapples and cream cheese, the nuttiness of pecans, and the savory earthiness of garlic and onions.
It seems like it shouldn't work, but it does!
Bacon Ranch Cheese Ball Recipe
Bacon and ranch always pair well together.
They'll taste even better when you add in some Swiss, sharp cheddar, and cream cheeses, Greek yogurt, and parsley.
This cheese ball mixes an inner smooth and creamy consistency with the crunchiness of bacon and has plenty of salty yumminess to tickle your tastebuds.
Mini-Cheese Ball Bites
If you're looking for a less messy, more individualized way to serve a cheese ball this holiday season, use these single-serving mini-cheese ball bites.
Each one has a sweet and herb-flavored center made from cream cheese, cheddar, fruit, and herbs.
Then, you'll roll some in crushed nuts, some in bacon, and some in both!
Stick a salty pretzel stick in the middle of each for ease of grasping, and you'll have a tiny tray of tantalizing treats everyone will love.
Snowman Cheese Ball
All you'll need is cream cheese, sharp cheddar, ranch seasoning, shredded jack cheese, a baby carrot, and whole black peppercorns (for the eyes, mouth, and buttons).
Despite how cute and creative he looks, it only takes 15 minutes to make him. Just be sure you make it at least 4 hours before serving it to give it time to set.
Dried Beef Cheese Ball
If you're not a fan of crunchy cheese balls, this smooth and creamy dried beef cheese ball could be the ideal choice for you.
It has plenty of protein, a bit of kick from the Worcestershire sauce, and a delightful saltiness that'll have you drinking more water than usual.
*Note: The dried beef in this one gives it plenty of salt already, so taste it before you add more. Be sure you use garlic powder instead of garlic salt, or you might get it too salty to eat.
Cranberry Pecan Cheeseball
This cheese ball is bright and tangy, but the pecans add warmth and nuttiness that helps tone down some of the zestiest edges.
It's also beautiful and perfect for the holiday season.
Smoked Cheese Ball
Whether you're looking for something new and exciting for game day or need an appetizer before a big summer BBQ, the smoked cheese ball is a safe bet.
It has a deep, smoky flavor that goes beyond the traditional smoked gouda flavor and into something else entirely (thanks to the Liquid Smoke).
The pecans complement the smokiness, making this a very earthy cheese ball that wouldn't be out of place on a rustic farm table in the 1800s.
Turkey Cheese Ball
You can use any cheese ball on this list – or buy a pre-made one – to make this turkey cheese ball because the only "turkey" in it is the one you'll make by decorating it.
Any cheese ball will work. You'll just need pretzels for tail feathers, edible candy eyes, and a piece of candy corn for the beak.
He's just as cute as the snowman one up above.
Disclaimer: No turkeys were harmed in the making of this cheese ball.
Greek Cheese Ball
This cheese ball is for anyone who loves Greek food – hummus, gyros, moussaka, etc.
You'll pack a wallop of flavor into this small ball.
For example, besides the other ingredients, you'll add Kalamata olives, bell peppers, feta cheese, garlic, dried dill, and more.
Those are all robust flavors, and you'll taste every one of them.
Pair this with plain crackers, pita bread, or your favorite veggies for a tangy, flavorful appetizer.
Spinach Artichoke Cheese Ball
This is a decadent, delicious spinach artichoke dip taken to a whole new level as a cheese ball.
The center is still rich and creamy, but the outside has a bit of a crunch.
That's because you'll use butter, Panko bread crumbs, parsley, red pepper, and parmesan cheese for the coating. The inside is just as flavorful.
For that part, you'll need cream cheese, buttermilk ranch dip mix, mayo, artichoke hearts, frozen spinach, red pepper, mozzarella, and parmesan.
It's spinach artichoke dip, but better.
Blue Cheese Cheese Ball
Not everyone loves blue cheese, but if you're one of those who do, this cheese ball will be a real hit in your house.
The earthy, umami flavors of onions, celery, pecans, and parsley offset the rich zestiness of sharp cheddar and blue cheese.
The Worcestershire sauce adds another pop of loud flavor that brings additional depth to the appetizer.
Dill Pickle Cheese Ball
Although it has only five ingredients, this cheese ball, too, is zingy and zesty.
Of course, you can't really mix cream cheese, garlic, Worcestershire sauce, dill pickle relish, and dill and expect it not to be zingy and zesty.
It's delicious, though, as long as you like dill.
Port Wine Cheese Ball
If you're looking for something a bit milder, this port wine cheese ball might be more your style.
It's salty and savory and has plenty of nuts and just a hint of spiciness.
Because of the complementary colors used in the ball, it's also one of the prettier options on the list, and it isn't even trying to be.
Caramel Apple Cheese Ball
When it comes to cheese balls, my favorites are always those that have the sharpest flavors.
However, now and then, even I get in the mood for something sweeter.
This caramel apple cheese ball is a delightful fall treat.
It combines cream cheese, walnuts, sharp cheddar, green apples, caramel sauce, and nutmeg for something that's not too sweet but just sweet enough.
Serve it with crackers, more apple slices, pretzels, or whatever else you like. It'll wow everyone who tries it.
Pimento Cheese Ball
This is good, old-fashioned pimento cheese, but the toasted pecans give it a unique flavor that's different from what you'd get if you ate it on bread.
As a pretty avid pimento cheese lover, I prefer this cheese ball on crackers to pimento cheese sandwiches (though I love those, as well, especially with a cup of hot chili).
Taco Cheese Ball Recipe
This 10-minute cheese ball requires only five ingredients: shredded Mexican cheese blend, cream cheese, taco seasoning, fresh cilantro, and pecans for the topping.
Despite being so simple, it has a full-bodied Mexican flavor that'll make you think you're visiting your favorite Mexican restaurant.
If you don't mind making the ball a bit less healthy, you can substitute crumbled tortilla chips for the topping instead of the pecans.
I do this with the colored tortilla chips for Cinco de Mayo.
Pumpkin Cheese Ball
Like the turkey cheese ball above, this pumpkin cheese ball doesn't contain any actual pumpkin.
Instead, you'll use creative shaping, some orange Doritos, three rubber bands, a baby pickle, and leaves to make it look like a pumpkin.
In reality, it's a super cheesy, somewhat smoky, and heavily ranch-flavored ball of yumminess.
It'll be a massive hit at your fall celebrations, and not just because of how it looks.
Walnut Pomegranate Cheese Ball
This gorgeous, six-ingredient cheese ball is sweetly tart and a little tangy, too.
It has a fresh, natural taste, but the feta and pomegranate arils add pops of bright flavor that'll delight your palate.
Jalapeno Popper Cheese Ball
This tangy, spicy appetizer has everything you could want in a jalapeno popper – cream cheese, sour cream, garlic, jalapenos, sharp cheddar, bacon, and onions.
There are even some pecans added for the coating.
Besides that, this cheese ball really does taste just like a jalapeno popper, so if you're a fan of those, you'll like this one, too.
Cheese Ball Antipasto
In the right light, this cheese ball looks like it's covered in sparkling gemstones.
Really, it's just green and black olives, sun-dried tomatoes, prosciutto, and salami.
The inside is just as bright, salty, and flavorful as well. If you're the kind of person who enjoys a good antipasto cheese platter, this cheese ball will be right up your alley.
The Best Cheese Ball in the World
I'm almost too embarrassed to tell you how often I make and eat this cheese ball. Let's just say it's usually more often than twice a month. (EEK!)
It's just so insanely good. It's exceptionally herb-flavored, and the dill gives it the most fantastic kick.
The almonds add crunch, and the green onions and Worcestershire round out the taste.
The only thing I do differently is substituting cayenne for the red pepper flakes because I like a bit more heat in my appetizers.
Even so, this has been and probably will always be my favorite cheese ball.
Cottage Cheese Dip is healthy, high in protein and tasty! This herby whipped cottage cheese pairs perfectly with veggies and crackers.
Why you'll love this recipe
Flavor = Ranch meets green goddess dressing. What a perfect combination!
It's an easy and impressive party app. I highly recommend it for Sunday night football with friends.
No one will guess this dip is made with cottage cheese! The cottage cheese is whipped in a food processor. There are no curds to be found or an unpleasant texture.
This high protein dip is made with minimal and simple ingredients.
Ingredients
cottage cheese – I used 4% small curd cottage cheese.
avocado
fresh herbs – I used chives, flat leaf parsley and dill.
fresh lemon juice
extra virgin olive oil – Good quality olive oil is key!
salt
ground black pepper
garlic powder
A complete list of ingredients, amounts and instructions is located on the recipe card below.
How to make Cottage Cheese Dip
Place cottage cheese, avocado, herbs, lemon juice and olive oil into your food processor.
Blend until whipped and creamy (about 60 – 90 seconds).
Remove the blade.
Add salt, pepper and garlic powder.
Combine with a spoon.
Place the dip into a bowl.
Garnish it with a drizzle of olive oil and chopped fresh herbs.
Serve with fresh cut vegetables and crackers.
Expert Tips
Use fresh herbs such as cilantro, chives, flat leaf parsley, dill, tarragon and basil.
Use good quality extra virgin olive oil. It makes such a difference!
Don't use bottled lemon juice for this recipe. Always use freshly squeezed.
What to serve with the dip
cucumbers
peppers
cherry tomatoes
carrots
celery
broccoli
snow peas
green beans
crackers
pita chips
potato chips
fresh bread
Storage directions
Store the dip in an airtight container in the fridge for about 3 days.
DID YOU TRY THIS RECIPE? LET ME KNOW BELOW WITH A COMMENT AND RATING! 🙂
YOUR 5 STAR RATINGS AND WONDERFUL COMMENTS REALLY SUPPORT MY BUSINESS AND HELP OTHER READERS AS WELL.
I CAN'T WAIT TO SEE YOUR RE-CREATIONS ON IG!
– I used 4% small curd cottage cheese.
– I used chives, flat leaf parsley and dill. Use extra for garnishing.
fresh lemon juice
extra virgin olive oil – Good quality olive oil is key! Use extra for garnishing.
ground black pepper
Place cottage cheese, avocado, herbs, lemon juice and olive oil into your food processor.
Place the dip into a bowl. Garnish it with a drizzle of olive oil and chopped fresh herbs. Serve with fresh cut vegetables and crackers.
Amount Per Serving
% Daily Value*
Saturated Fat 1g
Polyunsaturated Fat 0.5g
Monounsaturated Fat 3g
Vitamin A 295IU
Vitamin C 5mg
* Percent Daily Values are based on a 2000 calorie diet.
This nutrition information is an estimate and should not be taken as fact. The owner of this website is not liable for this estimation.
Tell me how it was!
Reader Interactions
These quark balls are quick, easy and always taste good! The main ingredient of this dessert is fresh cottage cheese – mixed with flour, some sugar and egg, these delicious quark balls are created. You can serve the Quarkkeulchen for breakfast, brunch or as a dessert.
Please review recipe:
500g cottage cheese
½ cup flour
1 egg
2 tbsp sugar
1 tbsp butter, melted
Salt, to taste
Utensils
bowl
spoon
knife
pan
spatula
Instructions
Put the cottage cheese in a bowl.
Mix well with the flour, egg, sugar and salt.
Cut crosswise into finger-sized pieces.
Roll the small cakes in flour.
Fry them in butter on both sides.
Serve the finished quark balls with sour cream or jam.
That could also be interesting
These keto cottage cheese broccoli balls are the ultimate healthy, low-carb snack or lunch recipe that will perfectly fit within your keto diet. They're a cheesy, moreish snack that is made up of cottage cheese, broccoli, mozzarella and seasonings. They're rolled in an almond flour and flaxseed meal mix and then baked until golden and crisp, and perfectly paired with tahini dip.
The cottage cheese makes them deliciously filling and provides a good dose of protein without adding too much additional fat. Definitely one of my favorite keto cottage cheese recipes!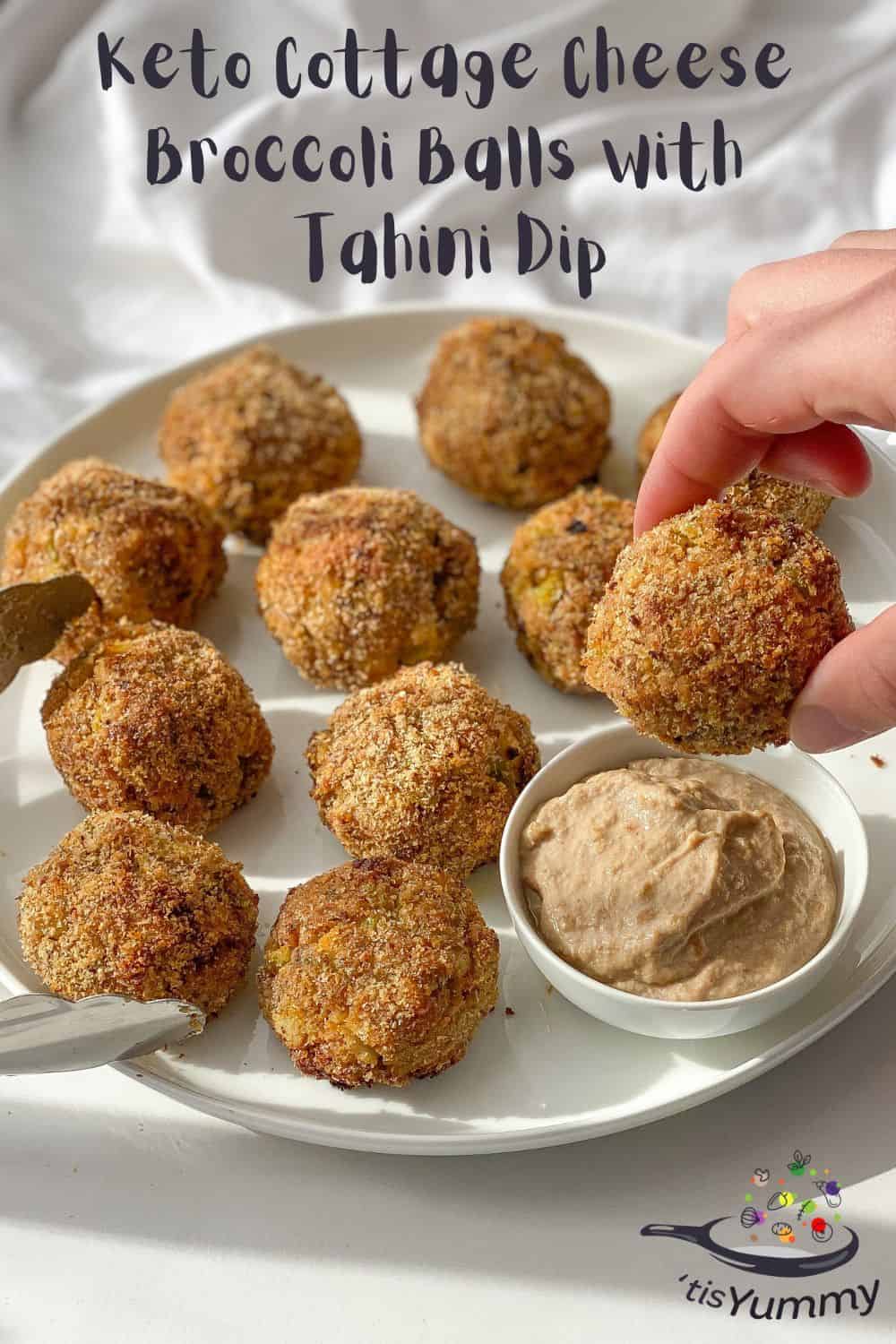 How many carbs are in these keto broccoli and cottage cheese balls?
Each broccoli and cheese ball has about 1.8g of net carbs. Keep them in an airtight container in the fridge for up to 3 days, and grab a couple out when you need a little pick me up. I pop them in the microwave for just 10 – 20 seconds, and they're absolutely delicious! I've made them for my nieces and nephews and they loved them – despite the broccoli content!
How do you make the coating properly?
The coating is make up of a mixture of almond flour and flaxseed meal. The coating will work best if the mixture is nice and fine, with a similar texture to sand, making it easy to coat the balls. If you find that your coating mixture is too coarse, you can simply blitz lightly in a food processor.
What's in the keto tahini dip?
The tahini dip is made up of tahini, lemon, garlic, salt and pepper, creating the perfect flavor balance. Add as little or as much water as you like to the dip to help you achieve your desired consistency.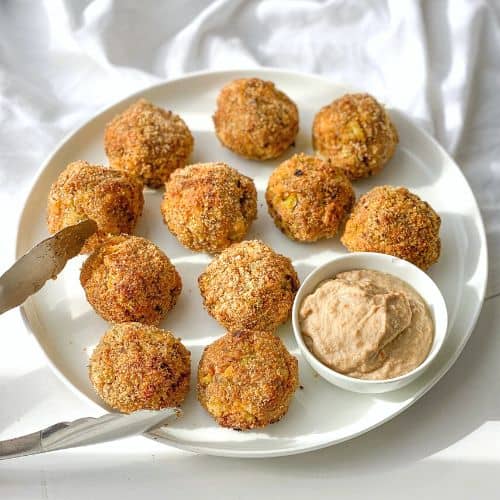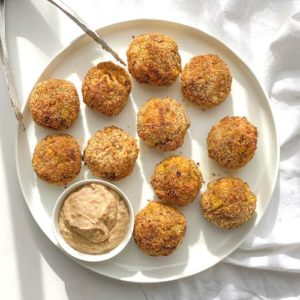 Deliciousy crunchy and high both fat and protein, these cottage cheese and broccoli balls make for a perfect afternoon snack. With only about 1.6g of net carbs and 4.5g of protein per ball, they're btoh yummy and filling!
For the cottage cheese balls
(cut into florets and drained / washed)
(4.5% fat is best)
Dried oregano powder
For the Tahini Dip
Salt & pepper to taste
(or enough to thin the dip down if needed)
Wash the broccoli florets and cook them in salted boiling water for 5-7 minutes. Once cooked, dip them in a bowl of cold water, this helps to retain the green colour.
Drain the excess water from the broccoli florets and chop them finely
In a bowl add finely chopped broccoli, grated cottage cheese, shredded mozzarella cheese, egg, garlic powder, salt, black pepper powder, paprika powder and dried oregano powder and mix well.
In another bowl, add the almond flour and flaxseed meal and mix them well
Divide the broccoli mixture into equal parts and keeping them between your palms roll each one of them them into round balls
Dip these broccoli cottage cheese balls into the almond flour and flaxseed meal mixture and roll them well so that the almond flour and flaxseed meal mixture gets evenly coated over the balls on all sides
Line a baking sheet over a roasting tray and evenly place the broccoli cottage cheese balls. Spray with olive oil spray and bake it for 20-25 minutes until golden and crisp.
Combine all the ingredients for the tahini dip and mix well. Serve the broccoli cottage cheese balls with the tahini dip.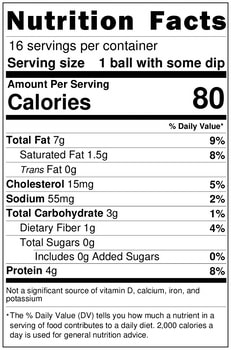 Hands down one of the easiest and yummiest recipes to serve at your next holiday party! This easy cheese ball recipe is always a huge hit!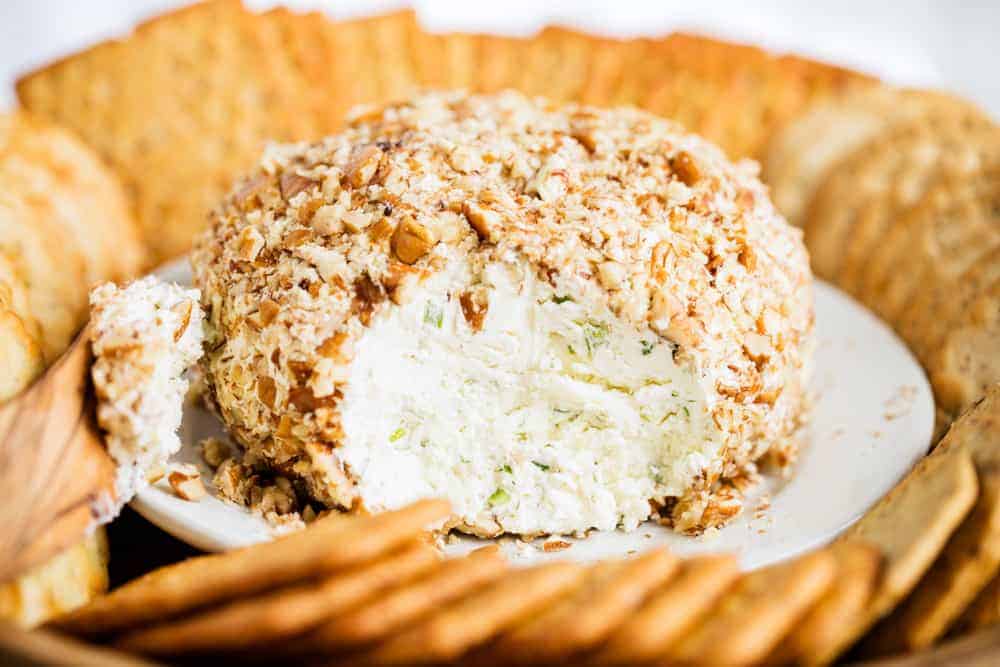 Perfect Party Appetizer
I'm always looking for easy appetizer recipes to make for get-togethers. This cream cheese ball is one of my favorites and is a true party staple. The classic version is always a hit, but a bacon ranch cheese ball or cranberry orange cheese ball are two other delicious recipes for cheese balls that also get rave reviews!
This recipe is SO easy to make and only takes 4 ingredients. Can't beat that. You can also make it the night before and I think it tastes even better the next day once the flavors and textures have had time to marry together. It makes the perfect Christmas or Thanksgiving appetizer.
Place it out with some crackers and a veggie tray at your next gathering along with a few other crowd favorites like pigs in a blanket, easy potato skins, homemade pretzel bites or buffalo chicken dip. The adults and kids all love it!
Find the full printable recipe with specific measurements below.
Cream cheese: You can't make a cream cheese ball without the cream cheese! It's the base of the recipe and what gives this appetizer it's taste and shape. Make sure to soften the cream cheese before mixing so that it's easier to work with.
Green onions: A bit more mild than a red or white onion. Chop them fine so that there's not too much onion in one bite!
Ranch dressing mix: The main flavor source for this easy cheese ball recipe. Look for the dry mix (not the liquid bottle). My favorite brand is Hidden Valley.
Dill: Adding fresh or dried dill is optional, although I highly recommend it. The flavor of the dill pairs perfectly with the cream cheese, ranch mix and green onions.
Additional Coatings for Cream Cheese Ball
If you don't want to use pecans, you can use any of the coating options below. You could even cut it in half and do two different versions.
Walnuts
Chopped pretzels
Sliced almonds
Chopped bacon
Crushed Chex cereal
Crushed crackers
Candied pecans
How to Make a Cheese Ball
Mix together ingredients. Mix the softened cream cheese, green onions, ranch dressing mix and fresh dill in a large bowl with an electric mixer until smooth.
Cover with plastic wrap and chill. Place on plastic wrap, cover and form the cream cheese mixture into a ball. Refrigerate for at least one hour.
Coat with pecans. Put pecans on a plate. Remove from plastic wrap and roll in pecans until well-coated.
Serve and enjoy! Place on a platter with crackers and serve.
5 star review
Everyone LOVED this! It was so easy to make. I will be making it again and again for parties!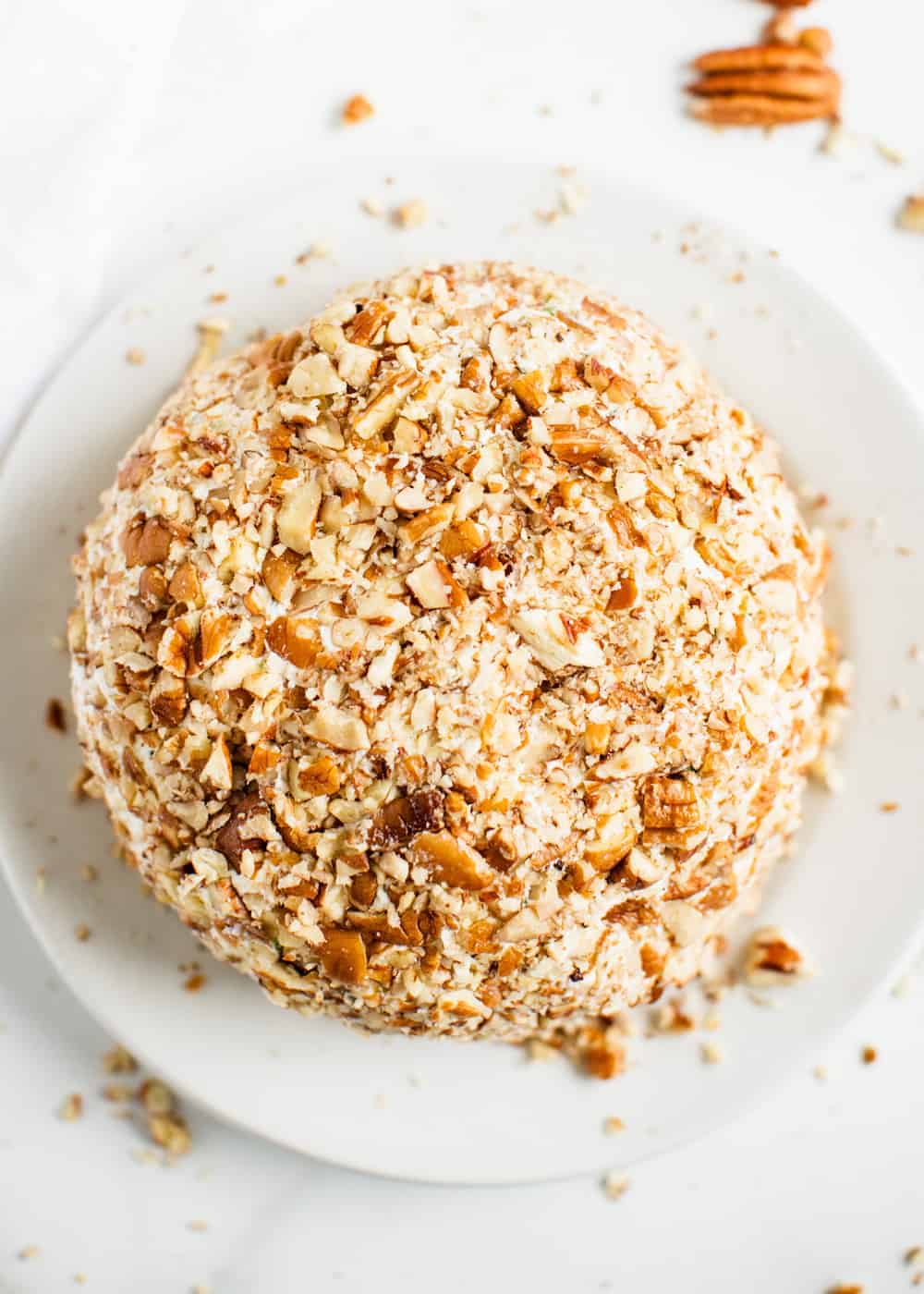 Make-Ahead Instructions
This recipe is great because it can be prepped the night beforehand as well! I honestly think it tastes better if made a day ahead because the flavors have time to marry together and taste extra delicious.
Use an electric mixer to mix all ingredients together (except pecans) until smooth.
Place mixture on top of saran wrap, cover and form into a ball.
Store in the fridge over night.
Before serving, roll in chopped pecans until well-coated.
Serve on a platter with crackers!
Serving Options
There are plenty of delicious serving options. Below are some of our favorites!
Crackers
Pretzels
Pita chips
Veggies (cucumbers, carrots, bell peppers, celery)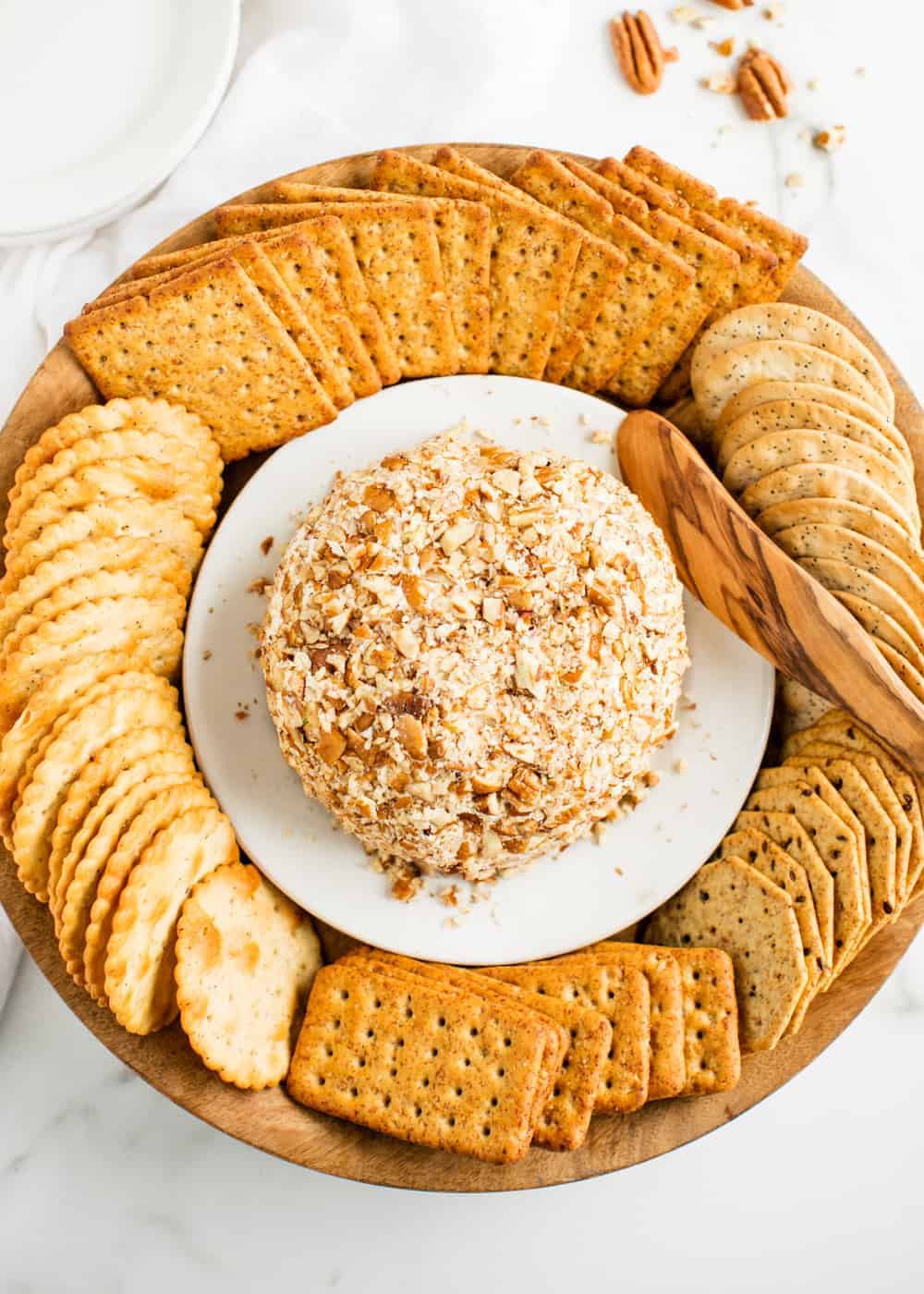 Recipe FAQs
How long can it sit out?
This cream cheese ball can sit out at room temperature for about 2 hours. Due to it's dairy content, it shouldn't sit out any longer for safe consumption.
How long does it last?
It will keep in the refrigerator for about 2 weeks, although I'm sure it will get eaten up before then since it's so delicious. 🙂 We love using the leftovers as a snack with fresh veggies.
Can I use this recipe to make a mini version?
Absolutely. Mini cheese ball bites are so fun! Mix the cream cheese mixture as instructed, then cover and chill in the fridge until firm. Shape into 1-inch balls, then roll into the chopped pecans.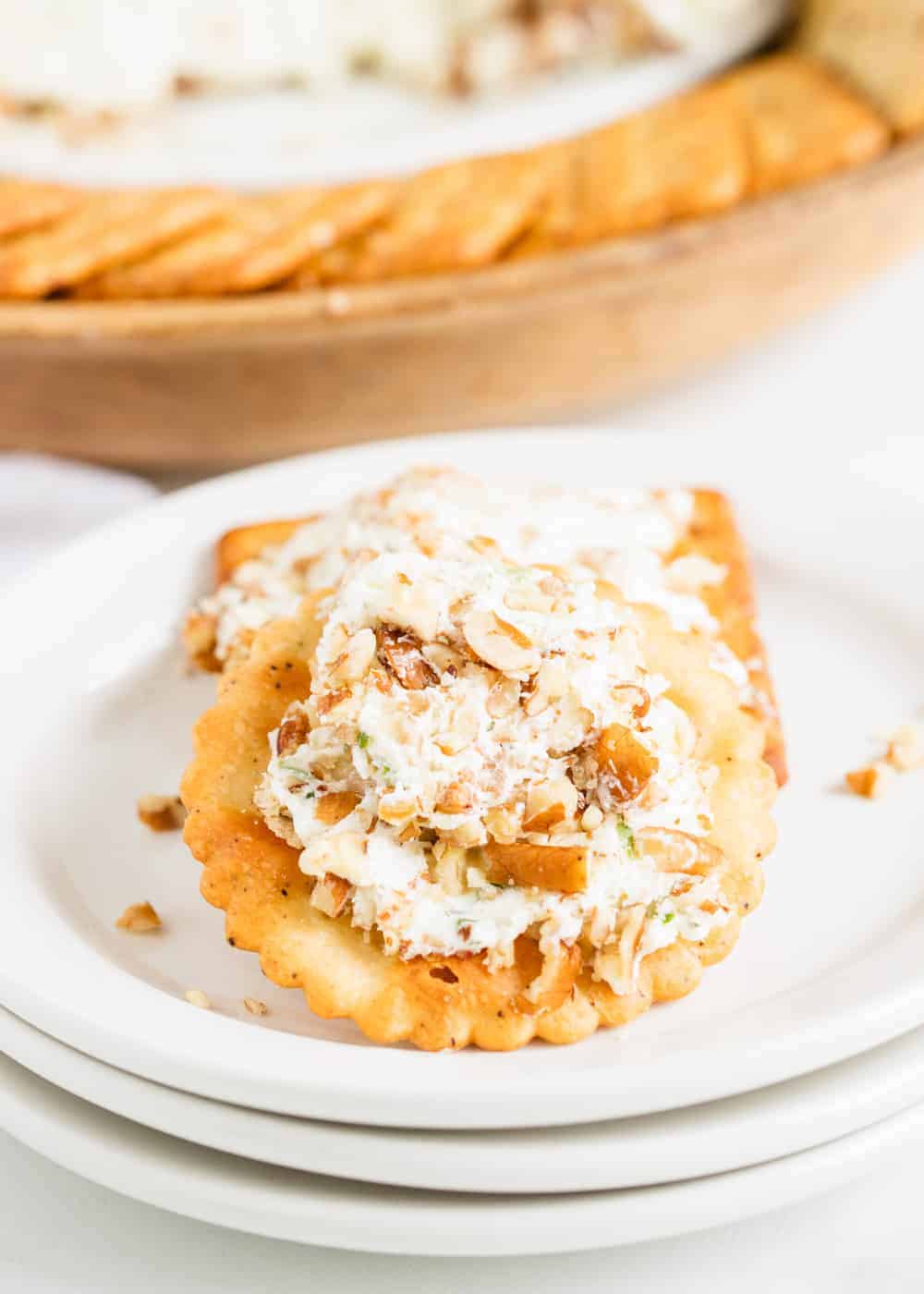 More Easy Appetizers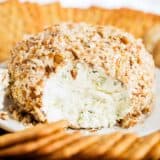 ↑ Click stars to rate now!
, chopped fine
ranch dressing dry mix (like Hidden Valley)
Favorite snack crackers or vegetables
Mix all ingredients except pecans with an electric mixer until smooth.
Place mixture on plastic wrap, cover and form into ball. Refrigerate for at least one hour.
Put pecans on a plate. Remove from plastic wrap and roll in pecans until well-coated.
Place on a platter with crackers and serve. Enjoy!
If you don't want to use nuts, you can use chopped bacon or crushed crackers instead (similar to my Chex crusted bacon cheese ball).
If you'd like more cheese, you can mix in 1 cup shredded sharp cheddar cheese with the cream cheese.
Nutrition provided is an estimate. It will vary based on specific ingredients used.
Did you make this recipe? Don't forget to give it a star rating below!