These easy mini tarts made with a store-bought pastry dough and your favorite jams or marmalades come together in 10 minutes! While these jam tarts are simple to make, the taste will only shine if you take care to use quality ingredients. A real hit to make with kids at holiday gatherings!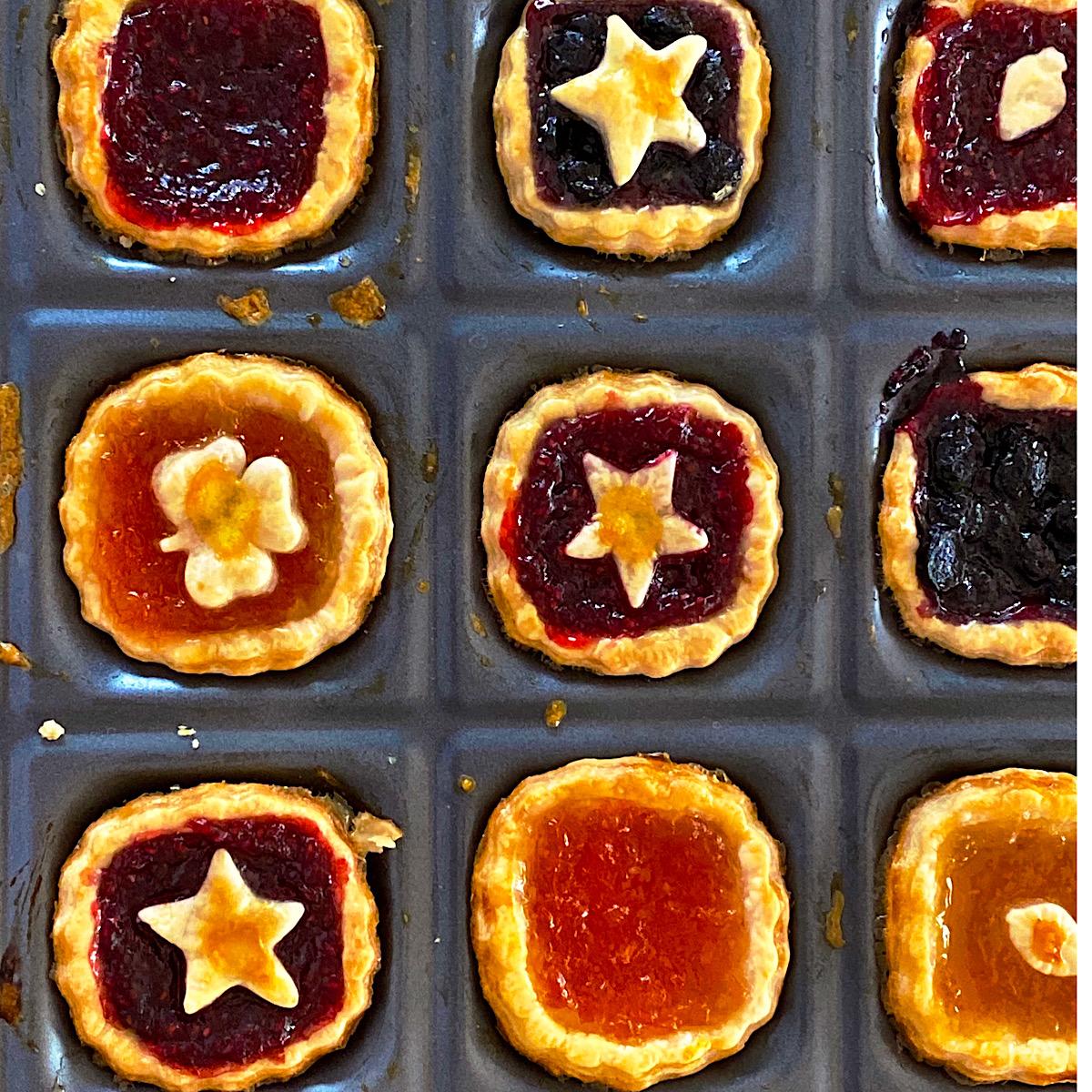 2-Ingredient Jam Tarts
This post may contain affiliate links, and you can read our disclosure information here–
What is the Best Pastry Dough to Use?
Jam tarts are a classic British dessert. Traditionally the dough is a "shortcrust dough", which is quite easy to make actually. Americans refer to this pastry dough as shortbread dough.
Because I wanted to make this kid-friendly and super simple, I opted for ready-made or store bought pastry dough.
I tried it with store-bought "puff" pastry dough and found that too delicate for the jams. What seemed to work best was a refrigerated pie dough. The goal was to find a ready-made dough as close to shortbread as possible.
The winner was a refrigerated pie crust dough from Pillsbury.
If you prefer to make your own shortcrust dough, it is actually pretty simple. Here is the best DIY recipe I have found for shortcrust dough for jam tarts.
Modify Store-Bought Dough for Tarts
The only modification I made to the ready-made pastry dough for these tarts was to roll it out thinner than it came in the package. The packaged roll was for a pie, and these tarts only have a tablespoon or so of jam in them, so you don't want the jam overwhelmed by a thick dough. (my mom asked me how I got the crust so delicate 🙂
What is the Best Jam to Use?
Use your favorite jams. Because I was originally making these mini tarts for Easter, I chose a range of marmalades with their citrus colors, For Valentines Day I used a range of red jams (raspberry, strawberry and cherry).
Here are the flavors of jams that I used. Just make sure to use some quality jam for these if you want to make them special.
Other Fillings to Substitute for Jam
Of course there are other fillings that are popular to use in the "jam" tarts, although jams are the simplest filling. Here are a few other ideas:
lemon curds
nutella
fresh fruit
savory ingredients that you might use in a meat pot pie
ready-made cherry pie filling
sweet potato pie filling
pecan pie filling
More Recipes Made with Jam
Easy 10-minute Raspberry Trifle
Cheese and Jam Pairings for Charcuterie Boards
Jam-filled, Chocolate Dipped Cookies
How to Use Jams in Breakfast, Lunch, Dinner & Cocktails
Low Carb Crustless Apricot Frangipane Tart
A low carb dessert that is awesome is this no-bake low-carb lemon-orange pie with a nut crust.
Frequently Asked Questions
How do you stop them from bubbling over?
The amount of jam to dough will vary based on your molds. The goal is enough jam that the tart doesn't taste too doughy, but not so much that it bubbles over. 3/4 of the way to the top of the mold is a good estimate. If using small shapes, press them lightly into the jam at this time.
How do you keep the dough from shrinking?
To reduce shrinkage you can allow the pastry dough to rest adequately before using. Form the dough into a rough ball and place in the fridge (or a very cool area) to rest for at least half an hour. Then roll out your pastry and place it in the tart pan. Then put the pan in the fridge (or freezer) to chill thoroughly.
Using a pre-made shortcrust dough is often an easier way to avoid shrinkage because you don't tend to overwork the dough. Overworking dough can cause shrinkage
Which is best pastry dough between puffed pastry, pie dough, or phyllo (filo) dough?
Shortcrust (or shortbread) dough is the easiest dough to work with and it is sturdy enough to hold the denser jams. It is buttery and slightly sweet and is often called "pie dough" in the grocery store.
Puffed pastry dough can be used in tarts, but it is much lighter than the shortcrust dough. When it's baked it separates into airy, flaky layers and a crunchy exterior. I found it to be too light for jam-filled mini-tarts and it burns quickly.
In contrast to puff pastry, phyllo dough has almost no fat, it's mostly flour and water and can dry out easily. It is very thin sheets and is typically used for savory dishes. Phyllo gets crisp and flaky when baked but it doesn't have the same rich, airy quality that puff pastry or shortcrust pastry has.
2-Ingredient Jam Tarts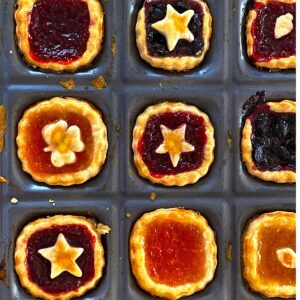 Easy, delicious British jam tarts made with only 2 ingredients. Use your favorite jam or preserve and fancy it up with dough cut-outs.
Pillsbury pie crust dough
for the egg wash on the dough (optional)
Preheat oven to 375° F. Remove on of the pie crust rolls from the box unroll onto a lightly floured surface. Lightly flour a rolling pin and roll the pie dough out to be thinner. Perhaps an additional inch or two in diameter.I/2 package Pillsbury pie crust dough
Use a round cookie cutter slightly larger than the individual molds in the tart pan and press down firmly as many times as necessary to fill your tart pan. Use the small cookie cutters to cut out small shapes to place on top of jam.
Use a thin stainless steel spatula to lift the round dough pieces into the tart molds. Press gently into each mold, shaping it to your desired shape.
Whisk the egg and use a basting brush to spread the egg wash around the rim of the dough and onto the center shapes. This is to add the golden color, not for taste. You can also just use the egg white, or the egg yolk with a bit of water. Each egg wash gives a slightly different browning color.
Bake for 15 minutes, checking to see if jam is bubbling over. Remove when dough is golden brown. It may take 15-20 minutes, depending on your oven and how thin you rolled out the dough. Cool thoroughly, the jam gets very hot!
If you tried this recipe, please give it a 5-star rating! To do this, just click on the stars above.
Valentine's Jam Tarts – Cooking with Kids
Baking can be a near-meditative pursuit, the minutes (or hours) spent in the kitchen mixing and measuring dropping you into a state of purposeful calm, or serving as a bonding experience when you're working with others. Baking can also be a downright tedious chore—it's tough to keep it interesting when you're preparing the same heirloom shortbread recipe you've eaten 100 times, the lemon bars your partner always wants for dessert, or the coconut layer cake your family has come to expect for every single Easter egg hunt.
Sometimes circumstance keeps you in the same rotation; occasionally we just run out of new ideas. One of the easiest ways to add a fresh take to your reliable, woefully predictable recipes is to lean on the baker's best friend: jam. Get ready to rifle through those jars in your fridge door, because jam is going to provide the fruity refresh you need.
Revamp frostings and icings
Frostings are more flexible than we give them credit for, especially buttercreams. High butter or sugar ratios lend them incredible stability, and what can we do with stability? Push it to the edge with flavor by adding unstable components like flavorful extracts, juices, or in our case, jams. Adding two heaping tablespoons of jam can turn a vanilla buttercream into a raspberry, strawberry, or blueberry buttercream. Adding jam to chocolate frosting transforms your cake into a centerpiece that will make your friends start uttering wine tasting-worthy terms things like "medium bodied, cocoa on the palate with a raspberry finish." And with that local farmstand strawberry-rhubarb jam you love, you can create a frosting you can't get anywhere but in your kitchen.
Icings, glazes, and drizzles should strike a balance between liquid-y and loose, but they shouldn't be watery. Adding a jam to any of them will most certainly add interest amid the little bits of fruit and tiny seeds. Embrace these textural components, but avoid large gelatinous chunks by warming up the jam in a small pot with a splash of water until it thins out. Then, stir the loosened jam into your prepared icing, adjusting the consistency with powdered sugar—if the icing becomes too transparent and runny, stir in a couple tablespoons to thicken it. Go slowly—add too much powdered sugar at once and you risk entering purgatory, seesawing back and forth between too thick and too thin. Be cautious as you adjust. If the glaze becomes too thick, add a few drops of water and stir.
Stripe tarts and cake layers
Fruit jams are cooked-down and concentrated fruit, so a couple spoonfuls can pack a punch. Striping is a technique that involves spreading a thin layer of jam along one side of a dessert with other components; when you slice the dessert, you'll see a fine stripe running along the inside of each piece.
If you're making a tart, once the tart shell has been blind-baked and cooled, spread a thin layer of raspberry jam directly onto the bottom before adding the main filling. This small move elevates a frangipane tart with complimentary fruit flavors or adds a pleasant acidic bite to an otherwise overly-rich ganache tart.
For layer cakes (and even roulades), spread the layer of jam directly onto the cake before adding the frosting you would normally fill the layers with. You can control the strength of the jam's presence in the cake by adding it to one layer, all layers, or any combination you choose. Keep in mind that you will be putting something on top of this stripe of jam–tart filling, lemon curd, frosting, five more cake layers–and jam is slippery, so it is extremely important to keep this layer super thin (think pinstripe, not rugby stripe). Otherwise, your cake layers might start sliding around on you.
Convert your cookies
Cookies don't need a defender. They are irresistible by nature–adorably bite-sized, hand-held, usually studded with chips or nuts. Even "messed-up" cookies are delicious. This isn't a tip on how to improve the cookie, but rather, advice on how to reignite your interest in a cookie recipe you're a little bored with: You can convert your cookies into vehicles that carry a complementary jam flavor.
Most drop cookies are easy to shape into thumbprint style cookies with the addition of about ½ cup more flour. Drop cookies are thick batters that you shape by scooping with a spoon and dropping them onto the baking tray. They usually have a high ratio of butter and flour. With the addition of a little extra flour, the batter will resist spreading out during baking. Scoop the dough and roll them into one-inch balls and place them about two inches apart on the baking sheet. Make a small indentation (the thumbprint) in the center and fill it with your favorite flavor of jam. Bake as usual, or until the cookie edge is firm and the bottom takes on a light brown color.
Cookie sandwiches are another jam alternative. I have yet to find a cookie recipe that can't be sandwiched. From macarons, to laced tuiles, to chunky chocolate chip, all you need are two cookies and a thin layer of jam to act as the edible adhesive between them. As with cake layers, remember that jam is slippery at first, so apply in a thin layer. For this same reason, jam sandwich cookies are best after they rest for at least four hours, or overnight. The excess moisture in the jam will be absorbed by the cookie, making them firmer and more stable for traveling. The overall texture will improve as well.
Keep in mind that sandwiching means you will need double the amount of cookies for each serving, so giant-sized cookies might come off a bit unhinged. But if unhinged is your vibe, then I'm all about it.
Add a surprise swirl
Jam is excellent for baking directly into desserts because it can take the heat from the oven and remain independent from the batter or dough. Any time you have a recipe that involves a "swirl" (especially a cinnamon swirl) you can use jam instead. And you can really go for it: In each of the tips above, I repeated the importance of using a scarce amount of jam, but for these recipes, you can wear your "I heart jam" t-shirt proudly and use a thicker layer.
For something like a coffee cake or a loaf cake that normally has a cinnamon swirl in the middle, switch it up and dollop in jam. Mix the jam in the jar first so the consistency is more spreadable, then drop in an equal replacement amount of the fruity filling. If the recipe calls for one cup of cinnamon swirl, use a 1:1 ratio and replace with one cup of jam. Layer on the top portion of batter and bake as usual.
To make decadent and summery jam rolls, mix, knead, and roll out your bread dough as usual. Loosen up your desired jam flavor by mixing it with a knife directly in the jar to a spreadable consistency. Drop spoonfuls of jam along the surface of the bread dough and use an offset spatula to spread it into an even layer. Roll up as you normally would for cinnamon rolls. (In this case, if you use too much jam the dough will tell you by squeezing out the excess at the end as you roll it up.) Slice the rolls with a sharp serrated knife or to avoid squidging out the filling. Use parchment paper to line the bottom of the baking dish, and butter the parchment so the rolls release easily after baking. Before baking, place the baking dish on top of an additional sheet tray to create a buffer and avoid burning any jam that leaks onto the bottom.
Help your treats retain moisture
You did it. It's beautiful. You've been working for hours and finally finished that gorgeous berry fruit tart. But you made it in advance, and you start to notice that after half a day the fruit is looking a bit dull and wrinkled, and the pastry cream is dry. There's a useful bakery trick to prevent this, and it works with open lattice fruit pies and various pastries alike. You guessed it—bakeries combat moisture loss with the help of jam. The jam (or sometimes jelly) creates an impenetrable layer around the fruit and filling so it doesn't dry out as easily, and maintains a fresher texture and flavor. There's the benefit of a little added sweetness, too.
To do this at home, select a jam or jelly with a mild flavor and light color–the idea is to make it unnoticeable, not a competitor–so choose apple or apricot (which is what most bakeries use). You will only be brushing on a thin coating, so start with a ½ cup of jam and put it into a small pot. Add two tablespoons of water and heat the mixture, whisking often, until the jam and water combine, become thin, and start to bubble around the edges. If the mixture has fruit pieces floating around, strain it now.
While the jam is still loose, use a pastry brush, quickly and gently, coat the top surface of the tart, pie, or pastry. The jam will begin to set immediately so use quick, single strokes or dabs. If you try to brush back on places you've already covered, it may clump. If your pot of jam starts to set, simply return it to the heat for a couple minutes, or if it has been strained into a bowl you can microwave it for a few seconds and it will melt again. Jam on.
These raspberry jam tarts (jam cakes or cookie cups) are amazing. Crumbly and sweet, it's like a filled shortbread baked in muffin tins. They were one of the best cookie cups I have ever made. Perfect to add to your holiday baking they are a total crowd-pleaser. And I added a Nutella filling option.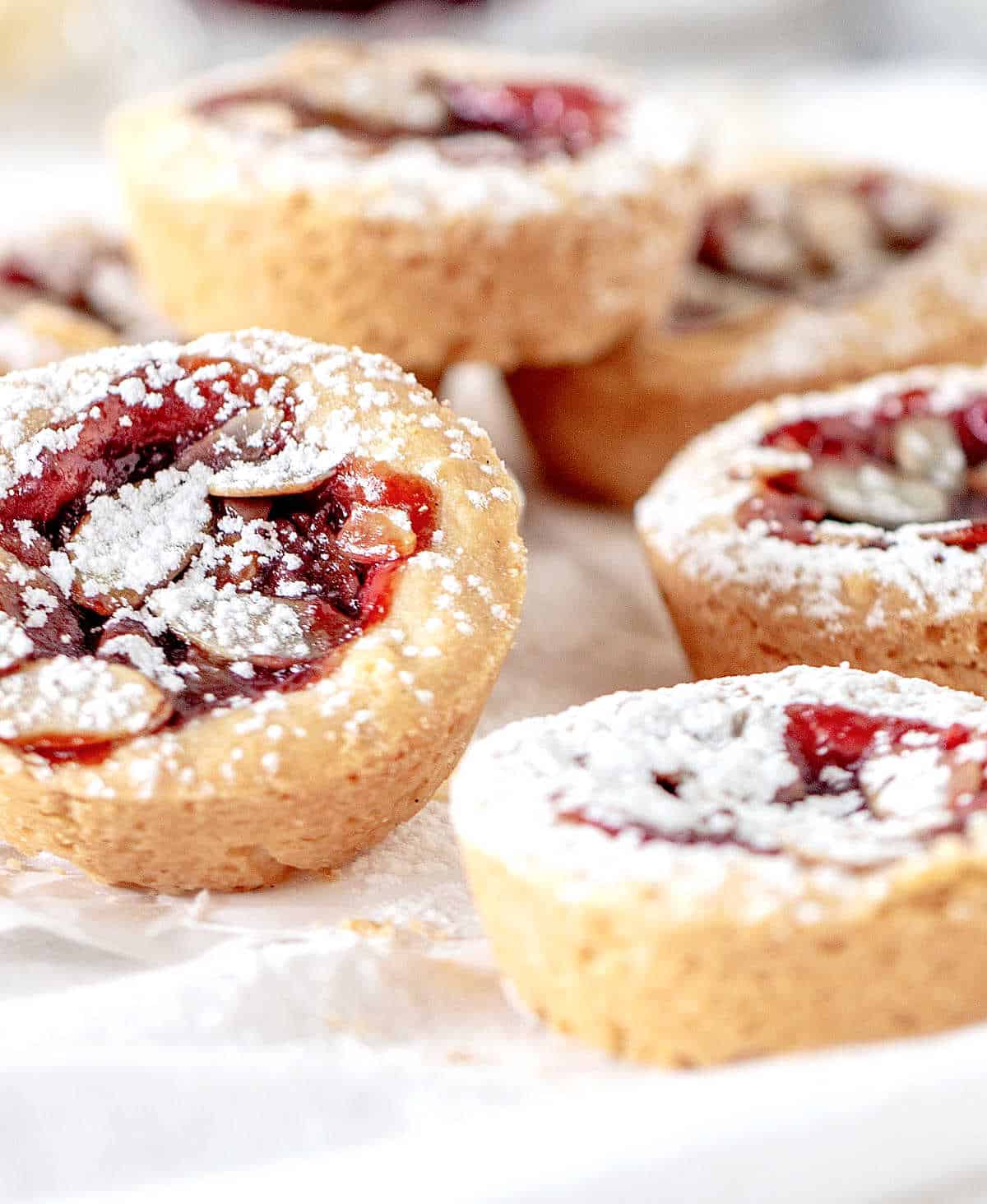 As an Amazon Associate, I earn from qualifying purchases. Please read my disclosure policy.
I call them jam tarts, but they are called cakes in most Scandinavian baking books I own.
It's a shortbread dough pressed into muffin cups to form little tarts (or cookie cups). So the name has multiple options. Choose your own adventure.
They race head-to-head with my favorite non-traditional shortbread ever, the Hungarian Shortbread. And that is saying a lot.
So delicious; they're like the best vanilla shortbread cookie filled with raspberry jam. Or apricot, or nutella.
Why this recipe works
Easy to make: the dough is simple as long as you have room-temperature butter. I make it with a spatula or wooden spoon, so you get the idea.
Filling: they can be filled with almost any type of jam, paste, or spread you like. There is a Nutella version further down. Just saying.
Make-ahead: as with most cookie doughs, it can be made ahead and kept in the refrigerator for a few days or frozen for a month.
No refrigeration: the dough needs no refrigeration. You pat it in the muffin cups directly. Fill it and into the oven it goes!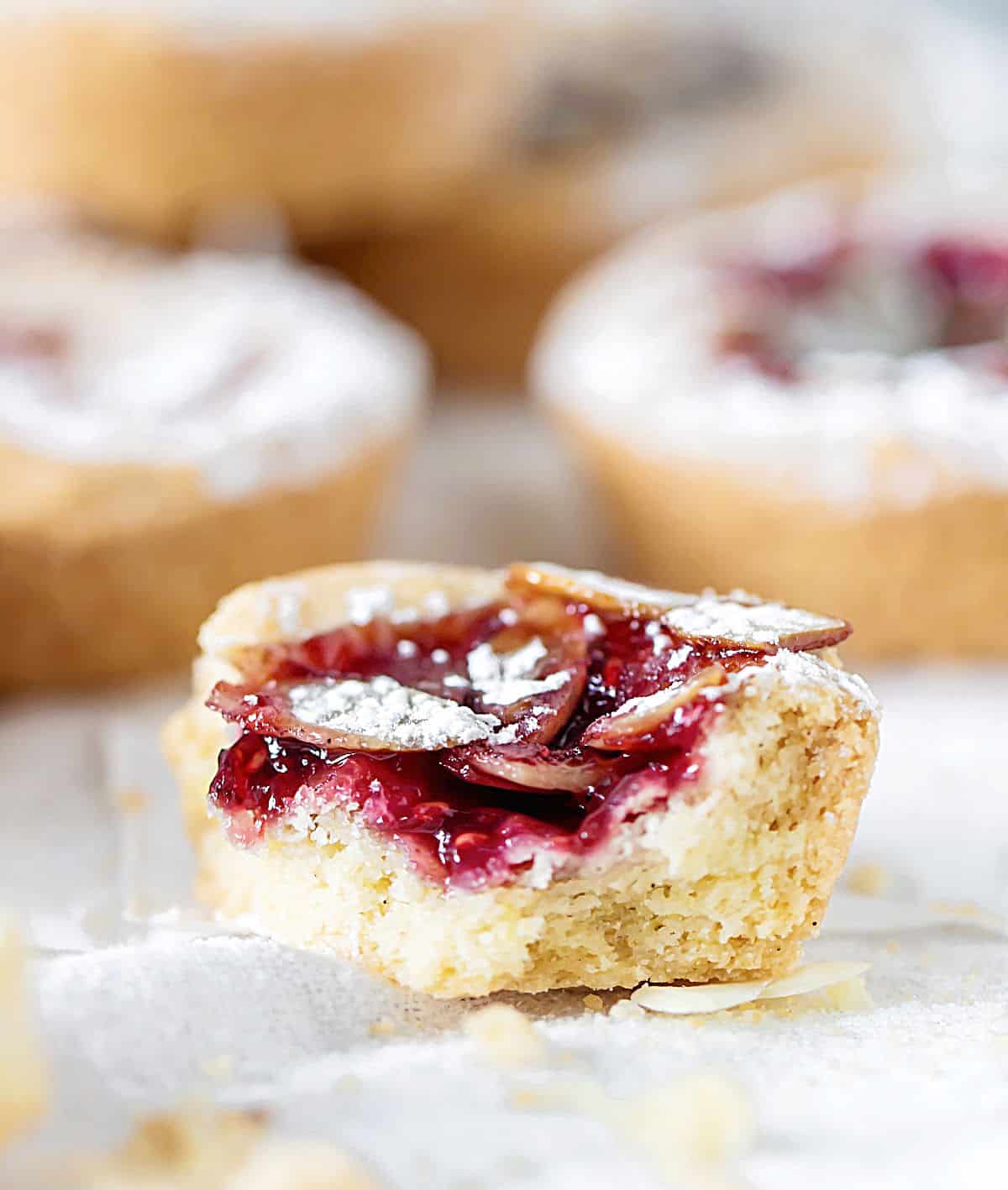 Jam: I love a good raspberry jam, but others work too like apricot or plum, Nutella, or cookie butter.
Unsalted butter.
Cornstarch: it's an essential ingredient to achieve that smooth and crumbly texture.
Powdered sugar: also called confectioners or icing sugar, you can easily buy it online. Domino powdered sugar is a very popular one.
All-purpose flour.
Salt: I like to use kosher salt when baking. But regular table salt works just fine.
Vanilla: I use pure vanilla extract or pure vanilla paste when available, but a good vanilla essence (artificially flavored) also works and is infinitely cheaper.
Lemon zest.
Sliced almonds: they cover the jam so that it doesn't dry out too much during baking, and add a wonderful crunch.
See the recipe card at the end of this post for quantities.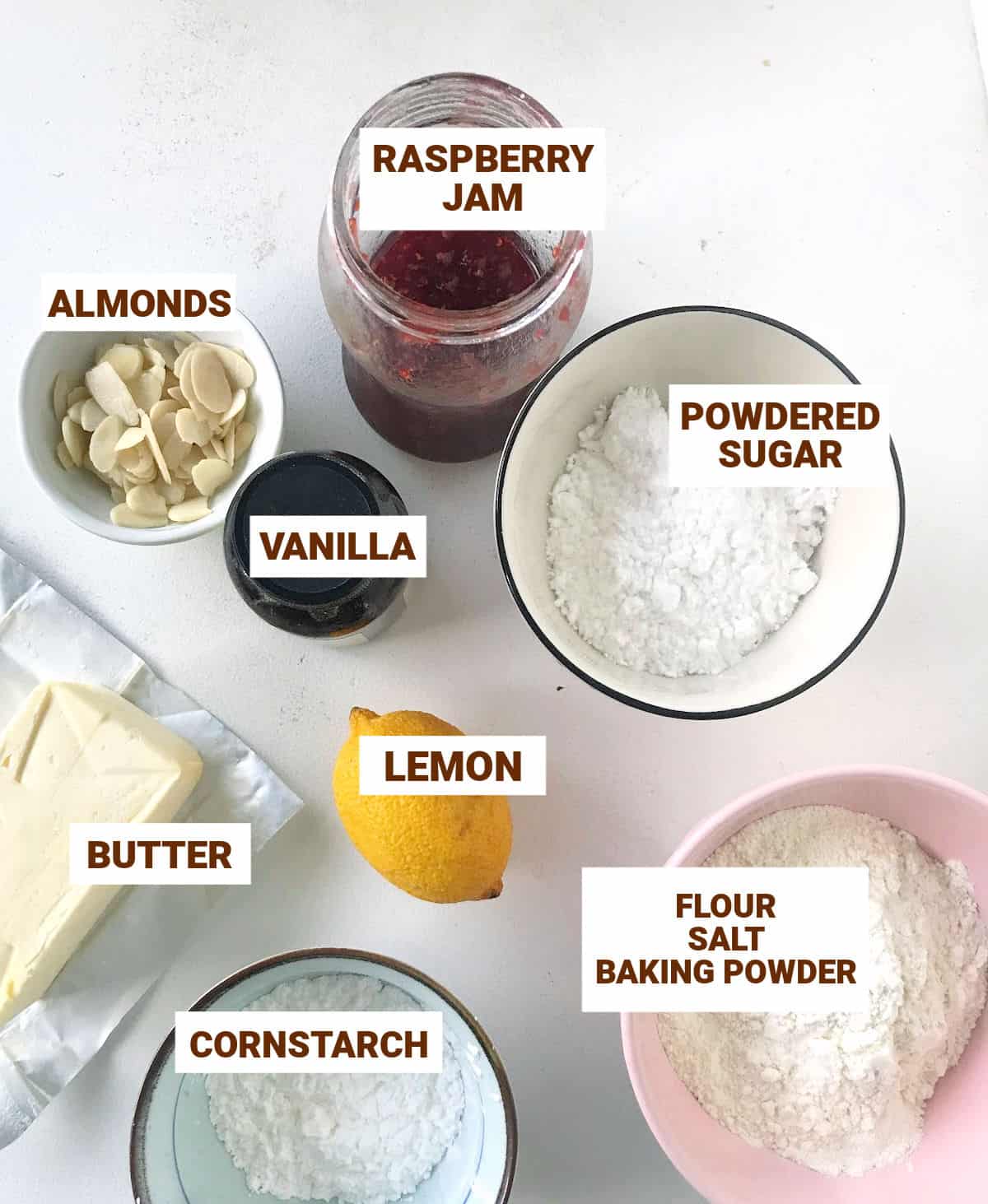 How to make shortbread tarts
Watch the video above for a step-by-step guide on how to make the dough.
Once the cookie dough is done, form small walnut-sized balls and press them into muffin tins. Using a small cookie scoop is a good idea to make them all the same size.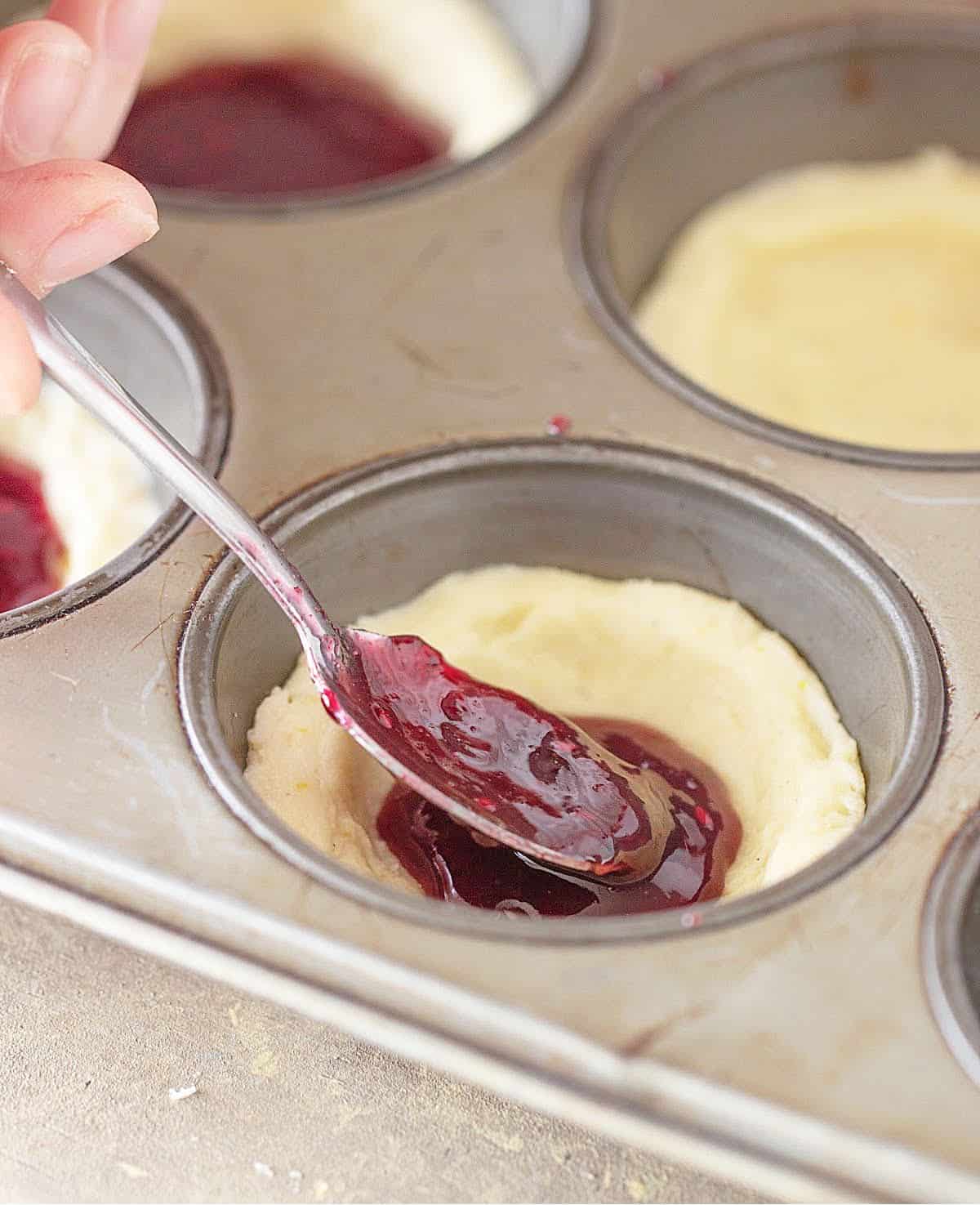 Add a teaspoon of raspberry jam to each cookie cup.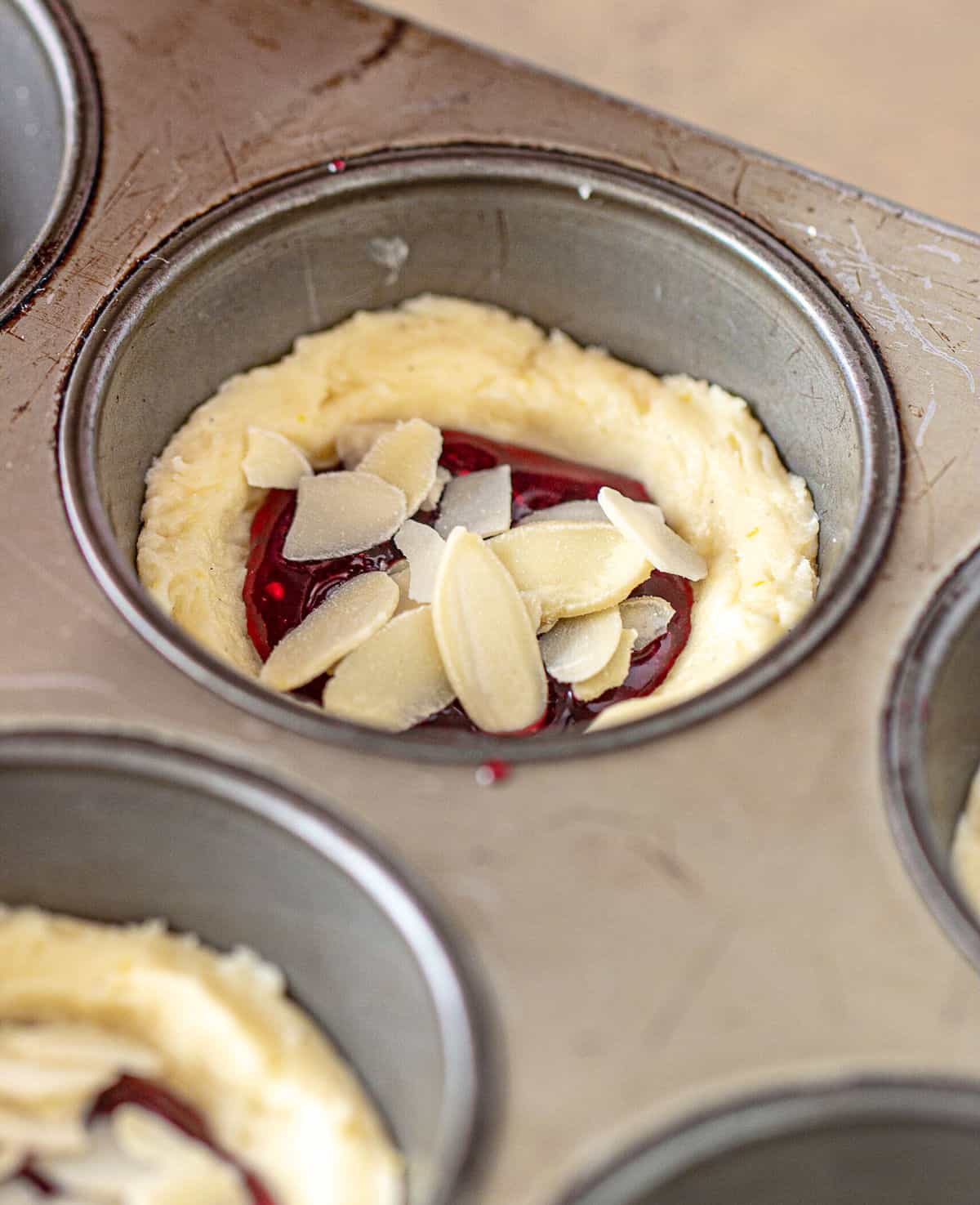 Top with sliced almonds.
Vintage Kitchen tip: after the jam tarts are baked, let them cool for 10-15 minutes in the pan and run a smooth-bladed knife around the edges to loosen up any jam or dough that might be stuck.
Since they are Scandinavian, using good raspberry jam (store-bought or homemade) is a no-brainer.
Spreads: for the sake of research, we made a batch with Nutella. Ufff, they are fabulous! Cookie butter spread would be another wonderful holiday filling.
Jams: I recommend using slightly acidic ones like raspberries, blackberries, apricots, sour cherries, and plums. Besides that, use any spread you love.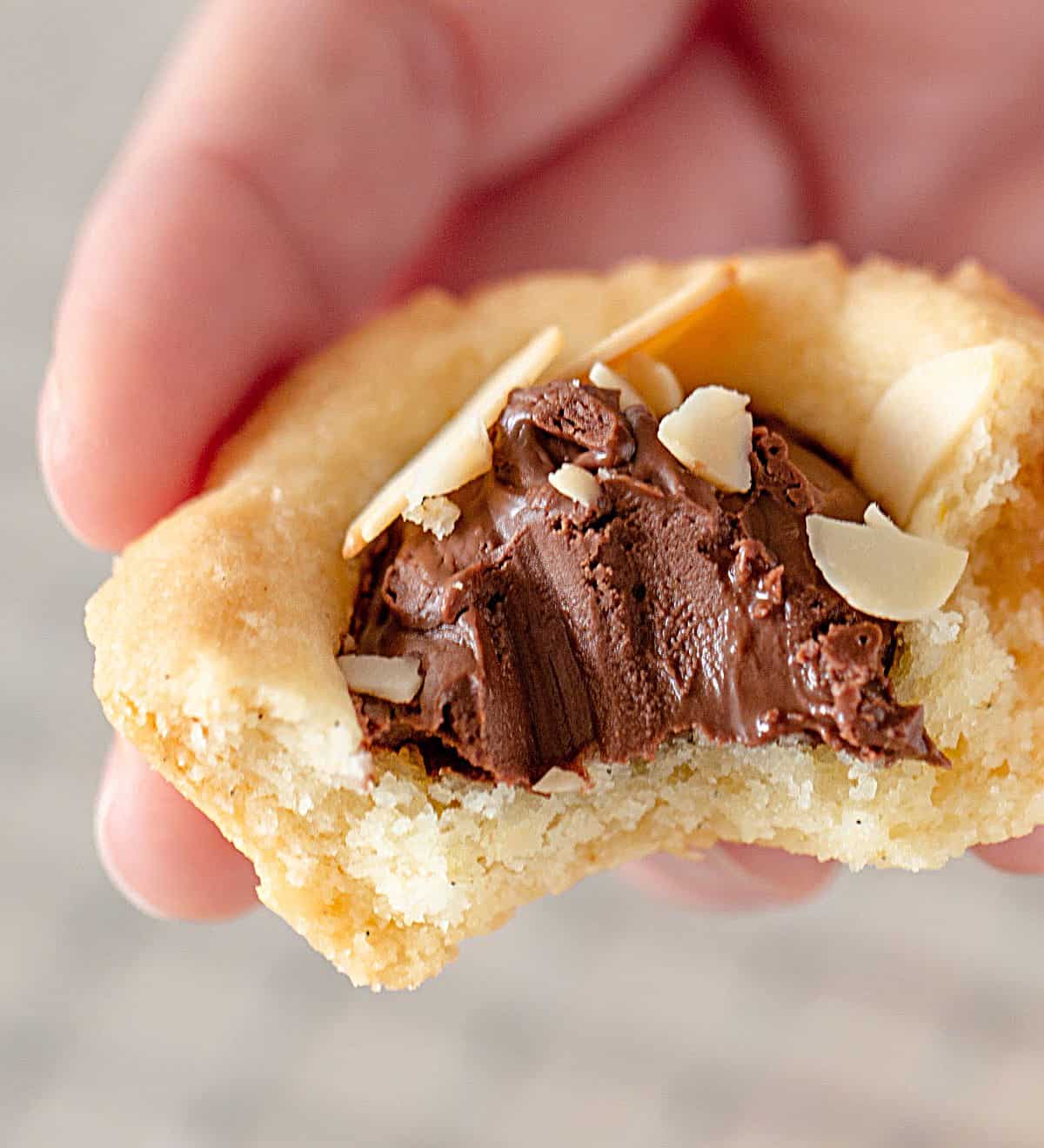 Sliced almonds are the best as they provide the best crunch.
I once added chopped hazelnuts to the Nutella cakes, which work well.
So use the ones you feel go better with the filling you're using.
You can leave them without the powdered sugar on top.
The layer of jam will solidify and will be delicious, like a wonderful raspberry jam thumbprint cookie. Similar to these strawberry jam cookies.
Either way, you need to make them! Any way you fill them, they will end up sweet, and crunchy but soft and prove to be a crowd-pleaser. Take my word.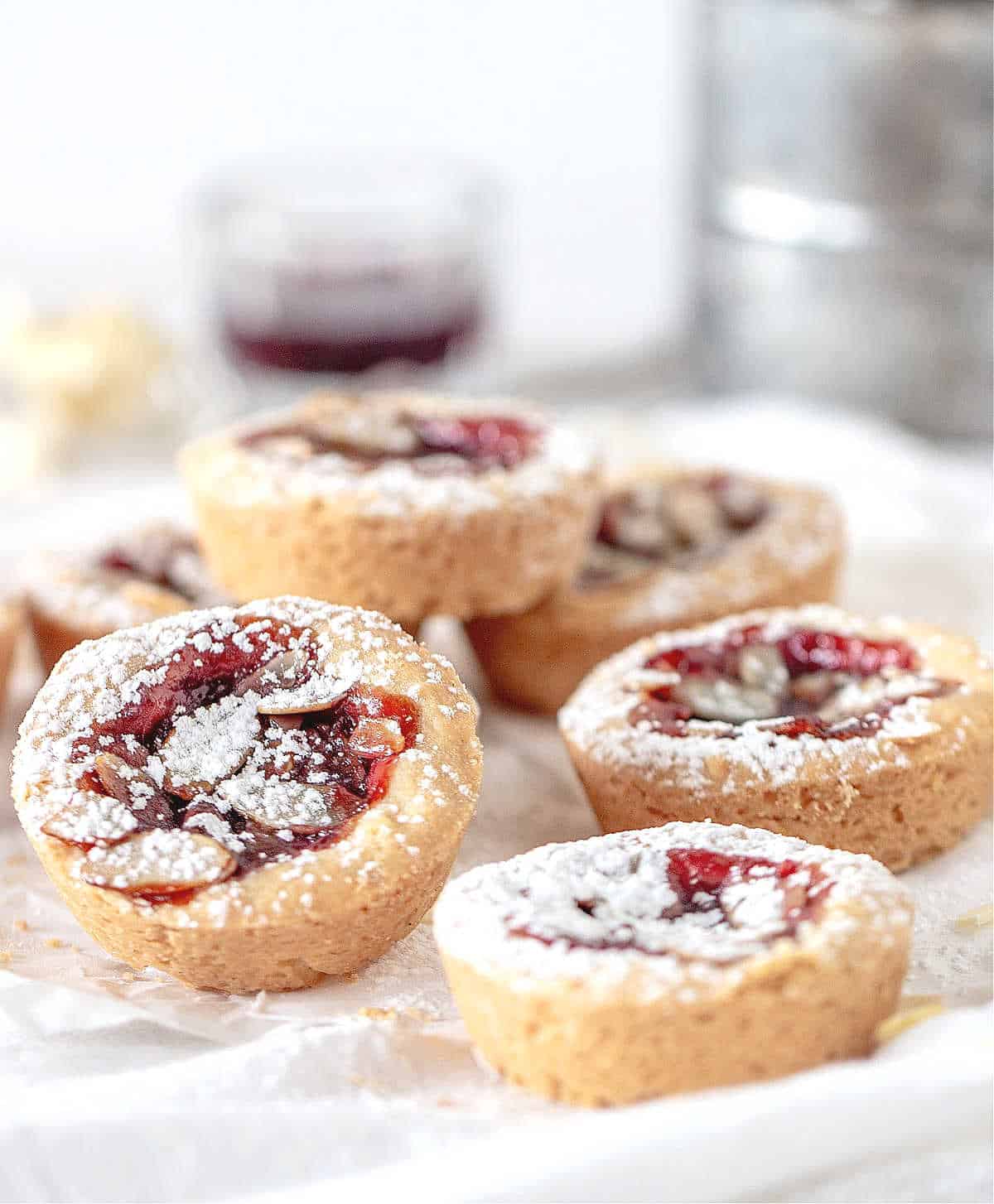 Organization: read the recipe first and ensure you have ingredients at the correct temperature, equipment, and enough workspace. This will make the process so much easier.
Baking time: keep in mind that all ovens and pans are different, even if they look the same or very similar. The baking time in my recipes is as accurate as it can be, but it might take you more or less time. You can use a thermometer(like the OXO oven thermometer) to check that your oven is at the right temperature. I recommend you keep track of how your oven works and what tiny details you might need to adjust.
Dough: it comes together easily if you have the butter at room temperature. It doesn't include an egg. If the mixture is too crumbly, add a teaspoon of water or milk to bind it together. I made it a few times and never needed it, but I know readers who had this issue.
Make-ahead: make the dough ahead and have it ready in the fridge. If you freeze it remember to defrost it in the refrigerator rather than at room temperature. You can also freeze the dough in the pan, already patted.
Flavorings: the lemon zest and vanilla are perfect, but you might want to change the flavor of the dough depending on the filling. Maybe orange zest and blackberry jam? Or some ground cardamom?
Almonds: In my opinion, there is nothing like sliced almonds for that thin crunch that is hard to achieve with any other nut or if they are chopped. So, I highly suggest them.
Storing: they keep very well at room temperature for a day. You can freeze them already baked, and well-wrapped. Defrost at room temperature uncovered and warm for a few minutes in a medium oven.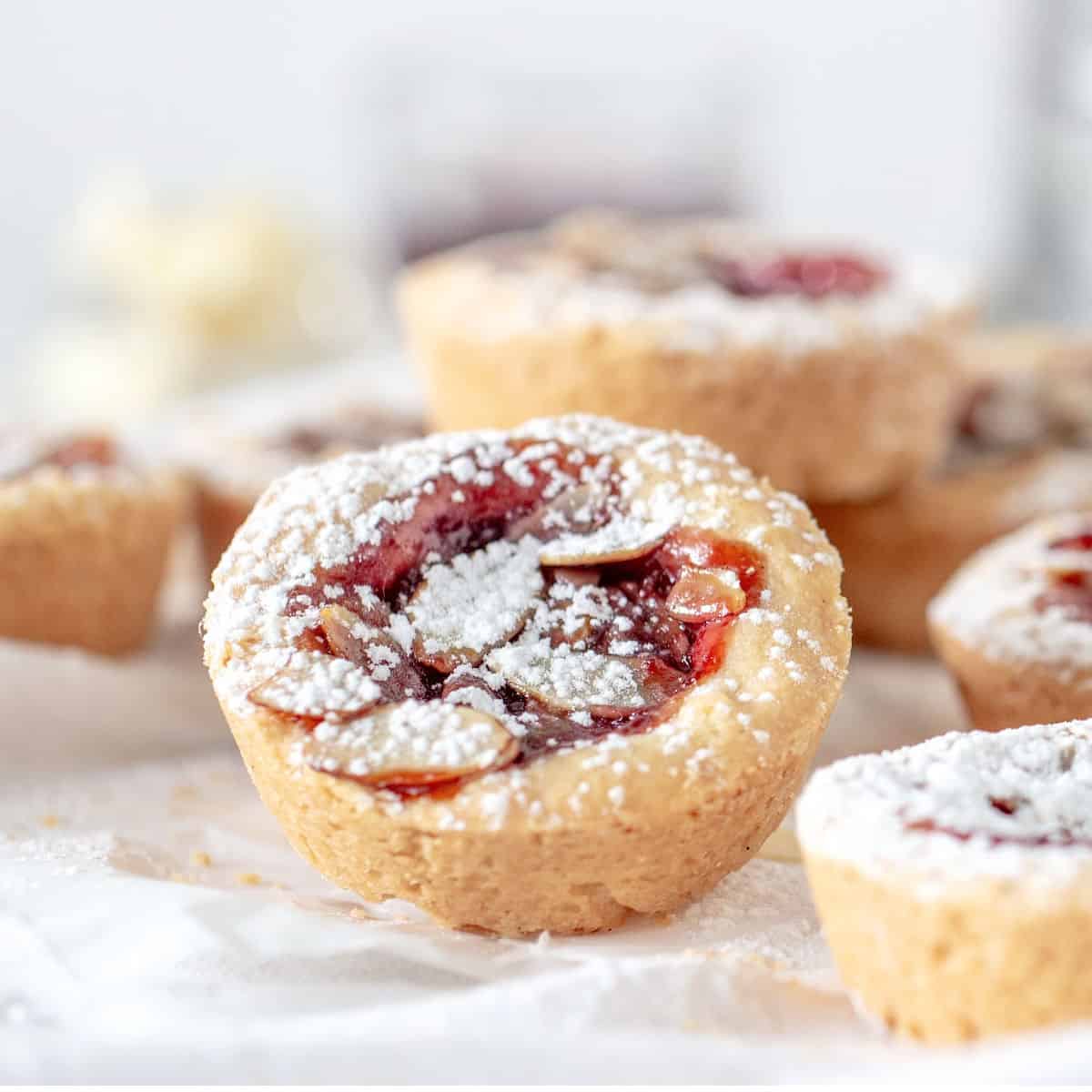 They make me think of adjectives like dainty, pretty, sophisticated, and all those pink words I love when it comes to cookies, filled or otherwise.
Scandinavian baking is something I'm fascinated with.
I love their use of spices like cardamom and cinnamon, their yeasted sweet breads (like this wonderful Finnish pulla), and all those stories about the meaning of fika and hygge.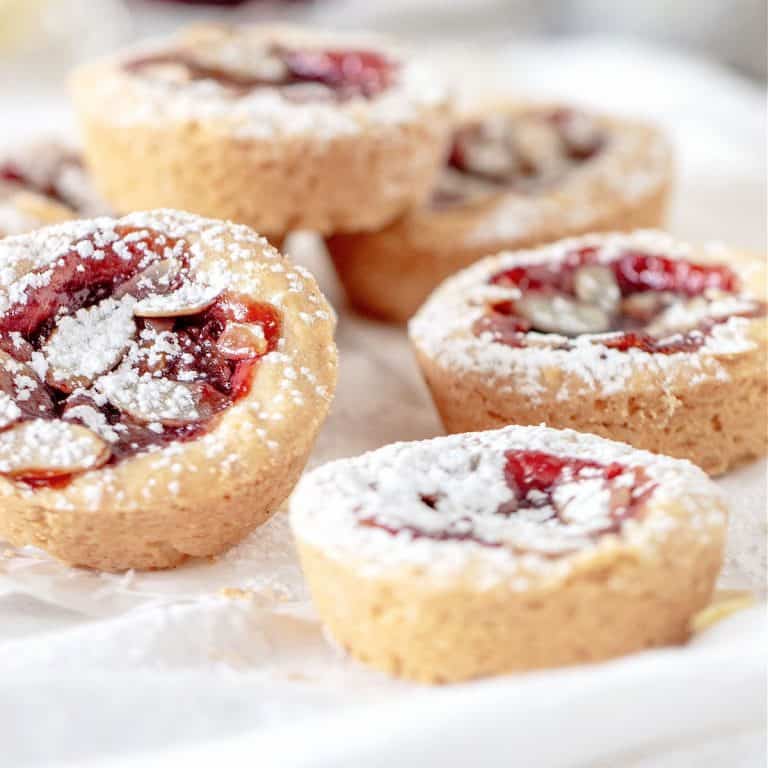 + 2 tablespoons () unsalted butter, at room temperature
Zest of lemon
vanilla extract
() powdered sugar
1 ½ cups () all purpose or cake flour
baking powder
salt
to ¾ cup cornstarch ( to ) – Note: I use the whole amount, but a few readers commented that the dough is too crumbly for them. So start with the ½ cup and see if the dough comes together without being too soft and sticky.
(more or less) raspberry jam or Nutella
(or so) sliced almonds
Preheat oven to 350ºF / 180ºC.
Have ready paper muffin cups (many readers have a hard time taking these jam tarts out of the muffin pans, so use paper cups for easier handling). Or butter/spray the muffin pans. I have used both with good results.
In a large bowl mix soft butter, zest and vanilla.
Add sifted powdered sugar and mix well.
Add sifted flour, baking powder, and salt in 2 parts and mix well. Use a spatula or wooden spoon so you don't overwork the dough.
Add sifted cornstarch and mix well until you have a soft dough (see comment above).
It is soft and not sticky. You can watch the video in the post for details on how the dough should be.
Make walnut-sized balls or use a measuring spoon to fill muffin cups, and pat them onto the paper cups halfway up the sides.
Carefully, with a spoon, fill each cup with raspberry jam or Nutella.
Top with some sliced almonds and bake for 15-20 minutes until slightly golden and dry.
Let them cool for 10-15 minutes on a wire rack and run a smooth-bladed knife to ensure they didn't stick to the sides. Let them cool and remove them from the pan. They are very soft, so help yourself with the knife and your hands.
Serve with a bit of powdered sugar sifted on top.
Notes
Serving Size:
Calories:
Sugar:
Sodium:
Fat:
Carbohydrates:
Fiber:
Protein:
Cholesterol:
jam cakes, jam tarts
Adapted from ScandiKitchen
About
These easy Puff Pastry Jam Turnovers use just five ingredients! A flaky pastry filled with a sweet jam of your choice and topped with a sugar glaze. A great brunch, snack or even dessert.
Ingredients
1 sheet puff pastry
1/2 cup jam your choice
1 whole egg beaten
3/4 cup powdered sugar
2 tablespoons milk
, The full recipe with instructions is always found at the end of the post in the recipe card.
Ingredients to make the Puff Pastry Turnovers
Instructions
– Preheat oven to 350 degrees f/180 degrees c. Line a large baking tray with parchment paper. Set aside
– Unroll the puff pastry sheet and cut it into 9 equal squares.
Fill with jam – Place the squares on the parchment paper on top of the baking tray. Place a teaspoon of jam in the center of each square.
– Fold the pastry so it forms a triangle. (see step-by-step photos in post above). Firmly press down the edges of the pastry with a fork. Make sure they are firmly pressed together.
Brush pastry tops – Brush the tops of the pastry with the beaten egg. Peirce holes in the top of each turnover with a fork.
– Bake between 18 – 20 minutes or until golden and puffed up. Remove from oven to cool.
Glaze and serve – Drizzle the glaze over the cooled turnovers. Can serve immediately or store in and airtight container in the fridge up to three days.
Unroll the puff pastry
Cut the pastry into 9 equal parts
Spoon jam into the centers
Fold over the turnovers and firmly press down the sides
Brush with and egg wash and pierce holes with a fork
Bake for 18 – 20 minutes
Allow to cool and drizzle over glaze
Recipe Notes
Don't overfill the pastry – It's easy to want to put too much jam in the middle of these. Don't because they will be very hard to close and most likely will burst open when baking. I put a heaping teaspoon into the center of each pastry square.
Making the glaze – I like to make a thicker glaze so it holds it's shape like you see here. I like to add a little milk at a time when making glaze until I reach the desired consistency.
Use a bag to drizzle glaze – I used a small sandwich bag with a tiny hole cut in the corner to drizzle the glaze. It makes perfect lines.
– these can be prepared ahead of time and place on a baking tray, covered and kept in the fridge until baking time. You can do this up to one day before you bake them.
Substitutions
– you can use any kind of jam you prefer for this recipe. I used partridgeberry/lingonberry jam. That is a unique jam that's absolutely delicious if you can find it. But any jam like strawberry, blueberry, cranberry, raspberry or your other favourite flavours.
– this kind of freezer pastry honestly works fantastic for this recipe. But you can use crescent roll dough, premade shortcrust pastry or even make your own if you feel up to it.
– this is my favourite way to make glaze as it's so easy and tasty. You don't have to glaze them if you prefer to leave it off. Or you can use a sugar top. Just sprinkle sugar on top of the unbaked turnovers. You can even make a chocolate glaze by adding 1 tablespoon of cocoa powder to the powdered sugar.
Storage for the Jam Turnovers
Are turnovers considered dessert?
Turnovers can be made sweet or savory. Which means they can be dessert or even an appetizer. I like them as a snack or .
Can you use any kind of pastry for a turnover?
Puff pastry works wonderful for turnovers. You can even use shortcrust or filo pastry.
Easy Apple & Cinnamon Turnovers
Strawberry Hand Pies
easy brunch recipes, jam, puff pastry
Preheat oven to 350 degrees f/180 degrees c. Line a large baking tray with parchment paper. Set aside
Unroll the puff pastry sheet and cut it into 9 equal squares.
Place the squares on the parchment paper on top of the baking tray. Place a teaspoon of jam in the center of each square.
Fold the pastry so it forms a triangle. (see step-by-step photos in post above). Firmly press down the edges of the pastry with a fork. Make sure they are firmly pressed together.
Brush the tops of the pastry with the beaten egg. Peirce holes in the top of each turnover with a fork.
Bake between 18 – 20 minutes or until golden and puffed up. Remove from oven to cool.
Drizzle the glaze over the cooled turnovers. Can serve immediately or store in and airtight container in the fridge up to three days.
Don't overfill the pastry – It's easy to want to put too much jam in the middle of these. Don't because they will be very hard to close and most likely will burst open when baking. I put a heaping teaspoon into the center of each pastry square.
Making the glaze – I like to make a thicker glaze so it holds it's shape like you see here. I like to add a little milk at a time when making glaze until I reach the desired consistency.
Use a bag to drizzle glaze – I used a small sandwich bag with a tiny hole cut in the corner to drizzle the glaze. It makes perfect lines.
Make ahead – these can be prepared ahead of time and place on a baking tray, covered and kept in the fridge until baking time. You can do this up to one day before you bake them.
Amount Per Serving (1 turnover)
% Daily Value*
Saturated Fat 3g
Polyunsaturated Fat 1g
Monounsaturated Fat 6g
Vitamin A 6IU
Vitamin C 2mg
* Percent Daily Values are based on a 2000 calorie diet.
Thanks for Stopping by and Hope To See You soon!
Loaded with fresh strawberry sauce and a cream cheese frosting, this easy Strawberry Jam Cake will be your new go-to dessert for potlucks and gatherings. It's so much better than a traditional strawberry poke cake, you'll never go back to Jello again!
There's a good chance you've heard of strawberry poke cake, the kind that commonly uses boxed gelatin, store-bought cake mix and Cool Whip. While I'm all for saving time in the kitchen, I'm not crazy about the long ingredient lists on boxed mixes.
So I made some changes to the original recipe and created a strawberry jam cake which is something much better and fresher tasting than the traditional strawberry jello poke cake. In this recipe, the flavor of Jello is replaced with not-too-sweet, homemade strawberry jam that's spread over a soft buttermilk cake.
Once baked, the cake gets poked with holes, the strawberry filling goes into the holes and infuses its flavor throughout the entire cake. And because of the jam-filled holes, the cake is soft and moist on the inside.
Then, to make it even better, add a fresh whipped strawberry frosting with cream cheese. A cream cheese frosting works great for this type of cake. It compliments the flavors of the strawberries, is sturdier than a whipped topping and has some fresh strawberries for flavor along with a beautiful color.
Since this is strawberry season in North Carolina, I'll be busy using the sweet berries in everything from rolls to cookies to bars and crumbles. But for those occasions when you're feeding a crowd, a strawberry poke cake is the way to go.
Why you'll love a strawberry poke cake without jello
Fresh strawberry flavor takes the place of the traditional Jello mixture
Strawberry frosting with cream cheese is the perfect topping
Cake made from scratch is so much better than a boxed mix
Homemade strawberry jam makes the cake incredibly moist but not soggy
It will feed a crowd
This easy strawberry cake is a great choice for a summer bbq. It's not too heavy so it will go great with ribs or burgers. If you prefer layers, and who doesn't love extra frosting, then make a simple fresh strawberry layer cake, or if you want a super simple strawberry dessert, try a strawberry bundt cake.
Ingredients for making a poke cake
Strawberries – whether or not strawberries are in season, you should be able to find fresh berries. If not, it's fine to substitute frozen. Just be sure to thaw them before using.
Lemon juice and zest – these add a bright, tangy flavor
Buttermilk – if you don't have any on hand, add a tablespoon of vinegar or lemon juice to a cup of milk
Cornstarch – to thicken the strawberry filling fro the jam
Sugar – granulated sugar for the cake and powdered sugar for the frosting
Cream Cheese – this makes the best frosting, use at room temperature for easy mixing
Pantry staples – eggs, flour, baking powder, baking soda, butter, vegetable oil, vanilla and salt
Step by step directions for making a strawberry jam cake
Combine the dry ingredients in one bowl.
Make the cake batter
In a separate bowl whisk the oil, buttermilk, eggs, egg yolks and vanilla. Then add the liquid to the dry ingredients and mix by hand until just combined.
Step 3
Bake for about 30 minutes. You'll know it's done when a toothpick inserted in the center comes out clean. The top should be light golden brown.
Make some jam
While the cake is baking make the strawberry filling, or this can be made well in advance. Slice or chop the strawberries and add them to a saucepan along with sugar, lemon juice and lemon zest. Bring to a boil. Reduce to low heat and simmer until it starts to thicken. This will take about 10 minutes. Add some cornstarch to thicken it. Mash the berries until you have a smooth texture.
Pro Tip: To make sure your thickener is lump-free, first add the cornstarch to a bowl. Then slowly drizzle in the water while constantly whisking the mixture to remove any lumps.
If you don't want to make your own jam, you can use a store bought jam, just warm it slightly before spreading it on top of the cake.
Poke some holes
After the cake is done baking let it cool for about five minutes on a wire rack. Then use the end of a wooden spoon to poke large holes all over the cake, about an inch apart.
Working while the cake and jam are still warm, spread the jam over the top of the cake so it sinks into the holes. Allow it to cool completely on the counter. Then chill in the fridge for an hour so the jam can set.
Create the frosting
For the strawberry cream cheese frosting, beat the butter and cream cheese with a hand mixer until it's smooth. Add the powdered sugar and vanilla and beat until creamy.
Make it pink
Chop about ½ cup of fresh strawberries and mash them with a potato masher, immersion blender or food processor. You'll want a smooth consistency for the whipped cream cheese topping. The strawberries should mash down to about 2 tablespoons that you'll beat into the frosting.
Spread an even layer of frosting across the top of the cake. Then refrigerate the cake until the frosting is set.
Spread the frosting over the cake.
If you don't want to use fresh strawberries for the frosting, you can use 1 cup of freeze dried strawberries and still have a delicious strawberry cream cheese frosting. Grind them up until they are almost powder and then add to the frosting. They'll add a great strawberry taste along with the same pink color. This will give you a thicker frosting which might be better if you are going to serve this outdoors.
Making homemade strawberry jam is a great way to preserve and use strawberries later. Be sure to read my other tips on how to keep strawberries fresh.
What kinds of fillings work best with poke cake?
Other homemade jams, like cherry, blueberry or this peach version with hints of vanilla and Bourbon could be used instead of strawberry.
Sweetened condensed milk with dulce de leche, are great in this chocolate Caramel Heath Bar Cake. This coconut version is on my list to try next.
FAQs and tips
When did poke cake become popular?
Strawberry Jello cake first appeared in print in the 1970s as a way to promote Jello powder. Because it used a white cake mix or yellow cake mix, this simple dessert appealed to cooks with limited time to spend in the kitchen. The original recipe called for raspberry powder, but the most requested flavor is strawberry Jell-o.
What's the best way to poke holes in a cake?
Instructions for the old-school strawberry poke cake recipe call for combining the Jell-o with boiling water, then pouring it over a cake that's been poked with a fork.Since this recipe uses a thicker homemade strawberry jam, the holes of a fork are too small.
I prefer using the handle of a wooden spoon, as it is just the right width to allow the strawberry filling to absorb. If you don't have a wooden spoon you could use anything around ¼ – ½ inch in diameter, like a straw, or the end of a chop stick.
Can you use a boxed cake mix for a strawberry poke cake?
Yes, a boxed cake mix can be used in this recipe. I would choose a vanilla cake mix.
Does poke cake need to be refrigerated?
Yes, a strawberry jam cake is best served cold and will keep longer when chilled. If left at room temperature the cake is likely to become too soggy. Cover your finished cake with plastic wrap and store it in the refrigerator for up to a week.
Can you freeze strawberry poke cake?
If you want to make your cake ahead of time you can freeze it for up to 3 months. You can freeze the whole cake or cut it into portions and freeze them individually. Just be sure to store it in an airtight container before freezing. Let it thaw in the refrigerator before serving.
If you're looking for more cake recipes, here are some great options
Decadent Flourless Chocolate Cake has a rich fudgy flavor without being overly sweet.
A fun twist on traditional shortcake, top Lemon Strawberry Shortcake with honey whipped cream for an easy dessert.
Cherry Coffee Cake is a yeast based coffee cake that's great for breakfast or brunch or top it with whipped cream for dessert.
Full of juicy fruit, Peach Pound Cake is loaded with flavor and finished with a simple peach glaze.
Rhubarb Upside-Down Cake features a buttery pound cake with a candied ginger and brown sugar topping.
Golden raisins and nuts are a unique addition to an Apple Spice Cake.
Easy dessert recipes you'll love for spring
Preheat oven to 350°. Grease and flour a 9×13 baking pan.
In a large bowl, whisk together the flour, sugar, baking powder, soda and salt.
In a second bowl whisk the oil with the buttermilk, eggs, egg yolks and vanilla. Add the wet ingredients to the dry ingredients and mix by hand just until the flour is combined. Pour it into the prepared pan and bake for 25-30 minutes. A toothpick should come out clean and the cake should be light golden brown.
In a large bowl, beat the butter and cream cheese together with a hand mixer until smooth. Add powdered sugar and vanilla and beat until creamy.
If using a boxed cake mix, choose a vanilla cake mix.
You can use jam for this recipe, just warm it slightly in the microwave before spreading on the cake.
You can you 1 cup of freeze dried strawberries in the frosting instead of fresh, just grind them and add to the frosting.
Watch a Webstory!
Jams, jellies and chutneys can definitely go beyond toast and add interest and deliciousness to many different food or drink dishes. Here is a list of more than 15 ways to use jams and jellies to enhance your recipes in the easiest way possible.
Easy Appetizers
Spread jams or chutneys over a round of brie and microwave briefly
arrange jams on a cheese plate to pair with cheese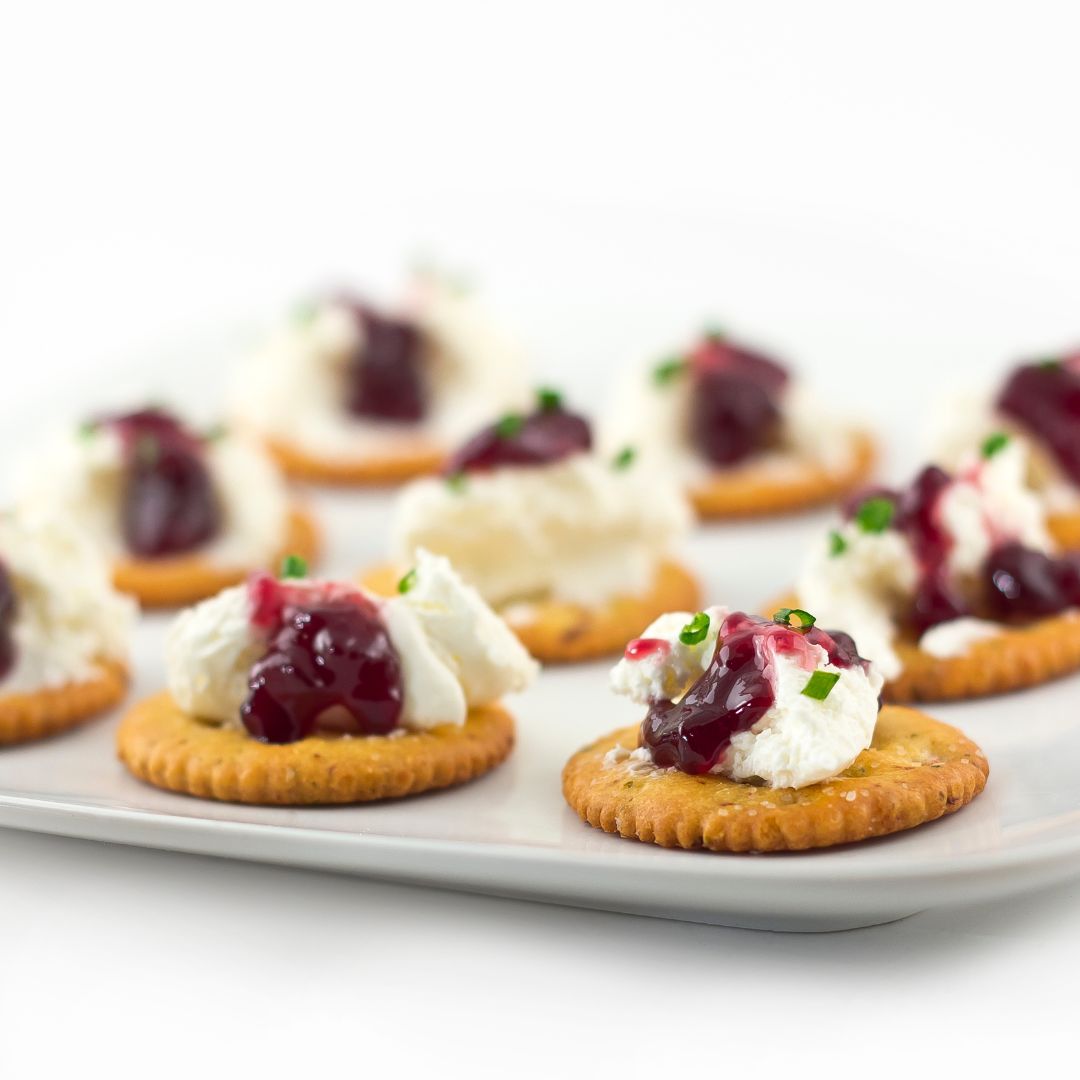 Cream cheese and jelly on crackers
Recommended Preserves for Appetizers
Hot pepper jellies
Herbal jellies
Fruit chutneys
Savory Sauces
In saucepan, mix preserves with some orange juice, cornstarch, soy sauce and mustard; heat over med-high until thoroughly combined and use as a sauce for meatballs or little smokies;
Lamb Chops with Red Currant Jelly Sauce
Recommended Jams/Jellies
Red Currant jelly
Plum jams
Sour cherry jams
Marinades
Heat 1/2 jar of fruit jam in saucepan and mix in 1 Tbsp. mustard, 2 cloves garlic and a pinch of freshly ground black pepper.
Place protein of choice (chicken, pork, fish or ribs) in plastic bag, pour marinade over it and refrigerate 2 hours to overnight.
Remove meat or fish from bag and place on grill or roast in oven.  Use any marinade that has accumulated in the bottom of the roaster to baste the meat the last 5-10 minutes.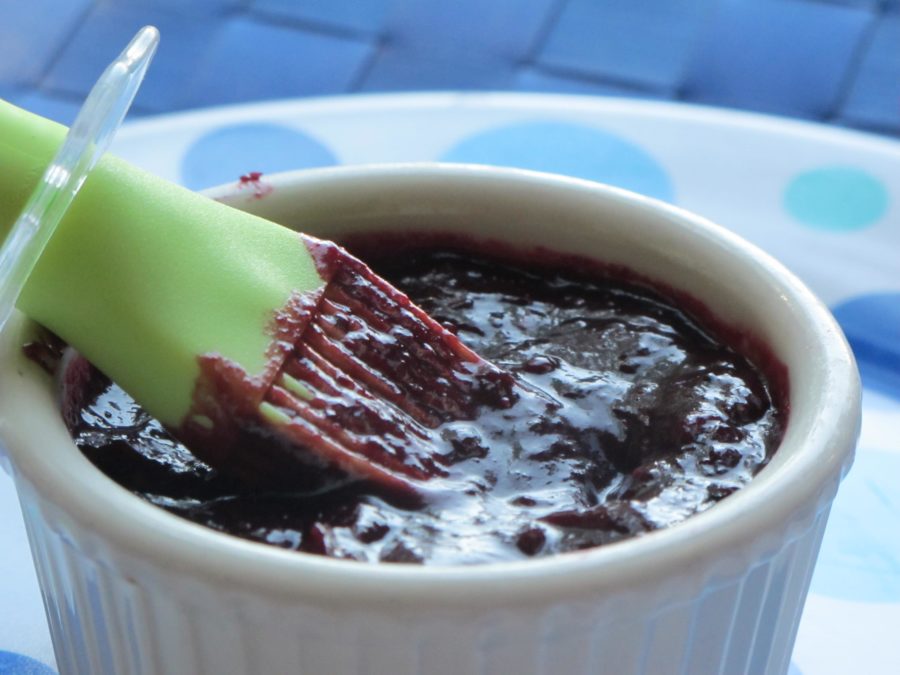 Blueberry Bourbon BBQ Sauce
Blueberry Bourbon BBQ Sauce on Pork Chops
Tart cherry jams
Peach jams
Shakes or Smoothies
In blender, add some frozen vanilla yogurt, a banana, some jam of your choice,  some skim milk and/or some fruit juice or water (to help liquefy).  Add protein powder or flax to blender if desired.  Blend to desired thickness.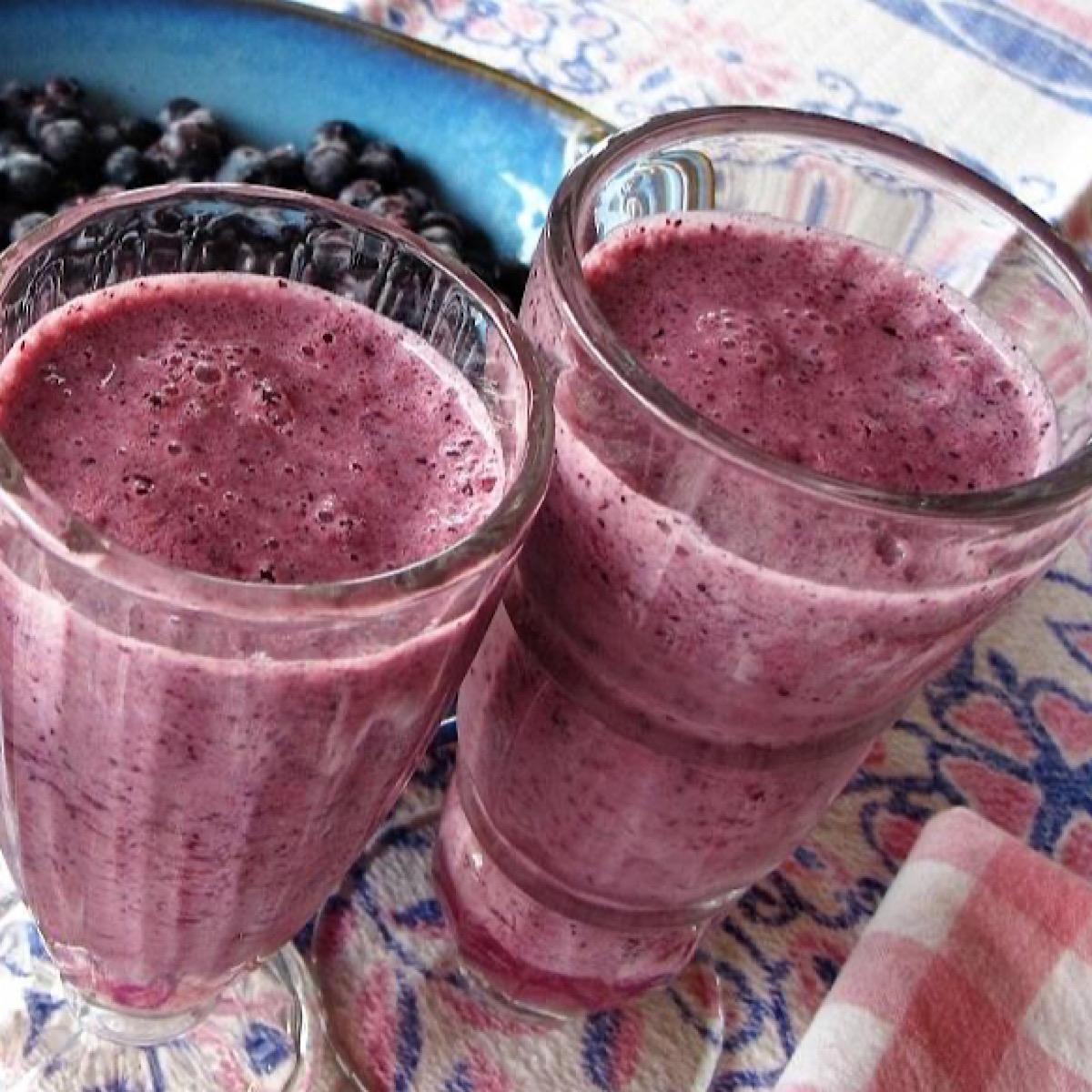 Blueberry protein low carb smoothies
Breakfasts
Spread soft jams over pancakes or waffles
dollop tomato jam or savory jam on omelets
stir fruit jams into plain yogurt or into oatmeal.
Mango jelly on top of coconut pancakes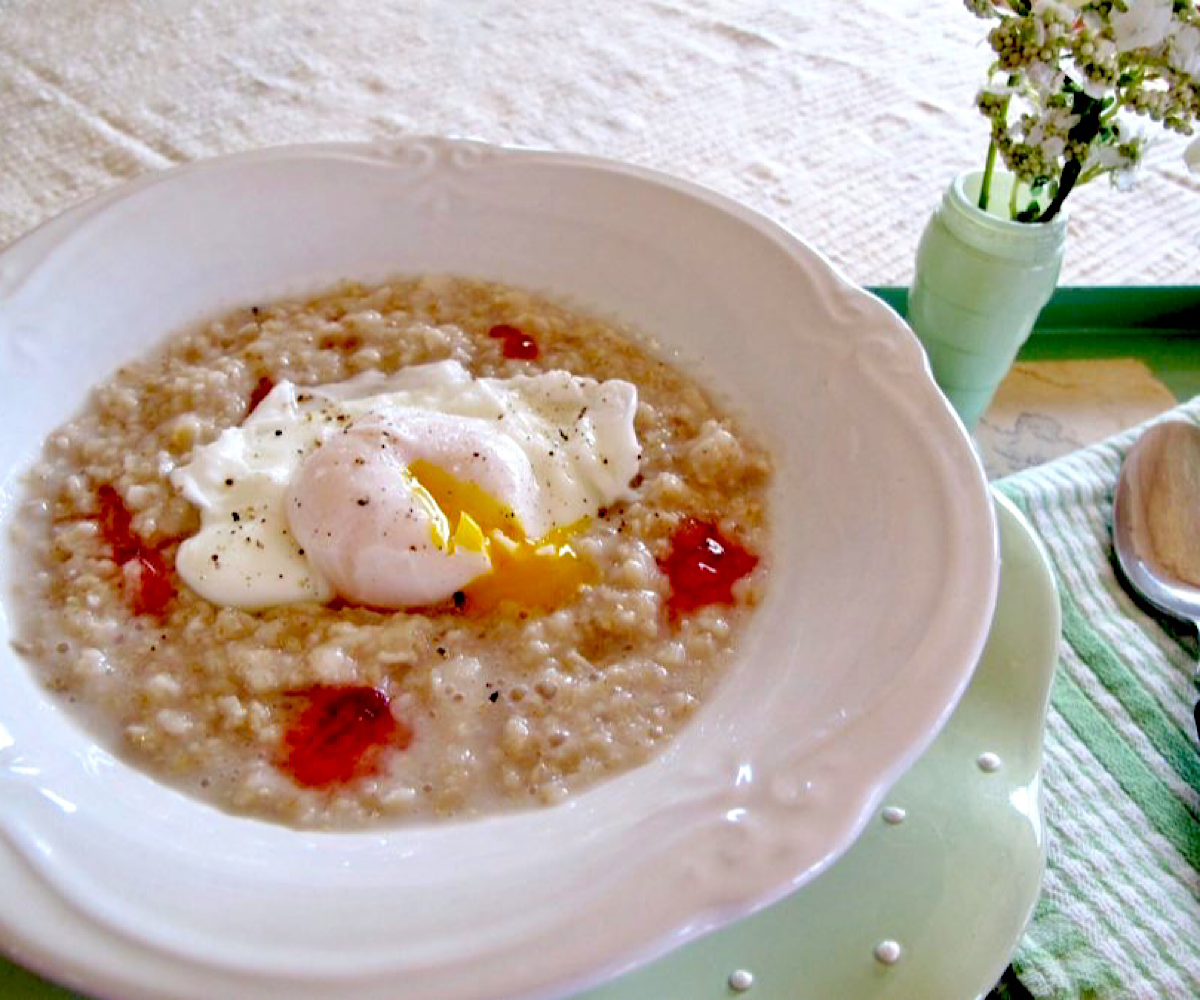 Oatmeal and hot pepper jelly with poached egg on top
Sauces & Dips
add dijon mustard to a citrus jam and use with fish
melt hot pepper jellies and use as dipping sauce for eggrolls, wontons, samosas, etc.
use fruit jam as a base for your favorite BBQ sauce recipe
For Beverages
Jellies can be used as an easy enhancement to cocktails, turning a simple cocktail into a "craft cocktail". There is a range of cocktails and mocktails that can be made with fruit syrups (which is often just a jelly without the pectin). Below are a few to get you started.
Prosecco Sparkler:  warm jelly until liquefied and stir several tablespoons into glass of chilled prosecco or other sparkling white wine.
Champagne & Ginger Lime
Peach cocktail:  Add several tablespoons of any of the low-sugar peach or apricot jams to a glass of sparkling shiraz.  Add ice and stir gently.
Lime marmalade margarita: Add several tablespoons of lime or lemon jams to your recipe for margaritas and blend.
Sandwiches & Burgers
Panini: Use basting brush to spread olive oil or softened butter on outside of 2 slices of robust bread (or sourdough bread);  layer inside of sandwich with cheese and a fruit jam or fruit butter (prosciutto or other meat sliced thin can also be added);
Place sandwich in Panini machine, oiled sides of bread on outside (touching grills) and close machine until cheese is melted and bread slightly browned.
If you do not have a Panini machine, just grill above sandwich like a grilled cheese sandwich.
PBJ's: Try peanut-butter-jelly sandwiches with a bold jam or jelly to get a taste treat.
Hamburgers:  I use a sweet-tart jam on one side of bun, ketchup on the other side of the bun and the hamburger of your choice in the middle for a wonderful tart and savory combination.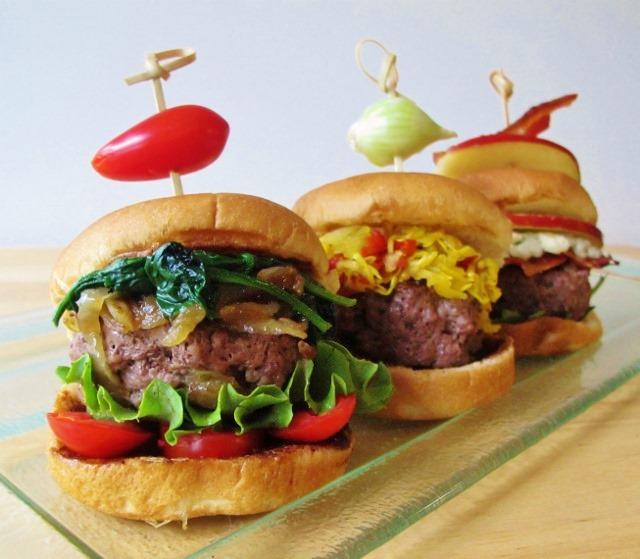 Mini-burgers with fruit chutneys
Sweet Treats & Desserts
These are a few of the many, many ways jams and jellies can be used in desserts:
Chocolate-Raspberry Panini with Mascarpone: Butter 4 slices of French bread and arrange on baking sheet, buttered side down.  Spread each with 1 Tbsp preserves.
Sprinkle chopped bittersweet chocolate (do not exceed 61% cacao) over each, leaving 1/2-inch border. Spread 6 Tbsp mascarpone cheese evenly over plain side of remaining 4 bread slices.
Sandwich cookies: Spread generous tsp of jam between two of your favorite cookies (oatmeal or ginger cookies work great).
Peanut Butter Cookies with Raspberry Chambord Filling
Bars: Use as filling in any of your favorite bar recipes (i.e., raspberry-almond bars)
Empanads: Use as a filling for empanadas
2-Ingredient Jam Tarts for Spring
Ice cream topping: Spoon sweet jams over ice cream fruit jams are especially good with ice cream, but the hot pepper jams are a nice twist.
Mustard Butters for Vegetables
Vegetable toppings: combine 1/3 cup jam (go for less sweet jams or chutneys) with 2 Tbsp Dijon mustard and 1 Tbsp butter and 1 Tbsp lemon juice; heat until melted and drizzle over vegetables
And, of course, TOAST!
All of the jams, jellies and preserves are wonderful with toast and all kinds of breads (bagels, cornbread, etc.)
Macarons are a type of French pastry that are made from almond flour, sugar, and egg whites. They are often filled with ganache, buttercream, or jam. Jelly can also be used as a filling for macarons, and it is a good option for those who do not like chocolate or are looking for a fruitier filling. When using jelly as a filling, it is important to make sure that the jelly is not too runny, as it will cause the macarons to collapse.
I've already put together a recipe for blueberries macarons for my blog. I needed to make another jam filling recipe, so I did. In addition, I had planned to use an airbrush pen on the shells. That looks amazing though, isn't it? In love with my girlfriend, I am in complete love with her. I went almost a week without a computer after my Macbook broke down last week. People all over the world require my assistance in learning how to properly bake this one-of-a-kind treat.
It's also a good idea to keep your batter as light as possible. You must bake each tray separately. Baking macarons produces a deeper color and the appearance of feet. Put all of the ingredients in a pot and bring it to a boil. In a medium saucepan, cook and stirring for about 5 minutes on medium heat. Jams are completely optional if you don't want to make your own. You may be able to purchase it at a store.
Jam should be about a quarter cup in size. Using a scale is essential for accurate ingredient measurements. Wilton Color is what I use. This set includes a high-performance food coloring set. You can expect to pay a much higher amount depending on the size of the shell and how thick or runny the batter is. Depending on how long you want your oven to bake, the temperature and time will vary.
What Can I Use To Fill Macarons?
There are many things you can use to fill macarons. Some popular fillings are chocolate ganache, buttercream, and jam. You can also get creative and use things like peanut butter, cream cheese, or flavored frostings. Experiment to find your favorite filling!
This recipe can be made quickly and easily, but it will require some effort. It is critical to thoroughly dissolve the sugar in the egg whites before whipping them, as well as to only add small pieces of butter at a time to the eggs. I couldn't find my filling as sweet as I wanted it to be, so I mixed in powdered sugar to sweeten it. Despite the fact that this recipe is quick and simple, you must put in some effort. Making sure the egg whites are completely dissolved in the sugar before whipping them is the best way to ensure that only small pieces of butter are added at a time. I decided to sweeten the filling by adding powdered sugar because the icing wasn't as sweet as I'd like it to be, and I ended up with some white chocolate icing on top.
The classic almond and chocolate macarons are the most popular types of macarons. An almond macarons is made by filling it with chopped almonds and then baking them. Macarons are made from a mixture of dough, chocolate ganache, and chocolate chips. Macaron baking kits are required for making them. The kit usually consists of the macarons baking powder, sugar, eggs, butter, and a variety of other ingredients. You may need to add some flavoring, such as almond or chocolate extract, to your popcorn. Flour, sugar, eggs, and butter should be used to make the macarons. To add to the mix, you will also need to add a dry ingredient (usually almond meal, confectioners sugar, and baking powder). You will then add the wet ingredients (usually cream of tartar and egg whites) to the mixture and mix until it is smooth. You will need to combine sugar, egg whites, cornstarch, and salt to make the macarons shells. Before they can be heated, they must be done in hot places. The next step is to combine the salt and the mixture, stirring constantly. To make the mixture, combine all of the ingredients and thoroughly combine. In order to make the filling for macarons, you'll need sugar, butter, eggs, and real fruit. To make the filling, combine the sugar, butter, and eggs until smooth. In this step, add the fruit mixture and mix it all together until you have a fully mixed fruit mixture. When you've baked the macarons, you'll need to bake the dough, shells, and filling. For the baking of macarons, you'll need a baking sheet, butter, sugar, flour, and eggs. Until the butter and sugar are thoroughly mixed, strain them. After that, add the flour to the mixture and mix until it is smooth. After you've added the eggs to the mixture, continue to mix them until all of them are combined. After you've mixed the ingredients together, you should spread them out evenly on the baking sheet. After baking for about 20 minutes at 340 degrees Fahrenheit, turn off the oven and let the macarons cool. What is the filling of a Macaron made of? Mac computers come in a variety of shapes and sizes.
Does Jam Make Macarons Soggy?
There is no one definitive answer to this question – it depends on the type of jam, the type of macaron, and how the two are stored together. If you are concerned about sogginess, it is best to store the jam and macarons separately, and only fill the macarons with jam just before serving.
Soggy Macarons? Here's How To Fix Them
Why are macarons getting soggy? Make sure your containers are airtight to keep them safe. It is critical that the container is clean and dry before use. Make sure the lid is airtight to prevent air from entering the macarons. Air can enter the macarons faster than usual. If you freeze macarons with jam filling, they may become soggy. If you want to thicken store-bought jam, reduce the amount of water content and use confectioners' sugar or cornstarch. If they are still wet, replacing them is a good idea.
What Are Macaron Filling Made Of?
Macaron fillings are usually made with buttercream, ganache, or jam. Buttercream is a type of icing made from butter and sugar that is whipped together. Ganache is a type of chocolate filling made from chocolate and cream. Jam is a type of fruit filling made from fruit and sugar.
A Delicious French Pastry
Macarons are a French pastry that originated in the 17th century. Chocolate ganache, buttercream, or jam is used to fill macarons, which are typically made from meringue. This recipe calls for finely ground almond flour, egg whites, and powdered sugar to make cookie shells. The batter puffs up while baking in order to create a light and airy cookie with a defined foot that holds various fillings. The outside of the macaron is crisp and airy, while the inside is soft and moist. They can be filled with chocolate ganache, buttercream, or jam and can be flavoured with a variety of ingredients. They are a French pastry that has spread all over the world since the 17th century and are famous in both the Middle East and the United States.
How Do I Thicken Jam Macaron Filling?
If you're using store-bought jam, place it in a saucepan and bring it to a rolling boil on low heat for 5 to 10 minutes to reduce the amount of water content. To make the nut butter tighter, you can use some confectioners' sugar or cornstarch, just as you would buttercream. In addition, some of the same ground nuts can be substituted.
The eG Forum is a free service provided by the eGullet Society for Creative Arts. The Society is a 501(c)3 not-for-profit organization that promotes the advancement of the culinary arts. Advertising-free forums are provided for free by the Society on the condition that donations from members are made. The best time to make a macarons is usually the day or two after they are made, according to the vast majority of other people. It can be difficult to add more pectin because jam must be heated to a boil and sugary materials must be brought to a boil without scorching them. To soften the gelatin, dissolve it in the jam and warm it. They have to temper for another day, at which point they soften and absorb some liquid from the filling.
When making macarons, I usually combine fruit purees, curds, or jam with butter creams. In any case, it will harden once refrigerated. I've never been a fan of adding jam to the filling. The strawberry jam I made twice was made with hulled and chopped strawberries, and then I combined them with about 4 teaspoons of sugar and cooked them in a can of beer. As long as the macs were vertically positioned, I was satisfied.
How To Prevent Runny Macaron Filling
When filling macarons, make sure they do not leak. It is critical to thoroughly combine the batter and not let it fall off the spatula as soon as the filling is formed. Another way to avoid runny filling is to make sure the meringue is properly prepared. Over-folding the batter, using the wrong type of macarons, or introducing foreign ingredients are all possible causes of a non-properly prepared meringue.