Don't let the bare trees and gray skies fool you: There's a veritable rainbow of juicy, delicious fruits that are at their best in the winter months. There's also no better time to turn on the oven. We've rounded up our favorite baked recipes starring in-season fruits. Even sweeter, all of these recipes are whole-food, plant-based, and totally free of animal products and oil. So preheat the oven, don your apron, and enjoy one of these good-for-you goodies today.
When it comes to winter desserts, I have a great love for anything warm and comforting.
Sticky toffee pudding covered in salted caramel sauce and hot custard is probably the top of my list!
Want to save this recipe? Enter your email below and we'll send the recipe straight to your inbox!
But at the same time, I love the excuse to use peppermint and spices in some of my favorites.
From hot chocolate cookies and classic apple crisp to an icy cheesecake, let's take a look at 24 of the best ways to satisfy your sweet tooth by the open fire.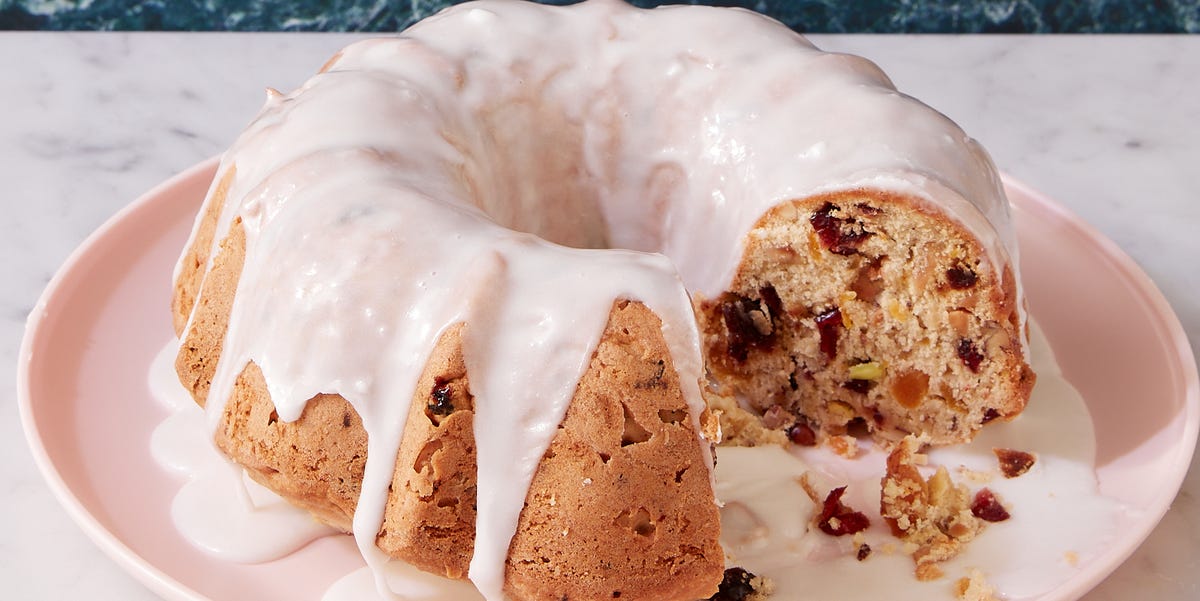 PHOTO: JOEL GOLDBERG; FOOD STYLING: MAKINZE GORE
As soon as the temperatures dip, there's no doubt that our ovens are ready and preheated to bake all our favorite winter cakes. Whether you're planning the dessert spread for your Christmas, Kwanzaa, or Hanukkah get-togethers (or simply just in need of a mid-week treat in February), these winter-friendly cake recipes will more than warm you up. As far as we're concerned, one bite of our cranberry cake can instantly chase away any and all winter blues!
Winter brings snow days, ugly sweaters, but most importantly, cakes we dream about the rest of the year. There's almost too many seasonal greats to count, like figgy pudding, fruitcake, bûche de noël (yule log cake), not to mention sticky toffee pudding. Try them all and you just might find yourself outshining everyone on Great British Baking Show this holiday season. 😉
Here at Delish, we think it's no coincidence that the best citrus arrives in winter; the tart, zippy flavor of orange and lemon always carry us through 'til warmer temperatures creep back up. So why not add that bit of sunshine to your cakes? Our winter upgrade to a standard pineapple upside-down cake, our citrus upside-down cake, might just be your new year-round favorite. The same is absolutely true of our lemon meringue cheesecake and citrus olive oil cake recipes—they're instant day-brighteners and incredibly easy to whip up.
Get your hygge on all season long by cooking up all of our cozy winter recipes, including our favorite winter desserts, winter dinners, winter salads, and winter cocktails.
Advertisement – Continue Reading Below
Bûche de Noël (Yule Log Cake)
Bûche de Noël cakes are a French Christmas tradition dating back to the 19th century. Rolling up a warm cake in a towel might seem crazy, but it's the best way to ensure the cake won't crack when you frost it. You could decorate it like a log, as is traditional, or try any other variety of frosting and topping combos—it's all about that gorgeous swirl, so anything else you manage is a bonus.
Get the Bûche de Noël (Yule Log Cake) recipe.
Cranberry Cake
This cranberry loaf cake is the perfect balance of sweet and tart. The cranberries will burst and release all of their juices while baking, making each bite exciting. The sugar topping adds a subtle crunch, and the sour cream keeps this cake moist for days.
Get the Cranberry Cake recipe.
Rum Cake
Popular in the Caribbean, rum cake is a vanilla Bundt cake that has rum in the batter. Traditionally, dried fruit is soaked in rum for months and then added to the cake batter too, but we have a more accessible homemade version.
Get the Rum Cake recipe.
Citrus Olive Oil Cake
Get the Citrus Olive Oil Cake recipe.
Marshmallow Cake
Classic buttercream is great and all, but have you ever had Italian meringue? The not-too-sweet frosting pairs well with the rich chocolate cake and looks great swirled or toasted on the outside. Pipe it on to make pretty swirls and rosettes, or use a kitchen torch for a s'mores vibe.
Get the Marshmallow Cake recipe.
Christmas Tree Cake
Nine layers of breathtaking beauty! This Christmas tree cake is perfect for when you really want to show off this holiday season. We recommend using a homemade cake recipe, like our chocolate or yellow cakes, but boxed cake mix will work too.
Get the Christmas Tree Cake recipe.
Igloo Cake
We turned two store-bought cake mixes, one 8″ cake pan, one 8″ heatproof bowl, marshmallows, and one cake donut to create this joyful igloo cake. Check out our video for tips, then use this recipe to spark your baking imagination.
Get the Igloo Cake recipe.
When the holiday season ends but cold and darkness persist, we often find ourselves stuck inside, contemplating some of life's bigger questions like, "What should I make for dessert this morning evening?" If you've asked yourself that question lately (as I have), there are countless options to choose from.
For me, winter is the season to celebrate the more subtle flavors of the dessert category (think: brown butter, maple, and olive oil). And while I'll never say no to a warm, fresh-from-the-oven treat on a frigid day, winter desserts are much more than baking projects. Cold desserts like chocolate mousse and coffee ice cream are sometimes exactly what you're in the mood for after a day of shoveling snow, sled pushing, or ice skating. Put plainly: Winter desserts have range and are worth exploring—here are 14 of our favorite recipes to try.
Maria Speck's Greek Yogurt Chocolate Mousse
Chocolate mousse, without the cream, eggs, or fuss. Maria Speck's chocolate dessert requires minimal prep and can be prepared an hour or a day in advance of when it will be served. To complement the chocolate, top the mousse with your favorite orange marmalade.
Dark Chocolate Avocado Truffles
These dark chocolate avocado truffles require only three ingredients, all of which you might already have. So if you want dessert right now, there's a good chance you could be just an hour away from snacking on these.
Pudding Chomeur
A cross between sticky toffee pudding and pancakes with maple syrup, this pudding chomeur (a French Canadian dessert created during the Great Depression) is prepared and served in ramekins—making it the ideal treat for any upcoming winter dinner parties.
Nigella Lawson's One-Step, No-Churn Coffee Ice Cream
Creamy, homemade ice cream that comes together with just a bowl, whisk, and freezer. Say no more.
Brown Butter & Butternut Loaf
This loaf tastes like butterscotch mixed with pumpkin, and fills the kitchen with a cozy aroma as it bakes. Added bonus: The recipe makes two loaves, meaning you could give your second loaf to a friend or family member (or you could just keep it because you'll probably want it all to yourself after you eat the first loaf).
My Ginger Cookies
A reminder: Ginger cookies don't have to be dry and brittle. This recipe from Alice Medrich is soft and chewy, and will remain that way for a few days. Enjoy with coffee, tea, ice cream, or nothing at all—these cookies work in every situation.
Vegan Chocolate Chip Cookies With Maple & Olive Oil
These cookies can be eaten at any time of day, but are especially good at breakfast. Maple syrup, olive oil, and minimal effort make these chocolate chip cookies both delicious and possible at either 7 a.m. or 7 p.m.
Cookie Butter Sweet Rolls
Like many others, I've always loved the Biscoff cookies you get while flying, but I never ate, bought, or thought about them outside of an airplane. Then I found cookie butter, a sweet and creamy spread made from Biscoff (or similar style) cookies. These rolls take the warming flavors of Biscoff cookies and bake them into a gooey-sweet dessert. What could be better on a cold winter day?
Sweet Cream Bundt Cake
Seemingly simple, this bundt cake is an example of a dessert that is greater than the sum of its parts. Make it once, and you'll likely make it every winter.
Sherry & Olive Oil Pound Cake
This olive oil pound cake works for dessert and breakfast, which means a world exists where you could eat only olive oil cake for twelve hours. (I like that world.)
Butter & Scotch's Birthday Cake
The perfect cake for your next winter birthday party. Accidentally created by Butter & Scotch bakery in Brooklyn, this cake takes the nostalgia of boxed birthday cakes from childhood and updates it with a denser texture and subtle cream cheese frosting.
Gingered Cranberry-Pear Pie
Pie deserves a seat at the winter dessert table, especially one with dough that is rolled out on gingersnap crumbs. This innovative pie-making-move gives you crunch and flakiness that is hard to replicate.
Oatmeal Cream Pies
A self-proclaimed "adult version" of the kid-favorite classic, these cookie pies use brown butter buttercream and bourbon oatmeal cookies to somehow improve upon an already flawless concept.
Crème Brûlée Pie
I love crème brûlée, but the thought of doing a bain marie at home always makes me nervous. With this brilliant recipe, you skip the water bath and swap inedible ramekins for flaky pie crust.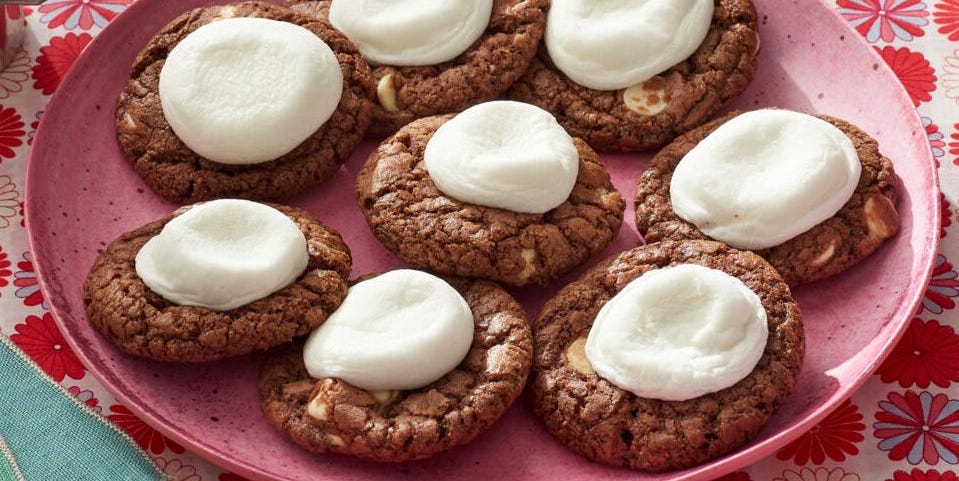 It's time to bundle up, put on your favorite Christmas movie, and enjoy a few sweet treats from your holiday baking list—because winter is in full swing! Whether you're looking to make a batch of fresh-from-the-oven brownies or a comforting pie recipe, this list of winter desserts has something for every chilly night of the week. Sure, we've included plenty of Christmas desserts and Hanukkah desserts for the holidays (including some of our favorite Christmas cookies), but you'll also want to keep the delicious treats going throughout the chilly season. After all, the fluffy, seasonal cranberry cake would be the perfect last course for any winter dinner party.
So, if the gloomy winter forecast has you in a slump, try one of these winter dessert recipes to brighten your day! There are tons of seasonal holiday favorites, like peppermint and marshmallow recipes, plus easy desserts to make you feel extra cozy (like your own mocha mug cake). We've even included Valentine's Day desserts that anyone would love. Try the warm and gooey lava cakes or the red velvet sandwich cookies with festive, bright colors.
For the ultimate cozy night in, you'll want to bundle up with a throw blanket in front of the fire and pair these sweet treats with your favorite winter cocktail!
Christmas Cranberry Cake
Whether you serve it for Christmas or any other chilly night of the week, this seasonal cake is sure to be a hit! The sugared cranberries are optional but they make everything look a little more festive.
Get the Christmas Cranberry Cake recipe.
Homemade Marshmallows
Hot chocolate and marshmallows are a match made in heaven. But store-bought marshmallows have nothing on these! They're light, fluffy, and perfect in your mug.
Get the Homemade Marshmallows recipe.
Chocolate Lava Cakes
These mini cakes are best served warm from the oven so the chocolate "lava" stays gooey and decadent. It's great for sharing with your loved one on Valentine's Day or any chilly night of the week.
Get the Chocolate Lava Cakes recipe.
Chocolate Raspberry Cake
Looking for a show-stopping cake this holiday season? Well, here you have it! The rich chocolate cake is layered with raspberries for an impressive dessert table centerpiece.
Get the Chocolate Raspberry Cake recipe.
Peppermint Cheesecake
Nothing will get you in the holiday spirit quite like peppermint! Oh, and chocolate! And cheesecake! It's basically the perfect Christmas dessert.
Get Ree's Peppermint Cheesecake recipe.
Pizzelle
These thin cookies are made just like a waffle cone using a pizzelle iron. They cook up quickly and get crisp as they cool.
Get the Pizzelle recipe.
Hot Chocolate Cookies
These festive cookies taste just like a comforting mug of hot cocoa—which makes sense since they're made with actual hot cocoa mix! To give them the full hot chocolate effect, they're topped with fluffy marshmallows, of course!
Get Ree's Hot Chocolate Cookies recipe.
Christmas Rum Cake
Ree's mother-in-law makes a rum cake that's so easy to prepare, it's practically foolproof! It's perfect for holiday potlucks, Christmas Eve dessert, or simply a weeknight cake recipe.
Get Ree's Christmas Rum Cake recipe.
SHOP BUNDT PANS
Dreamy Apple Pie
A homemade apple pie is guaranteed to warm your soul—and fill your home with a delicious scent. This one is rich, decadent, and so dreamy.
Get Ree's Dreamy Apple Pie recipe.
Eggnog Cake
You don't even need to be a fan of eggnog to love this special holiday cake. The eggnog adds a rich creaminess without overpowering the flavor. The result: a spiced, vanilla cake that's covered in boozy glaze.
Get the Eggnog Cake recipe.
This festive yule log cake is straight out of a fairy tale! Plus, it tastes magic too thanks to the whipped cream cheese filling and rich chocolate ganache.
Get Ree's Yule Log recipe.
White Hot Chocolate
This winter wonderland-inspired drink is even better than the typical hot chocolate packet. It's made with white chocolate chips, milk, and Ree's secret ingredient: half-and-half!
Get Ree's White Hot Chocolate recipe.
Gingerbread Cake
This simple cake is moist, fluffy, and packed with all the warm flavors of your favorite gingerbread cookie—cinnamon, ginger, and cloves. Plus, the lemon cream cheese frosting is out-of-this-world delicious!
Get the Gingerbread Cake recipe.
Chocolate-Peppermint Slice-and-Bake Cookies
Dark chocolate chips are the unexpected ingredient in this classic pecan pie that makes it extra gooey and decadent. Serve it at your holiday party for a twist on classic Christmas desserts.
Get the Chocolate Pecan Pie recipe.
Treat yourself to something sweet
When the weather outside is frightful, these delightful desserts take the edge off winter. From sticky toffee and bread puddings to wintry cheesecakes, fruit crumbles, chocolate confections, creamy cheesecakes, and nostalgic pies, these are the desserts made for cold winter days and nights. Try our best, easy recipes for winter desserts you can make for family dinners, holiday gatherings, or solo snacking.
You did it! All the cookies have been baked and the festive cakes consumed. You might be asking yourself, "What's next on the baking agenda?" If you're coming up blank, don't fret. This month is actually a sneaky great time to bake: With winter weather settled in, it's time to hunker down and tackle a project bake you've always wanted to try. Or use this time to bake all the recipes you were dying to make while cookies and candies took up your time in December.
To inspire you, I'm sharing my favorite recipes — from hearty entrées to breakfast treats to sweet indulgences — to keep you and your family warm and well-fed this month.
Make your coffee break extra-special with coffee-infused Mocha Whoopie Pies.
1) Mocha Whoopie Pies
Embrace the darker side of winter with these devilishly dark whoopie pies. They feature espresso-enhanced cake rounds sandwiched around a rich chocolate ganache filling. Pair with a warm mug of hot cocoa or your favorite cup of coffee.
Photography and food styling by Liz Neily
Popovers are a fun way to liven up your normal breakfast routine.
2) Popovers
If you think it's difficult to whip up freshly baked treats on a cold winter morning, think again. I love popovers for their simplicity — they're made with only four ingredients and five minutes of prep time — and their versatility. Serve with jam for breakfast (my preferred way) or in the breadbasket for dinner. Heed my warning: Keep that oven door closed while baking! If you open the door, the popovers may not fully "pop," ruining the "whoa-you-made-those?!" effect these tend to elicit.
Chicken and Dumplings are the ultimate comfort food for cold winter nights.
3) Chicken and Dumplings
Born and raised in Pennsylvania, I have a soft spot for this variation of the traditional Pennsylvania Dutch recipe. (I even remember eating it in my elementary school cafeteria when I was a little girl.) This quick and easy recipe features fluffy, homemade dumplings (made even easier with self-rising flour!) that sit atop a flavorful chicken soup-style filling. A one-pot recipe, it's perfect for your Dutch oven.
Discover the sweet surprise tucked inside these stuffed cookies.
4) Salted Caramel Stuffed Cookie
A mashup of an oatmeal cookie, coffee cake, and muffin, these impressive cookies are stuffed with warm, gooey caramel for the ultimate decadent dessert. Senior Recipe Developer Molly Marzalek-Kelly spent countless hours perfecting the ratio of cookie to caramel to streusel topping, and she nailed it. Unlike your average cookie, they're baked in a muffin pan to ensure they're adorably chubby and perfectly round.
Experience potato perfection with Classic Scalloped Potatoes.
5) Classic Scalloped Potatoes
This recipe is simple to make, quite affordable, and makes a lot. With layers of thinly sliced, tender potatoes and a creamy sauce made with just flour, milk, and butter, you'll be hard-pressed to find a better way to eat these seasonal tubers.
Double-Dutch Dark Cocoa gives these Fudge Brownies their irresistible chocolatiness.
6) Fudge Brownies
I have baked numerous batches of brownies, and I keep returning to this recipe. They're easy to make and taste so much better than boxed. This recipe also taught me how to accomplish the perfect shiny crust quintessential to a picture-perfect brownie. (The secret? Chocolate chips!) There's a reason these brownies are beloved by everyone at King Arthur — they're simply the best.
https://youtube.com/watch?v=RmpE_iskKBQ%3Fautoplay%3D0%26start%3D0%26rel%3D0
7) Cinnamon-Sugar Crunch Bagels
We've got Recipe of the Year on the mind since our 2023 recipe, Cinnamon-Crisp Coffee Cake, just made its debut. This sweet bagel recipe is a twist on our 2022 Recipe of the Year Ultimate Sandwich Bagels — and the well-loved Cinnamon Crunch Bagel from Panera. It's distinguished by its spectacularly crunchy crust, made from a streusel topping that shatters with every bite and includes coarse sparkling sugar for a sprinkle-like crunch.
Add an extra sprinkle of cheese to this savory quiche right before baking for extra flavor.
8) Roasted Butternut Squash & Spinach Quiche
I love quiche for its versatility, and this recipe is no exception. Butternut squash and aromatic herbs provide a rich, earthy, comforting flavor, but you can just as easily substitute other winter squashes or vegetables you have on hand. Baked in a buttery, flaky pie crust with a creamy custard filling, it's great for breakfast, brunch, lunch, or even dinner.
Photography by Rick Holbrook; food styling by Kaitlin Wayne
This Chocolate Cream Pie will satisfy any chocolate lover.
9) Chocolate Cream Pie
The silky-smooth chocolate filling is what really takes this luscious pie over the top. Crowned with lightly sweetened whipped cream reminiscent of a blanket of fresh snow, this pie is a diner staple that's even better when made at home. Add some shaved chocolate on top for an elegant touch. Make sure to check out our vegan-friendly version too: No-Bake Vegan Chocolate Pie.
Prep this bread the night before and bake it fresh in the morning.
10) No-Knead Harvest Bread
Made with whole grains, dried fruit, and nuts, this hearty bread is hands down my favorite bread to toast for breakfast. It packs flavor and texture and needs only a small smattering of butter to bring out all its flavors. No-knead breads are also some of the easiest you'll ever make thanks to the longer resting times that replace kneading.
Homemade Pierogi beat store-bought every time.
11) Homemade Pierogi
These little pockets of mashed potatoes and cheese are a recipe to put on repeat all winter long. They're easy to make, and you can customize your fillings based on your taste — sauerkraut is my personal favorite. Serve them like I do, with a dollop of sour cream.
Joseph De Leo
Kouign-Amann is a classic sweet and flaky pastry that's worth making at home.
12) Classic Kouign-Amann (Breton Butter Cake)
If you're snowed in and want a baking project, give this traditional French cake a whirl. Kouign-amann translates to "butter cake," and for good reason. Like a croissant, it's made by layering dough with sheets of butter, creating delicate layers that melt in your mouth — but with the pleasant addition of sugar in each of those layers. This recipe is a great place to start if you're new to laminated doughs, as it's very forgiving.
The addition of chili crisp gives these savory rolls a spicy punch.
13) Tahini-Scallion Rolls
These rolls are unlike any I've had before. Creamy tahini lends a slightly nutty flavor that sets them apart from your average dinner roll, while the scallions add a somewhat peppery flavor. I like to sprinkle Everything Bagel Topping on top for added flavor and crunch. (And if you like tahini, don't miss this Tahini Poppy Seed Pound Cake.)
Hot bread is delicious, and with the addition of hot cheese in these crusty loaves, it's even better.
14) Gruyère-Stuffed Crusty Loaves
Filled with melty Gruyère cheese and pizza seasoning, these crusty loaves are just what every dinner table needs. I like to utilize the long rest option included at the bottom of the recipe page so I can more easily fit this recipe into my schedule.
Cover photo (Mocha Whoopie Pies) by Shilpa Iyer.
Oh, the weather outside is frightful, but these homemade treats are so delightful! Preheat the oven and indulge in these winter baking recipes while the frosty winter air is still here.
Time to give rum cake a little competition! If this boozy take on monkey bread is too strong for your taste, cut back on the bourbon or use milk as a non-alcoholic substitute. —James Schend, Pleasant Prairie, Wisconsin
German Apple Cake
With the long, cold winters we have here, this German apple cake recipe has warmed many a kitchen. The cake is perfect for breakfast, dessert or as an evening snack. I've made it for many parties, and I've always received compliments on it. —Grace Reynolds, Bethlehem, Pennsylvania
Dutch-Oven Raisin Walnut Bread
On a cold day there is nothing better than a warm, crusty Dutch oven raisin bread filled with walnuts. —Catherine Ward, Taste of Home, Prep Kitchen Manager
Nutella Cinnamon Rolls
These jumbo Nutella cinnamon rolls will stand alone at your next brunch. Bursting with chocolate, hazelnut, espresso and cinnamon, they will please any palate and bring to mind your favorite coffee shop bakery. —Pam Ivbuls, Elkhorn, Nebraska
Brownie Kiss Cupcakes
Gouda and Roasted Potato Bread
Our family tried roasted potato bread at a bakery on a road trip, and I came up with my own recipe when we realized we lived much too far away to have it regularly. It makes for a really amazing roast beef sandwich and also goes well with soups. —Elisabeth Larsen, Pleasant Grove, Utah
Skillet Stout Brownies
These stout brownies are so rich and fudgy. I love how quickly they come together. They're perfect for a busy weeknight. —Mandy Naglich, New York, New York
Bacon Parmesan Popovers
This recipe proves that simple ingredients often result in the best-tasting dishes. These popovers are a nice change from ordinary toast or muffins. —Donna Gaston, Coplay, Pennsylvania
Peanut Butter Bundt Cake
This peanut butter bundt cake with frosting is heavenly to me. I use smooth peanut butter, but crunchy would work, too. —Karen Holt, Rock Hill, South Carolina
Bread Pudding Pie
This unique dessert is a bread pudding-pie combo. It was created by my paternal grandmother's family. They had a farm and made their own bread, which made this a low-cost dessert. — Kelly Barnes, Lexington, Indiana
Double Butterscotch Coconut Cake
I got this recipe for coconut cake from a co-worker years ago, then I changed it up a bit by adding a family favorite: butterscotch. It's super easy to throw together and it makes a perfect accompaniment to coffee or tea. —Marina Castle Kelley, Canyon Country, California
Sage-Apple Cider Bread
Who knew sage and apple cider would create such a fantastic bread? This versatile loaf that has just a hint of sweetness makes wonderful sandwiches or stuffing. —Christine Wendland, Browns Mills, New Jersey
Chocolate-Covered Cherry Cookies
Although these cookies require a little extra effort, they're worth it. I make them for every family gathering—and they never last long! —Marie Kinyon, Mason, Michigan
Chocolate and Cherry Stromboli
This melty, chocolaty spin on stromboli is delicious for both breakfast and dessert. Serve it with a cup of coffee, and even the coldest winter day instantly feels more snug. —Lorraine Caland, Shuniah, Ontario
Cheesy Cajun Cornbread Biscotti
This savory cookie is the bestseller at our Christmas cookie bazaar. Everyone requests the tasty biscotti every year. They're simple but very delicious. I will also serve them year-round as an appetizer. —Paula Marchesi, Auburn, Pennsylvania
Fudgy Layered Irish Mocha Brownies
My husband and I are big fans of Irish cream, so I wanted to incorporate it into a brownie. I started with my mom's brownie recipe, then added frosting and ganache. These decadent treats are the result, and we really enjoy them! —Sue Gronholz, Beaver Dam, Wisconsin
Josh's Marbled Rye Bread
This impressive marble rye bread may look like it would be difficult to make, but it's actually quite easy! The flavors of the bread are mild yet satisfying. And I enjoy eating it with just a simple spread of butter or on a hearty sandwich loaded with my favorite fixings. —Josh Rink, Milwaukee, Wisconsin
Red Velvet Pound Cake
This delicious red velvet pound cake is the perfect combination of flavors. Make sure the cake has cooled before icing it, and for extra crunch sprinkle some roasted pecans on top. —Robin Smith, Old Fort, North Carolina
Skillet Cinnamon Rolls
I love using cast iron to get a nice crust on these skillet cinnamon rolls! The pan also makes an impressive serving dish on the table without it looking as if you tried too hard. —Danielle Williams, Newport, Rhode Island
Mini Chocolate Cakes with Caramelized Bananas
This was one of my first times spreading my wings with a recipe and trying to go a bit fancy. This is a breeze to make and a delight to serve. The recipe may look intimidating but after you try it once, you'll have it down pat. —Lorraine Caland, Shuniah, Ontario
Chai-Spiced Bread Pudding
Nothing says the holidays to me more than the warming spices of chai. This bread pudding incorporates those flavors to make a dessert that everyone raves about. —Jessie Apfe, Berkeley, California
Butterscotch Pie with Walnut-Bacon Toffee
This recipe started as an experiment in making bacon toffee, but by the time I was done I had this sweet and savory butterscotch pie. —Juliann Stoddart, Chicago, Illinois
Fudgy Mint Cookies
Chocolate lovers will get a double dose when they bite into this cakelike cookie. The cookies are especially popular served alongside a big scoop of mint chocolate chip ice cream! —Renee Schwebach, Dumont, Minnesota
Mincemeat-Filled Braid
I love to combine flavors and spices from different cultures. These cookies have ground cinnamon in them, which is a classic flavor in Mexican chocolate. They are very crunchy and are loaded with maraschino cherries and toasted walnuts. —Nancy C. Evans, Phoenix, Arizona
RumChata Cheesecake
I like to experiment and make new and unusual-flavored cheesecakes. When I tried RumChata at a friend's party, I knew it would make a great cheesecake. For a pretty presentation, drizzle it with caramel syrup or topping, or sprinkle on some toasted coconut. —Christine Talley, Hillsboro, Missouri
Cast-Iron Apple Nutmeg Coffee Cake
I'm not a great baker, but I do love coffee. In an effort to practice my baking, I use up the morning's last bit of coffee to make this cake—literally. It is super moist and crumbly, and tastes as if you dunked your cake right into a cup of hot joe. —Darla Andrews, Schertz, Texas
Pumpkin Chocolate Chip Cookies
I'm one of the cooking project leaders for my daughter's 4-H club, where these soft, delicious cookies were a huge hit with the kids. —Marietta Slater, Augusta, Kansas
Big Soft Ginger Cookies
These nicely spiced, big soft ginger cookies are perfect for folks who like the flavor of ginger but don't care for crunchy gingersnaps. —Barbara Gray, Boise, Idaho
Cran-Apple Pecan Crisp
Even folks who claim not to like cranberries rave about this dish. I cherish the recipe from my mother, who inspired my love of cooking. —Debbie Daly, Florence, Kentucky
Old-Fashioned Carrot Cake with Cream Cheese Frosting
A pleasingly moist cake, this treat is the one I requested that my mom make each year for my birthday. It's dotted with sweet carrots and a hint of cinnamon. The fluffy buttery frosting is scrumptious with chopped walnuts stirred in. One piece of this carrot cake with cream cheese frosting is never enough—it's better than all the other carrot cakes I've tried! —Kim Orr, West Grove, Pennsylvania
Chocolate Pecan Skillet Cookie
Best Ever Banana Bread
Whenever I pass a display of bananas in the grocery store, I can almost smell the wonderful aroma of my best banana bread recipe. It really is amazingly good! —Gert Kaiser, Kenosha, Wisconsin
Chocolate Chai Mini Loaves
This bread is irresistible! A friend gets mad when I make it because I give her a loaf and she can't help but eat the whole thing! —Lisa Christensen, Poplar Grove, Illinois
Ginger-Walnut Tube Cake
My husband, Ken, loves this tube cake with its bits of crystallized ginger. Feel free to drizzle it with a lemony glaze. —Nancy Zimmerman, Cape May Court House, NJ
Cranberry Pecan Cookies
These are so tasty and simple to prepare! Each delightful little cookie is loaded with cranberries, nuts and vanilla, giving them the taste of a treat that's been slaved over. —Louise Hawkins, Lubbock, Texas
Triple-Chocolate Peppermint Cookies
Santa is sure to stop by your house if you leave these minty triple-chocolate peppermint cookies waiting for him. They're quick and easy for the whole family to make together. —Teresa Ralston, New Albany, Ohio
Buttermilk Pecan Pie
This is the treasured "golden oldie" that my grandmother made so often whenever we'd come to visit. Grandma grew her own pecans, and we never tired of cracking them and picking out the meat when we knew we'd be treated to her special pie! —Mildred Sherrer, Fort Worth, Texas
Warm Chocolate Melting Cups
These little cakes have become a favorite of our guests. They are always surprised that such a chocolaty dessert is so light­—less than 200 calories apiece! —Kissa Vaughn, Troy, Texas
Eggnog Bread Pudding with Cranberries
My parents love this bread pudding loaded with cranberries and pecans – and it uses up leftover dinner rolls. For eggnog lovers, it makes a divine dessert. —Emily Hobbs, Springfield, Missouri
Cranberry-Pear Crumble Pie
In the mood for crumble? Unlike traditional fruit crumbles, which use oodles of refined sugar and butter, this fruity beauty is whole-food, plant-based all the way. The combination of an earthy oat-walnut crust filled with a pear and cranberry filling is heaven in a pie dish. Don't forget to reserve some of the crust to crumble over the top.
Candy Cane Cheesecake
With an Oreo crust, swirled mint filling, and shiny dark chocolate ganache, this is one of those recipes you'll make more than once.
Using peppermint extract and crushed candy canes, this recipe perfectly creates that mint chocolate flavor we all love.
The color comes from a simple food coloring that you can easily omit. It will still have that same great taste.
Be sure to let your cheesecake cool to room temperature before putting in the fridge.
If you can, let it sit overnight before pouring over your ganache and sprinkling with more crushed candy canes.
Maple, Fig and Pecan Self-Saucing Pudding
Another great self-saucing option, this recipe is almost like monkey bread.
The nutty dough needs to be nestled into a skillet or baking dish and covered in figs, pecans, and maple glaze.
Once baked, the maple sauce will seep through the dough, along with the caramelized figs, to create a thick sauce underneath.
I think these would be amazing in those little skillets you already ordered, by the way! Just be sure to adjust your baking time.
Serve right from the baking dish with more maple glaze and ice cream.
Chocolate Chess Pie
This recipe tastes a lot like a brownie pie. It comes together with just nine ingredients, one of which is a store-bought pie crust.
It's not overly sweet and does require the use of a good dutched cocoa powder to make sure the chocolate flavor is rich and deep and not synthetic.
Be sure to pre-bake your pie crust to avoid a soggy bottom.
I think this pie would be amazing with some Bailey's whipped cream and a nice coffee.
Guinness Chocolate Cake
It might not sound very wintery, but this is definitely a holiday winner.
Winter is all about deep, rich flavors and this cake has it in spades.
You won't necessarily taste the stout. Rather, you will get notes of spice and a much deeper chocolate flavor.
Topped with a simple cream cheese frosting, this cake has a bold, not too sweet flavor that works so well with a glass of Irish coffee.
Perfect Chocolate Fondue
Winter is the time to stay in with a warm fire and wonderful food, and this fondue recipe is the perfect way to end a family meal.
You can find inexpensive fondue pots online and most are electric, meaning you can better control the melting and don't have to worry about burning the bottom of the chocolate with an open flame.
All you have to do is melt good quality chocolate with some cream, milk, and vanilla.
Cut up fruit, cookies, brownies, pretzels, marshmallows, almost anything you can think of!
It's such a fun way to enjoy dessert as a family. Just be sure to hold back some of your favorites because they won't last long.
Sticky Toffee Pudding with Custard
In the UK, a good pud' usually consists of some kind of cake, sponge, or crumble slathered in thick, hot custard.
British custard is more or less the same as pastry cream. The major difference being custard has a little less starch, so it stays pourable.
Sticky toffee pudding consists of a brown sugar cake, sweetened with boiled and pureed dates.
The dates need to be boiled to soften them. They can then be blitzed in a food processor, blender, or immersion blender.
Be sure to let the dates cool a little before adding into your blender or processor.
When baked, the entire cake gets drenched in toffee sauce and custard for the ultimate winter warmer.
Eggnog Cheesecake
Eggnog tastes like a spiced melted milkshake. It's creamy, sweet, and ideal in a cheesecake.
This recipe calls for a classic graham cracker base, though I think adding some pecans in or using gingerbread cookies would make a pleasant change.
If you're nervous about using a water bath, I promise you can do it! I like to wrap my cake tin in multiple layers of crisscrossing foil to be sure nothing will seep in.
But my secret top tip is to add in a couple of layers of plastic!
Split a large cooking bag in half and layer the plastic with foil to keep the base nice and dry. The best part is, it's so good, you can reuse the cover multiple times.
When baking, you will find this cheesecake needs a little longer, but it will be worth it.
Serve with eggnog whipped cream and a sprinkle of cinnamon.
Bread and Butter Pudding
I grew up with bread and butter pudding made with plain old white bread. It was delicious but this? Wow.
Made with leftover croissants and brioche, this recipe is beyond anything my 10-year-old mind could imagine.
I like it just as much for breakfast as I do after dinner. It's not complicated and is always sweet and tasty.
They key with bread and butter pudding it to let the bread soak in the vanilla custard mix before baking. It will seep into the bread and soften it up perfectly.
Feel free to add some spices to the custard mix, but I'm a fan of the original vanilla. I also like raisins in mine, but you can add anything, really.
For something a little different and ultra-luxurious, give this spiced chocolate recipe a try.
Spiced Pear, Blueberry, and Almond Shortcake
Spiced, poached pears are one of my favorite things. The flavors are something a little different, but I would take these over apple pie any day.
If you're looking for something you don't see every day, this recipe is for you.
The shortbread acts like a pastry, encasing the fruit filling and baking into a pie.
When poaching your pears, be careful not to cook for too long, as they can become mushy. You'll want them soft yet firm inside so they hold their shape when you cut them.
Sour Cream Pound Cake
Pound cake is a solid recipe to have in your back pocket.
It works for breakfast with your coffee, or as a little something sweet before bed, and is so easy to change up.
This recipe is a real classic, using the sour cream to ensure a rich and moist crumb.
Be careful not to overmix your batter and keep an eye on it in the oven so it doesn't dry out.
Serve alone, or with a spiced berry compote.
German Chocolate Cake
Cold and dark winter days are a baker's dream. It's time to shine and try new things.
German chocolate cake might look intimidating with its coconut and almond filling, but now is the time to give it a go.
The good news is, this recipe uses a great boxed mix. Nobody says you have to make everything from scratch! If the boxed mix tastes this good, why worry?
For the filling, you'll need to melt the butter, sugar, evaporated milk, and eggs in a saucepan. This needs to be constantly moving to avoid cooking the eggs too soon, while you wait for it to thicken.
When it's thick enough to spread on a cake, stir in the vanilla, coconut, and almonds. Let it cool completely before frosting your cake.
Apple-Maple Cinnamon Rolls
Apple season begins in the fall but continues through midwinter, too. These melt-in-your-mouth cinnamon rolls make a great holiday-breakfast treat.
Chocolate and Blackberry Self-Saucing Puddings
Self-saucing puddings and desserts are a master in baking magic, though they're so easy to make.
The idea behind these puds is to have a flour-based sponge that will rise during baking.
There is usually some kind of added sauce or fruit concoction that drips to the bottom and comes together to create the perfect sauce.
They're best served in the dish they're baked in.
For this decadent pudding, you'll need ramekins and blackberries. Topped with the chocolate batter and chocolate syrup, you'll have the perfect, fruity chocolate pot.
They're great dusted with powdered sugar but would be over-the-top with a scoop of ice cream.
Easy Christmas Blondies
As much as I love a brownie, there's something about a blondie that always has me coming back for another bite.
They're basically super thick chocolate chip cookies and are so easy to modify.
These Christmas blondies are packed full of red and green chocolate chips, along with a healthy helping of white chocolate.
The colors are so festive, and these will be a sure-fire hit.
As I said before, they're so easy to change up. So why not try out some fun winter flavors? I think dark chocolate and candy cane pieces would be amazing.
Rice Pudding
I would eat hot rice pudding on even the hottest day of the year. It's as nostalgic for me as anything, having grown up eating my nana's after Sunday lunch.
It's perfect for a Winter Dessert because it's warm, sweet, and so easy to make.
Heat your milk, sugar, and salt to a low boil before adding in your rice and leaving to cook for a good 55-60 minutes. Just stir occasionally to keep it from catching on the bottom.
An even easier option is to put all the ingredients into a deep baking dish and stir. Cover with foil, and bake for at least an hour.
This allows the rice pudding to cook and form a lovely skin that my family used to fight over.
Apple Crisp
Apples and cinnamon are as comforting as it gets.
We've all had that one apple pie that sticks with us. But sometimes you don't have time to make a whole pie.
Apple crisp combines all those amazing fall flavors we love in an easy and warm dessert.
Simply chop your apples and mix them with some sugar, cinnamon, and lemon juice.
That gets topped with a quick crisp topping made with butter, flour, oats, and brown sugar.
You can leave the oats out, but I love the texture they add to the crisp.
Everything gets baked together, and you can have this hot and on the table in an hour.
Peppermint Bark
Peppermint bark is an easy, delicious, and fast winter treat.
This recipe uses ready-made almond bark for the base, but you can make your own bark using white and dark chocolate if you prefer.
Melt your almond bark carefully and spread into your lined baking tin, before allowing it to firm up in the fridge or freezer.
The next layer is made from melted Hershey kisses with candy canes and has such a subtle minty flavor.
The whole thing gets topped with crushed candy canes for a beautiful red and white delight.
Cranberry-Orange Bread Pudding
With orange zest, orange juice, and fresh (or frozen) cranberries, this succulent bread pudding bursts with fruity fall flavors. This cozy dessert is a sweet way to end any meal—it's also a great way to use up not-so-fresh bread!
Mulled Cherry Pie with Ice Cream
A good warm pie is always going to be a hit.
But this grown-up, boozy cherry pie will earn you a spot at the top.
The pastry incorporates cinnamon and custard powder for a spiced and super tender, flaky crust.
It's also enriched with an egg. It might just be the baker in me, but I prefer an enriched dough every time.
Mulled wine is a warm, spiced red wine that you only see around the holidays.
For this filling, you'll need to dissolve your sugar into your wine, along with cinnamon, orange zest, star anise, and vanilla.
Once infused, you use this mulled wine to make your cherry pie filling.
If I were you, I'd make extra to drink with a slice of your warm pie.
Blooming Baked Apples with Cinnamon Nice Cream
Between the earthy walnuts, sweet and tender apples, and tart cranberries, every mouthful of this stunning vegan baked apple dessert is infused with flavor. Top with a simple cinnamon-flavored banana nice cream for a warming dessert worthy of any celebration.
Ultimate Skillet Brownie
Maybe it's the chef in me, but I absolutely love serving dessert in little individual skillets. They're a great investment, and you can use them for many other fun things!
Rich, fudgy, and gooey, this brownie can (and should) be eaten right out of the pan.
Using both cocoa and melted chocolate, along with added chocolate chips, you are in for a chocolate overload.
It really doesn't get much better on a chilly night than a warm skillet full of chocolate brownie.
Serve with a scoop of ice cream and maybe some caramel, too!
Vegan Apple Pie
Loved from coast to coast and around the world, apple pie is comfort-food heaven. It's also a great way to use up all those apples. Packed with whole-food ingredients, this vegan apple pie features a subtly tart apple filling that pairs perfectly with the earthy tones of a date-sweetened oat crust. Top with a crumbly almond butter oat topping for extra richness. Serve with Vanilla Nice Cream.
Cranberry Orange Upside-Down Cake
If you like fruitcake but sometimes find it a little dense, this is the recipe for you.
The cranberry orange combination is exactly what you want in a winter cake, and it looks gorgeous when turned out.
Melting the butter with brown sugar and pouring over fresh cranberries in the pan will give them a chance to marry and form a wonderful thick jam on the top of your cake.
The cake itself is flavored with orange zest and orange juice, so you won't be short on flavor.
This recipe calls for separated eggs. Trust me, it makes all the difference and creates a light cake.
The syrup on top means you don't even need whipped cream or frosting to serve with this cake. But I can't help but think a little drizzle of dark chocolate ganache would just make it all pop.
Soft Molasses Cookies
These babies have all the flavors you want in a winter cookie: cinnamon, ginger, and deep molasses.
They are quite similar to a gingersnap cookie, the difference being their texture. These cookies are soft and tender.
Using a typical cookie method, you'll need to beat your butter and sugar to smooth before adding in your eggs, vanilla, and molasses.
Be sure to use dark molasses for this, as lighter options won't give you the same rich flavor.
After adding your dry ingredients in, you'll portion out your cookies and roll in granulated sugar for a great sugar crunch coating.
The key with these is to not over-bake them. You'll want them soft and chewy!
Red Velvet Cupcakes
They might not be spiced or served warm, but you can't deny that red and white coloring is perfect for winter.
A good red velvet cupcake is moist and tender with a big dollop of cream cheese frosting.
The cake is made with buttermilk for a light and moist cake. The cocoa powder is actually what gives the cake a pink coloring, but most people also add in red food coloring for a brighter finish.
To make these more festive, why not try some fun holiday cupcake toppers?
Struggling to cook healthy meals at home?
Forks Meal Planner is here to help.
Apple Dessert Pizza
Combining two great loves—apple pie and pizza—these delectable mini pizzas stand out in any crowd. The apple pie flavor comes from a topping of sliced apples drizzled with maple syrup and lemon juice and a handful of crunchy granola. Serve with Vanilla Yogurt or a scoop of Vanilla Nice Cream.
There's nothing like coming home and wrapping your hands around a cup of hot chocolate.
I love that it's totally acceptable to have chocolate for breakfast, lunch, and/or dinner when it's cold outside.
These cookies are packed with that creamy, hot chocolate flavor, and when baked, the mini-marshmallows will be soft, sticky, and totally perfect.
Be sure to get a full-fat hot chocolate mix, and freezing your marshmallows before use will keep them from melting while baking.
Mini Apple-Raisin Muffins
Many store-bought mini muffins are high on sugar and low on nutrients—not these. Fruit adds natural sweetness along with fiber, so you can feel good about eating these for breakfast.
Persimmon Cake with Pistachios
We're at the tail-end of persimmon season, so try to scoop up some of the juicy red-orange fruits while you still can for this gooey, gorgeous dessert. (Tip: Check Asian markets, as they tend to more reliably carry persimmons in my experience.)
Triple Apple Cake
Apples and oats make up the bulk of this sneakily healthy recipe from Chef AJ, the queen of whole-food, plant-based desserts.
Cherry Cobbler
Another great winter warmer, cobbler is so versatile!
This recipe makes life so simple with a quick five-ingredient topping and a can of cherry pie filling.
Of course, you can use any filling you like. I think blueberry might be my go-to.
The topping is made by mixing flour and baking powder with sugar, and milk.
With just 10 minutes of prep time, this will be ready to eat in under an hour.
Serve with some vanilla ice cream, or with some real British custard.
Honey Cinnamon Almond Squares
If you're tired of making holiday cookies, you should try these sweet and buttery almond squares.
Cookie bars are such a great way to add to your cookie platter without having to portion anything out. Just throw them in a tray and slice. So easy.
This recipe has an almond and cinnamon butter shortbread base that honestly, I'd eat by itself.
But then it gets topped with brown butter and honey caramel and chopped almonds.
The only thing missing is a drizzle of dark chocolate and a sprinkle of sea salt.
Cranberry-Orange Biscotti
These orange-infused crunchy cookies make a great holiday gift for friends and neighbors. Or gift them to yourself, and enjoy with a hot mug of your favorite herbal tea.