I have been baking for years since I put up a small pastry business to make ends meet. Many believe that the oven is a huge factor in the outcome of your baking quality.
However, without experience, you can never tell. With the tight competition of new technologies today, any type of oven is competent enough when it comes to baking.
When I am at home, I like to use my electric oven to bake some cakes and buns for my family. I say that the electric oven is a versatile and convenient tool in my kitchen. Let's find out the best electric oven for baking that you can use at home.
Why is an Electric Oven great for baking?
Do you know that the electric oven is the best for baking? It's because this type of oven provides equal and steady distribution of heat for even cooking. The electrical coil under the floor of the oven section pushes radiant heat upwards to circulate all throughout.
The heat is not that strong so rarely does your baking ends up burnt. Lastly, the environment is also dry enough to make the top of your muffins crispy and golden brown.Top Electric Ovens for Baking Enthusiasts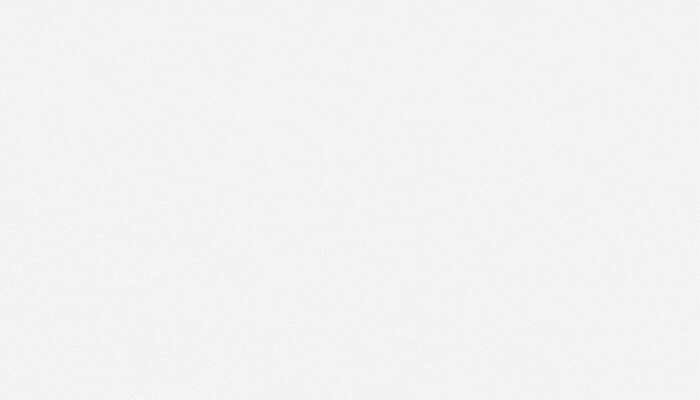 Whether you are renovating, starting up with a new house, replacing an old model, or simply want to buy one for your baking adventures, one of these 5 ovens on my list may be the best choice for you. I purposely chose the best of each type to make it easier for you to pick.
1. Oster Extra Large Digital Countertop Convection Oven, Stainless Steel: The Best Countertop Electric Oven for Baking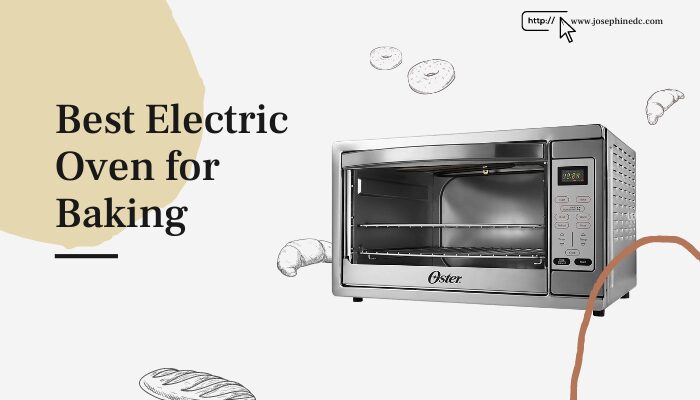 With my love for baking and the limited space, I have in my kitchen, I believe that an electric countertop oven is practical for my daily use. The Oster digital oven offers a convection technology for quick and even cooking. The oven has a cooking space large enough for casseroles, roasting and baking pans, and pizzas.
I like the digital controls that are set for several cooking methods like broiling, baking, toasting, and defrosting. It is so easy to use and simple to understand.
Features:
90-minute timer with auto shut-off
2 oven racks, a baking pan, and integrated broiling rack
Digital settings
Has a 1-year warranty
Comes with complete and clear instructions
Multifunctional
Comes with a cooking tray
Portable
Has turbo selection
Makes the best toast than a

toaster
No reheat feature
You have to turn the pan halfway point when baking for even brown.
No internal light
2. Breville BOV800XL Smart Oven 1800-Watt Convection Toaster Oven: The Best Smart Electric Oven for Baking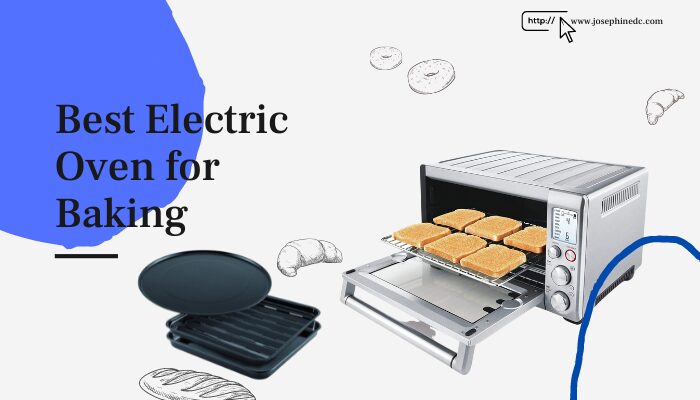 Have you ever had a smart appliance? Different food requires several methods of heating. When other ovens still can't perfect even distribution of heat, the Breville oven goes way far than that. Whatever food you're cooking, the Breville Smart electric oven with the installation of IQ technology is smart enough to adjust its heat distribution for perfect results.
This electric oven is best for baking. Convection cooking uses the fan to flow hot air for cooking done at the same rate. This factor is essential for baking cakes, cookies, and other baked goods. Made with the most durable materials, many have confirmed of its sturdiness and superb performance.
Features:
Easy Clean SS housing with ribbed plate warming tray
Nonstick interior with 3 rack positions
Tempered glass door
Slack HashtagMagnetic auto-eject rack
Slack HashtagBack-lit easy-read LCS that calculates correct time and temperature
Slack Hashtag9 pre-set cooking functions
Has a non-stick coating inside
Easy to clean
Easy to use
Not self-cleaning
Expensive
3. Panasonic NB-G110P Toaster Oven FlashXpress​
Panasonic NB-G110P is the best electric oven for baking that stands out among its competitors. This type oven offers features, attractive modern style, and durability at a minimal cost. The Panasonic Toaster Oven is ideal for all homes, whether you are in an apartment or a home.
What I like most with Panasonic NB-G110P is the high standard of Double Infrared Heating that toast, bake, and reheat to perfection. I also appreciate its compact design. Besides, with a convenient manual touch-button temperature control sensor, you can bake fresh breads and prepared meals easily
Features:
Double Infrared Heating
6 Auto Cook Menus
Digital Timer up to 25 minutes
Slack HashtagTemperature settings from 250ºF to 500ºF
1-year warranty
Compact size
Precise Temperature Control
Easy to clean
Reasonable price
Easy to understand installation manual
You need to work hard on the wires
4. BLACK+DECKER CTO6335S Countertop Convection Toaster Oven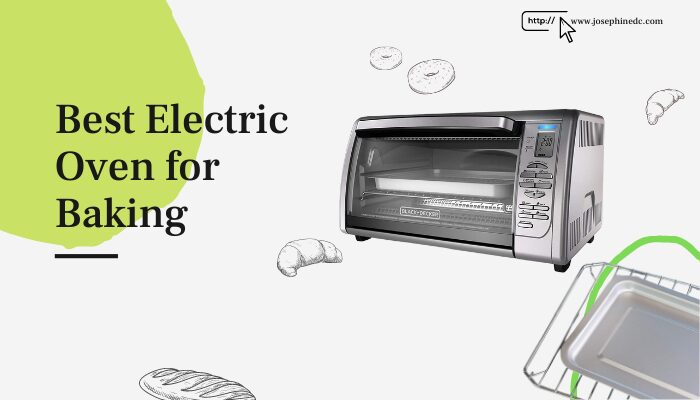 Even though how small your kitchen area is, you won't be discouraged to install the BLACK+DECKER CTO6335S Countertop Convection Toaster Oven. Its 22.8" is perfect for any kitchen design. CTO6335S toaster oven features one-touch functions for a whole range of foods.
Features:
Extra-Deep Interior
Dual Position Rack
8 One-Touch Functions
Slack HashtagConvection Baking
Easy to Clean Exterior
Fast baking
2 years labor and parts warranty
Easy to control temperature and time
Reasonable Price
The door doesn't fully open
5. Frigidaire FFET2726TS 27 Inch 7.6 cu. Ft. Total Capacity Electric Double Wall Oven: The Best Double Wall Electric Oven for Baking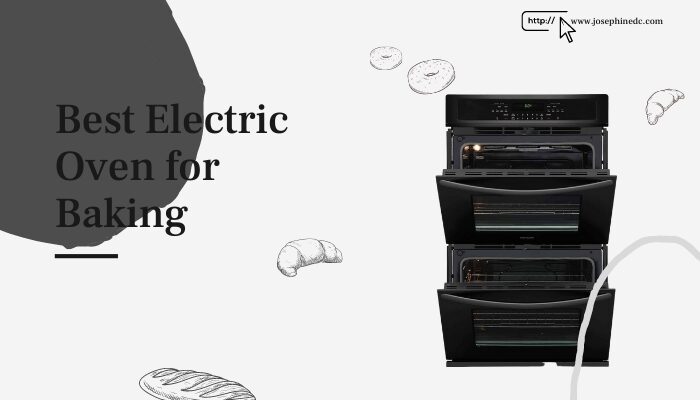 As if the single wall is good enough, I am introducing to you Frigidaire double wall oven. So just to give you different kind of choices, this electric oven is huge (7.6 cu ft. capacity) and is a perfect fit for large kitchen spaces, commercial use, special events, and serves a big family. Like any other electric oven, it has even baking technology, and of course, vari-broil temperature control.
Frigidaire oven is self-cleaning as well, with the delay clean option feature. It has digital ready-select controls, and you can use the delay start baking function. All cook settings have a timed-cook option for your convenience.
Features:
Even Baking Technology
Self-cleaning
With oven rack handles
Slack HashtagDouble-wall
Slack HashtagDigital controls
Reasonable Price
No need cleaning
Delay features are helpful
Perfect for a large group
The timer is accurate
The second oven has a limited function
Not suitable for average family daily use
Not practical at home
Buyer Guide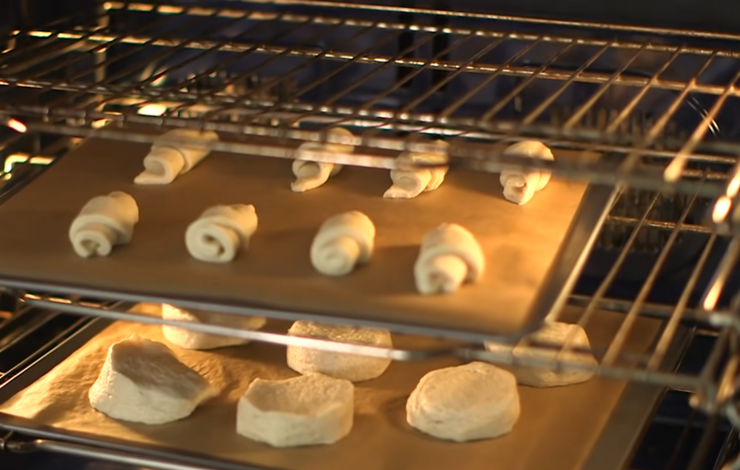 With many new features, style, and functions offered by various manufacturers nowadays, it is confusing to decide what to expect when buying electric ovens. I will explain here the primary factors that make an excellent oven to help you pick the right one for your baking.
Baking Function: Conventional Electric Oven
The best kind of electric oven that is for baking is the conventional type. Although it tends to be a little hotter at the top, they are not just perfect for baking but for roasting, or any recipes in mind that need different temperature settings.
The good news is most of the new designs already offer multiple functions other than baking. New models already have the fan, grill, defrost, and steam function that gives you flexibility in the kitchen.
Size: Single Oven VS. Double Oven
Single Electric Ovens:
The single oven is your pick when your kitchen space is limited. It is suitable for those who either cook for one or two only or just don't cook that much. This type of oven usually measures 60 cm tall and can be built-in or placed at eye-level. However, you can only use one function at a time.
Double Electric Ovens:
Double electric ovens are more flexible compared to single ovens. It can also cater to large families, big events, or commercial purposes. Since these electric ovens tend to have multiple functions, you will notice that it has a second traditional oven along with it.
Main ovens are roomier and bigger than the second. This secondary oven is usually smaller than the first one. The built-in type measures an average of 90 cm tall while the eye-level measures an average of 70 cm high. You can use different functions at the same time with a double oven.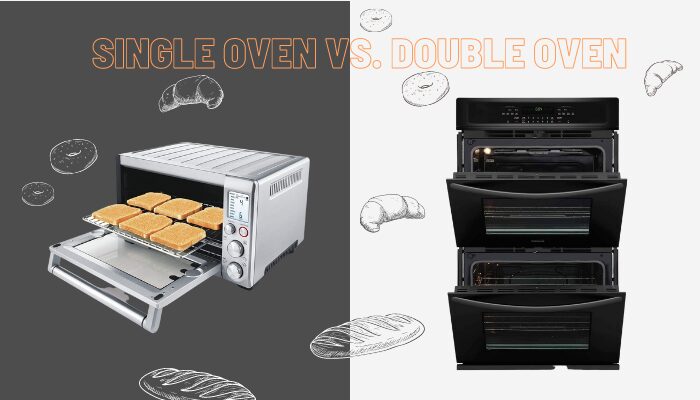 Features
Timers: Electric Oven features programmable timers that you can set to start and stop when you are busy or not around. This is excellent for busy moms who love to multitask. You can do baking and do some errands while on it.
Digital/Automation: An advantage of an electric oven is the technology that comes with it. Smart ovens offers are different benefits in terms of efficiency, convenience, less effort, and speed. Take the preset cooking functions as an example.
Energy Saver: Electric Ovens rates on an energy efficiency scale between A and G. Choose one that you think is the most energy saver (A) to cut the cost of electricity bills. This type of electric oven is also environmentally friendly.
Hand Pointing RightSelf-Cleaning: New models of electric ovens feature catalytic liners that abolish the necessity for scrubbing the oven walls. When the oven is on its utmost temperature, they break down and eradicate food spills.
FAQs
Should I preheat my baking oven?
Which baking pan is best to use in a convection oven?
For convection ovens, it is best to use a pan with a shallow design to ensure there is enough air circulation which drastically quickens cooking time. You can use racks, trays, or any regular baking pans.
Can I put a pizza stone in the baking oven?
Yes, you can put a pizza stone in a baking oven. In fact, a pizza stone is designed to be used in an oven to create a hot, even surface for cooking pizzas and other baked goods. Using a pizza stone can help you achieve a crispy crust and evenly cooked pizza.
Is a convection baking oven suitable for baking fish and meat?
Absolutely. Convection ovens keep the moisture in the food, making the flavor much richer even hours after preparation. It is a far better solution than an open grill or pan.
Why does baking in baking ovens take a shorter time?
These ovens have small fans inside them, which helps better heat distribution in every corner of the oven. Baking becomes a much faster process with these fans since they spread heat evenly.
Can I put glass bakeware in an electric oven for baking?
Yes, you can, but only if it is oven-safe glass. It is risky to put just any glass bakeware in the oven, so make sure it has an oven-safe label. These labels are usually located on the bottom of the container.
Are electric ovens better for baking than gas ovens?
Yes, electric ovens are better for baking than gas ovens. The even and steady distribution of heat in an electric oven makes it easier to achieve consistent results when baking. Gas ovens, on the other hand, are prone to fluctuations in temperature and can create hot spots, which can affect the quality of your baked goods.
What is convection cooking, and is it important for baking?
Convection cooking is a method of cooking that uses a fan to circulate hot air around the food, resulting in even cooking and browning. This feature is essential for baking because it ensures that the heat is evenly distributed throughout the oven, which is important for achieving consistent results.
Can I bake cakes and cookies in a countertop electric oven?
Yes, you can bake cakes and cookies in a countertop electric oven. In fact, many countertop electric ovens come with multiple cooking settings, including baking, which makes them versatile tools for baking.
What is the difference between a single electric oven and a double electric oven?
A single electric oven is a standalone oven that can only be used for one function at a time, while a double electric oven has two separate ovens that can be used for different functions simultaneously. Double electric ovens are more flexible and can be helpful for cooking multiple dishes at once or for larger families.
What features should I look for when buying an electric oven for baking?
When buying an electric oven for baking, look for features such as even heating, convection cooking, programmable timers, digital controls, and self-cleaning options. The size of the oven, energy efficiency, and overall durability should also be considered. Ultimately, choose an oven that fits your specific needs and budget.
Final Thoughts
I have presented to you the best electric ovens that are perfect for baking. I purposely selected different types to help you choose base on your needs. Personally, I am using the Oster Extra Large Digital Countertop Convection Oven, Stainless Steel at home. It is the most practical to use for my family's size, kitchen space, budget, and I like the features, clean, and modern looks that it gives.
Yet, my pick might not be suitable for yours. If your purpose is to cater to a big and active group, I recommend the double wall electric oven. When your kitchen design call for a built-in style, go for it. If you are adventurous enough to try a smart oven, go ahead!
Straight to the Point
The Baking Steel Griddle is perfect for griddling pancakes, bacon, eggs, and burgers. You can also use it to make the crispiest oven-baked pizzas and crusty, bakery-esque breads.
The Baking Steel griddle, with a baking surface on one side and a flat griddle on the other, is one of my favorite pieces of kitchen gear. Placed in the oven with the flat side up, it performs all the same function as the original Baking Steel. Think: faster, better pizza with insanely crisp crusts and better browning and hole structure. Breads that bake like they were cooked in a professional bakery oven. The guarantee that you will never break another pizza stone in your lifetime (or your grandchildren's lifetimes, for that matter).
Flip the 18- by 14- by 3/8-inch slab of solid steel over and you get a polished steel surface with a grease channel that converts the Baking Steel into the world's best consumer cooking surface. The whole thing is slightly longer than the original Baking Steel, which means it fits perfectly over two burners of your range.
Sure, you'll get that huge surface that'll let you flip pancakes, fry eggs, crisp up hash, and sizzle enough bacon to feed an army, but more importantly, you get that wide surface on top of 3/8ths of an inch of solid steel. More volume means more stored heat energy, which means that you can get a sear on your steaks, burgers, shrimp, pork chops, lamb chops, or vegetables faster and better than has ever been possible in a home setting before.
Like a good carbon steel or cast iron pan, the Baking Steel Griddle will develop a dark black layer of seasoning with time and use, eventually rendering its surface completely non-stick. At this stage, I can use a paper towel to wipe a thin layer of oil onto my original prototype model and cook eggs on it with no fear at all of sticking. It's like having a diner-style griddle or Spanish plancha in my kitchen.
Simply put, if getting a good sear on your steak and burgers is something you enjoy, then you will not find a better way to do it than with the Baking Steel Griddle. This thing makes your heavy duty cast iron look like My First Pan.
First off, it replaces any pizza stone you currently have or will ever buy. At around $40 to $50 a pop, the pizza stones I've had in the past have lasted at most a few years before cracking and failing. This is a buy-it-once-and-never-worry-about-it-again type product. The other factor is that a great heavy duty pan—say a 12-inch All-Clad stainless steel skillet—is gonna cost you well over $200, anyway. While the Baking Steel Griddle doesn't replace all of the functions of that pan, it exceeds it in many ways, particularly when it comes to cooking surface area and searing capacity.
I'm the kind of guy who likes to spend my money on things that are going to last me a long, long time. I can't imagine anything I own lasting as long or getting as much use as the Baking Steel Griddle.
FAQs
Is a baking steel better than a baking stone?
Can I leave a baking steel in the oven?
Yes—steel is extremely resilient and can actually help give your oven more thermal stability by radiating heat evenly upwards. You should allow your oven to preheat for longer, however, to accommodate the time the baking steel will take to preheat.
Does the thickness of a baking steel matter?
Baking steels come in a variety of thicknesses, and the thicker the steel is the, the longer it will take to preheat. Thicker steel, however, has more thermal mass and retains more heat for people who want to bake multiple pizzas in row.
Straight to the Point
Both baking steels and baking stones work well and there are a handful of considerations to think about when deciding which one to purchase, which you can read about below. For a baking steel, check out the options from from Baking Steel or Nerd Chef. For a stone, this one from Unicook fits our requirements.
There are few breads that don't benefit from being set on some sort of heat-conducting baking surface. In the oven, breads rise (or "spring", as bakers like to call it) when heat penetrates into the core of the dough, causing two things to happen. First, the yeast has one last blast of fermentation before meeting its ultimate demise, going out in a frantic blaze of carbon dioxide production. And second, some of the water in the dough turns into steam. Both of these processes cause the bubbles—or, more accurately, "alveoli"—in the dough to inflate like miniature balloons, opening up the interior crumb and expanding the overall dimensions of the loaf. But this process is a race against time, since that same heat causes the crust to firm up, locking down the shape of the loaf once and for all.
When baked directly on an oven rack (in or on a pan), heat penetrates into the loaf more or less evenly from all directions. But when you set the loaf on a heavy, preheated baking surface (in a pan or freeform), energy flows much more quickly into the core of the loaf, bumping up the rate of oven spring significantly and evening out the race between crust and crumb formation. (The only breads that don't need a baking surface for success are enriched ones containing lots of fat—brioche or soft sandwich loaves, for example—since the fat keeps the crust soft, allowing the crumb to expand far longer than it otherwise can. But many bakers use baking surfaces for these too, since you can still get better oven spring on one.)
Flatbreads like pizza and foccacia are breads too, of course. And they also benefit from the use of a baking surface, but in this case the goal is the inverse of that for loaf breads: to cook the bottom crust as quickly as possible, so as not to overcook the interior crumb and/or the exposed crust and toppings. Oven spring is important in flatbreads, but it tends to happen automatically. More important is achieving a crisp bottom crust. Moisture in a pizza gets trapped between the bottom crust and a pan, slowing down crisping and browning. Setting the bread on a preheated surface (again, in a pan or freeform) helps that moisture boil away so that the crust can cook as quickly as possible.
There are two main kinds of baking surfaces: stones or steels. Baking "stones" are a misnomer; most are formed from either terracotta clay or a mineral compound known as cordierite, fired at high temperatures like pottery to make them solid and heat-resistant. While some people use cheap terracotta tiles for baking with success, the best stones are those made from cordierite, since it is more heat stable and resistant to thermal shock—cracking or shattering when subjected to rapid heating or cooling—than terracotta (the shelves in most pottery kilns are made of cordierite for this reason). A few stones are made from another mineral called mullite, which is similar to cordierite, if purportedly more conductive (more on conductivity below). Baking steels are just that: thick sheets of raw steel cut to size, polished to remove sharp edges, and seasoned and sealed with oil to prevent rusting.
So which should the new baker buy: a stone or a steel? The answer is (as is often the case): It depends. Both stones and steels work great, so you cannot go wrong with either, though there are pros and cons to each, and which is best for you depends upon both your particular needs and budget.
Size Considerations
Both baking stones and steels come in a variety of shapes, sizes, and thicknesses. While the shape and exterior dimensions of the slabs do matter, most people are best served by one that is a) rectangular or square, and b) slightly smaller than the average oven rack. Rectangles and squares are better than round ones, because both give you a bigger, more forgiving target for the bread or pizza. (If you miss the mark with a round one, there's a risk of it hanging off of the side, which is less than ideal, especially when there is molten cheese in the mix.) Plus, they provide enough room to bake long breads that would overhang a round surface, like baguettes.
And you generally want something generously-sized, while still leaving plenty of room for proper air circulation around the edges of the surface, to let the bread cook evenly both inside and out. For the average oven, this means something that is 15 to 16 inches in one direction and at least 12 inches in the other.
As far as thickness goes, that depends upon the material in question. All else being equal, the thicker the surface, the heavier the item. And the heavier the item, the more brawn it requires to move from storage to the oven and back again. Stones range from 1/2-inch to a little more than 1-inch thick, and from about eight pounds up to 13 pounds. The thinnest baking steels are 1/4-inch thick and weigh upwards of 16 pounds, already double the weight of the average stone. And only slightly thicker 3/8-inch steels can weigh as much as 27 pounds!
Price Matters, Too
All else being equal, baking stones are lighter on the wallet than steels, too. The price for a good 15-inch by 12-inch-ish stone is between $32 and $80, while the price of most 1/4-inch steels of similar dimensions start around $80. And 3/8-inch thick ones can cost $170.
Conductivity
Price and weight aside, the biggest difference between stones and steels is in their relative conductivity. Conductive materials absorb and release energy (heat, in this case) more quickly than less-conductive ones, and steel is far more conductive than cordierite or mullite. This allows steels to pump heat into the bread far more quickly than stones do. It also means that steels absorb heat more quickly than stones, cutting down on preheating time; stones usually need a good hour of preheating before use, while steels are ready to go in as little as 30 minutes.
With pizza and other flatbreads, this is unequivocally a good thing, since the faster these breads cook, the better. But with loaf breads, this can be a recipe for disaster, since the bottom of the loaf can burn before the rest of the crust or the interior has cooked sufficiently. In my experience, steel is often just too conductive for loaf breads; while there are plenty of people who use baking steels for loaf breads successfully, it is something I generally do not recommend. You don't have to take my word for it, though: Baking Steel, the original baking steel company, sells special heatproof silicone rings meant to shield loaf breads from the intensity of the steel, to help mitigate this effect.
Thermal Mass
What baking stones lack in conductivity they make up for in thermal mass, or the ability of a material to absorb and store energy and release it gradually. So while a steel acts like its own heating element once hot, pushing heat into the bread or flatbread in a flash, a stone is more like a battery, providing a long-lasting reserve of heat. This is especially helpful when baking multiple batches of bread or pizza in succession, since the stone won't need to be "recharged" between batches.
Cleanup and Care
Stones and steels are pretty low maintenance tools, no matter what they're made of. If cheese or something like it gets onto the surface, just scrape or scrub off whatever remains once it cools down. Don't use soap, since that can get absorbed by a stone and might remove the seasoning from the steel; it's not necessary anyway, since any embedded residue will burn off the next time you heat it up. Other than cleaning, stones don't need any other maintenance. Baking steels need occasional reseasoning, which is as simple as coating them lightly with vegetable oil before heating once every few months or so (or if you notice rust beginning to form).
Should You Buying a Baking Stone or a Baking Steel?
My usual advice to someone who doesn't yet own a baking surface is this: If you don't have a lot of money to spend and/or don't want to have to heft nearly 20 pounds of steel around, just get a good baking stone. They work wonderfully for both pizza and loaf breads, and while they are a little slower than steels for flatbreads, they still do a way better job than no surface at all. And if you are mostly interested in baking loaf breads, a stone is by far the superior choice, for its more tempered conductivity. In my experience, stones don't need to be terribly thick or heavy to do a good job, so look for a square or rectangular one that is 15 by at least 12 inches in outside dimensions and half an inch or so thick, like this one.
On the other hand, if you are a pizza or flatbread person, can handle both the extra dollars and pounds, and don't bake loaf breads often, get a steel; its superior conductivity will definitely take your pies to the next level. And you can always stick a sheet pan or two under your occasional loaf bread bakes to keep them from burning. I recommend going with a 1/4-inch thick steel, to keep the already heavy and costly device as light and affordable as possible. The o.g. Baking Steel and NerdChef steels are excellent choices, but just-as-excellent but more affordable steels can also be found on places like Etsy. (Steel is steel is steel—as long as it is sealed well to avoid rust, they all work identically).
FAQs
Is a baking stone or a baking steel more durable?
Stones can crack, though the best ones shouldn't; steels are pretty much indestructible, except when they lose their seasoning and start to rust.
What's the best baking stone? What's the best baking steel?
After some testing (and expert vetting), we recommend the Unicook Pizza Stone. For baking steels, our top picks come from The Original Baking Steel and NerdChef.
Do you need to use parchment paper on a baking stone?
You do not need to use parchment on a stone or a steel, but sometimes it is useful to, such as if the bread in question is very wet and maybe prone to sticking, if it makes transferring the bread(s) to the surface easier, or if the bread or flatbread contains ingredients or toppings that might melt and run onto the surface. In the case of pizzas and many other flatbreads, a sheet of parchment can inhibit good browning and crisping, because it traps steam and insulates the bread from the heat.
Do baking stones need to be greased?
No! Don't add oil or any other fat to a stone, or to a steel, other than the occasional light coating of seasoning oil. It'll just smoke up your kitchen something awful.
Steam burns hurt. Like really, really hurt. The small mark on my left forearm begs the question daily: Maurizio, was it worth it? But before we talk about my new baking badge of honor, let's concentrate on overcoming the challenges of baking good bread at home. While many of these challenges present themselves early in the two-day process (fermentation, flour selection, mixing, shaping, and so on), there is that crucial component at the end of this ordered procession: baking bread with steam in your home oven.
For your bread to rise to its potential, that outer, taut skin on your loaf needs to be able to expand and stretch before hardening off. Steam in the oven and subsequently on the surface of your loaves helps keep that skin pliable and stretchy during baking. If your dough dries and bakes too quickly on the exterior, it can harden off before it rises to its full potential (and you may not see a satisfying gringe, either).
So how can we get enough steam in the oven to keep those loaves rising? There are indeed methods abound, and each person has a different approach, but arguably the most popular choice at the moment, and the one I started with, is baking bread in a Dutch oven (see my guide on how to bake bread in a Dutch oven if you're not familiar). However, there comes a time when you might want to bake two (or more) loaves at a time, or perhaps your loaves are scaled more substantial than your Dutch oven can comfortably hold. An alternative is to bake directly on stones and generate sufficient steam in your home oven by some other clever means.
Professional baking ovens have steam on tap. Press a button, and a wave of steam sprays over the decks of newly loaded dough (however, there are always challenges, no matter what oven you use). Now there are home ovens that are "steam ovens," but the ones I've looked at are incredibly small. You might be able to fit two loaves, but I could also fit two Dutch ovens in my current home oven; no advantage there. Some other alternatives can't inject steam at a button press, but they are sealed to trap steam and have a method for generating steam. These look very promising but are on the expensive side.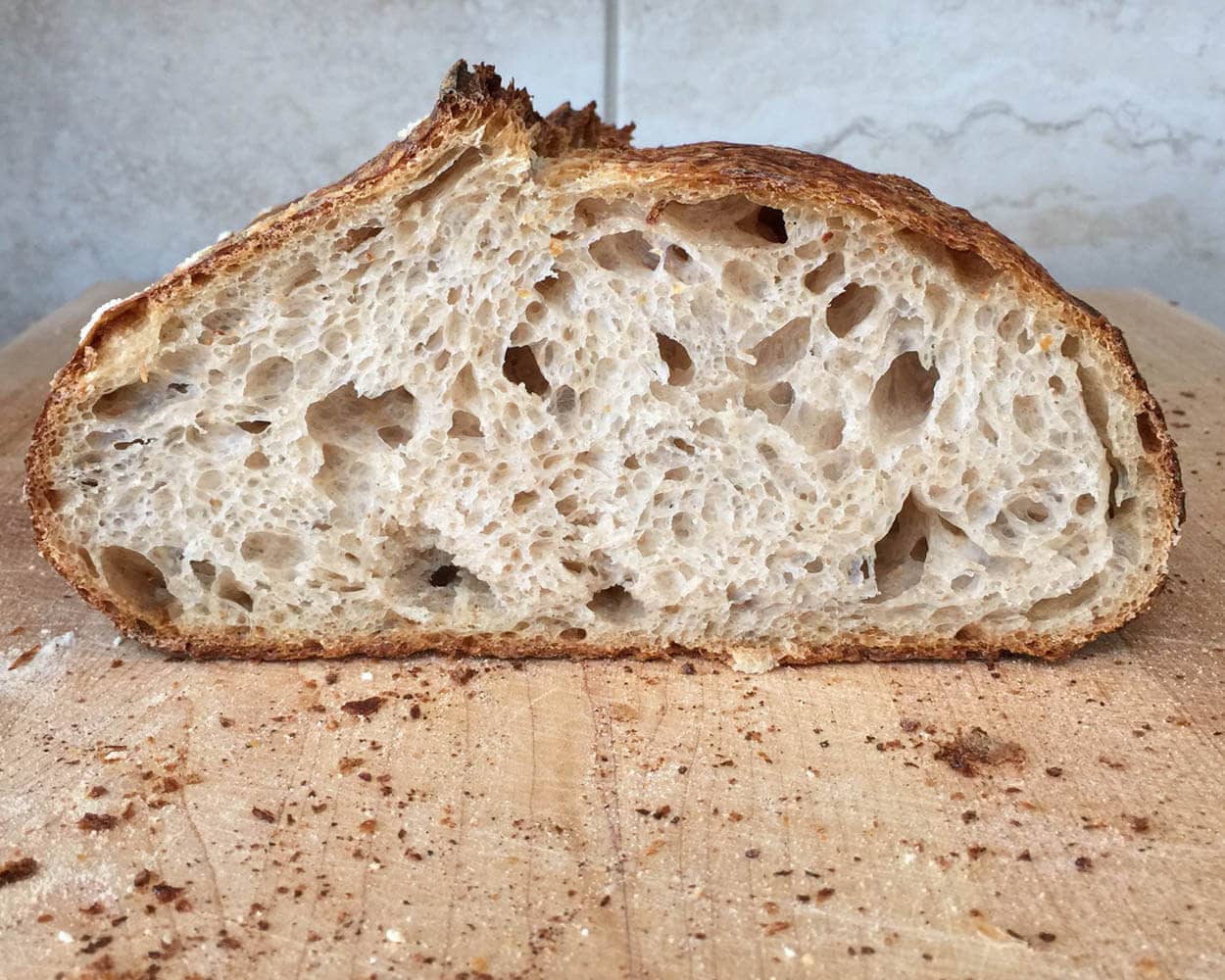 Since most of us bakers out there do not have one of these fancy ovens, we have to make do—read on to learn how baking bread with steam in your home oven can be a straightforward process.
Video on baking bread with steam
In the video below, you'll see my baking bread with steam from start to finish.
Tools for Steaming Home Oven
We first need to have the right set of tools for the job. Let's go over a few more additions to our home-baking arsenal:
Lava rocks
The first is a cast-iron pan filled with lava rocks1. Lava rocks are a primo choice because they get extremely hot, don't break down easily, and have tons of jagged sides and crevices for an incredible increase in surface area. What's the big deal about surface area? As cooler water comes into contact with a blisteringly hot surface, it instantly turns to steam. The more hot surface area you have, the more steam you generate. I found these lava rocks, specifically made for home BBQ grills, and they have turned out to be a perfect choice. They come in a fairly large bag, and I am still on my first handful — I probably have lava rocks for life.
Roasting pan
The second component is the heavy-duty stainless steel pan I use to hold the lava rocks. This stainless steel pan is great for a few reasons: it's super thick-walled, retains heat well, and holds up to abuse.
Rectangular baking pan
The last component is an old rectangular baking pan with small dish towels rolled tightly. I use an old pan around the kitchen and roll up three small towels in the center. The more towels you add, the more steam you'll generate. I use cheap, clean towels as these will eventually get scorched and need replacing.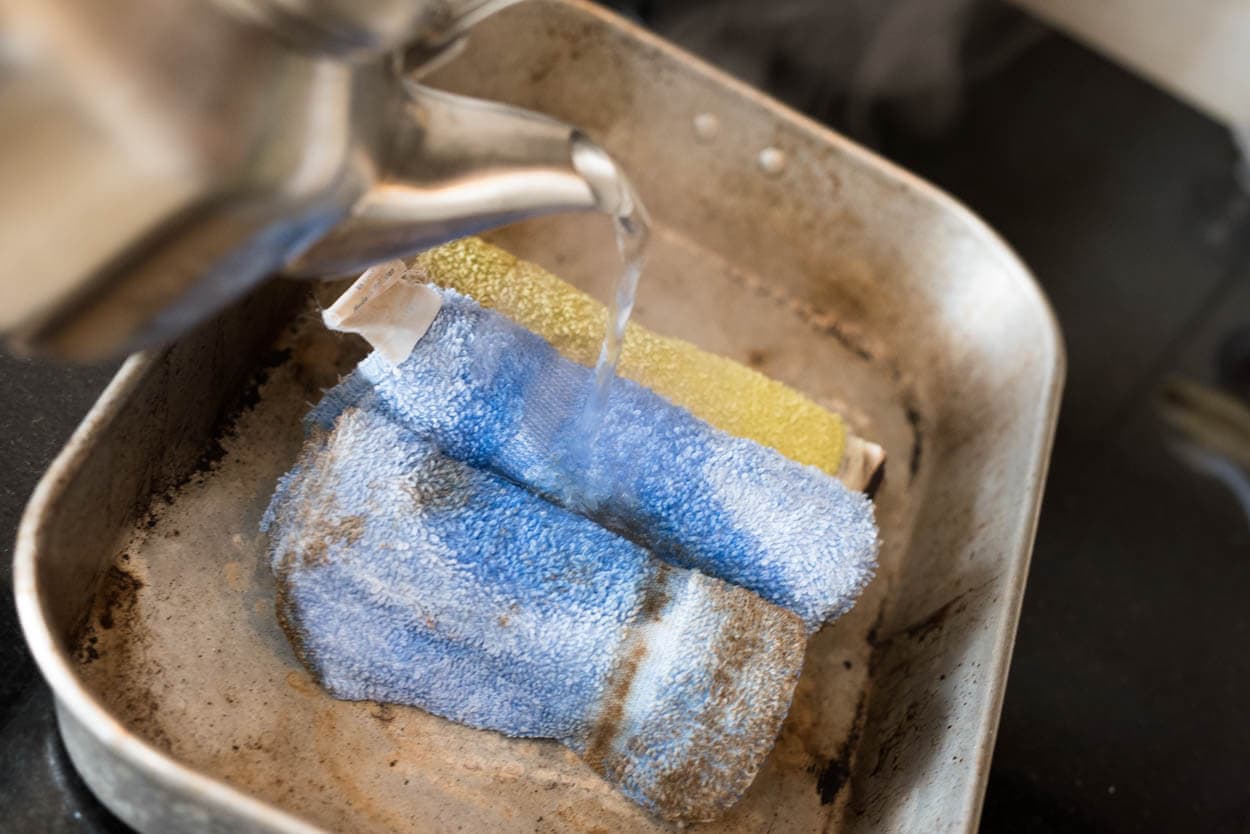 Ten to twenty minutes before you start baking, you will boil some water and pour it over the towels in the rectangular pan, so they are fully drenched and steaming. You will then place this pan with towels back inside your oven. This pan will saturate the interior with steam before you even splash water on the lava rocks and will continue to do so well into the bake.
Optional Hand Spritzer
The final item is optional. A stainless steel hand spray bottle I use to spray in a bit more steam just before closing the oven door. I like to have the option to spray in a bit more steam if I feel it is warranted. Additionally, you could use this after 5-10 minutes into baking to quickly saturate the oven inside one more time. Some bakers, like Jeffrey Hamelman in Bread, recommend this second round of steaming in a home oven.
Not many new tools are needed, and if you think about it over the long run, you will probably save money as now we can bake 2-4 loaves at a time — no more wasting all that space in the hot oven. How do we do this now that we have the tool requirements squared away?
Baking Steam Method
Below is a quick visual showing where I have my pans, where the loaded dough goes, and where my baking stones are.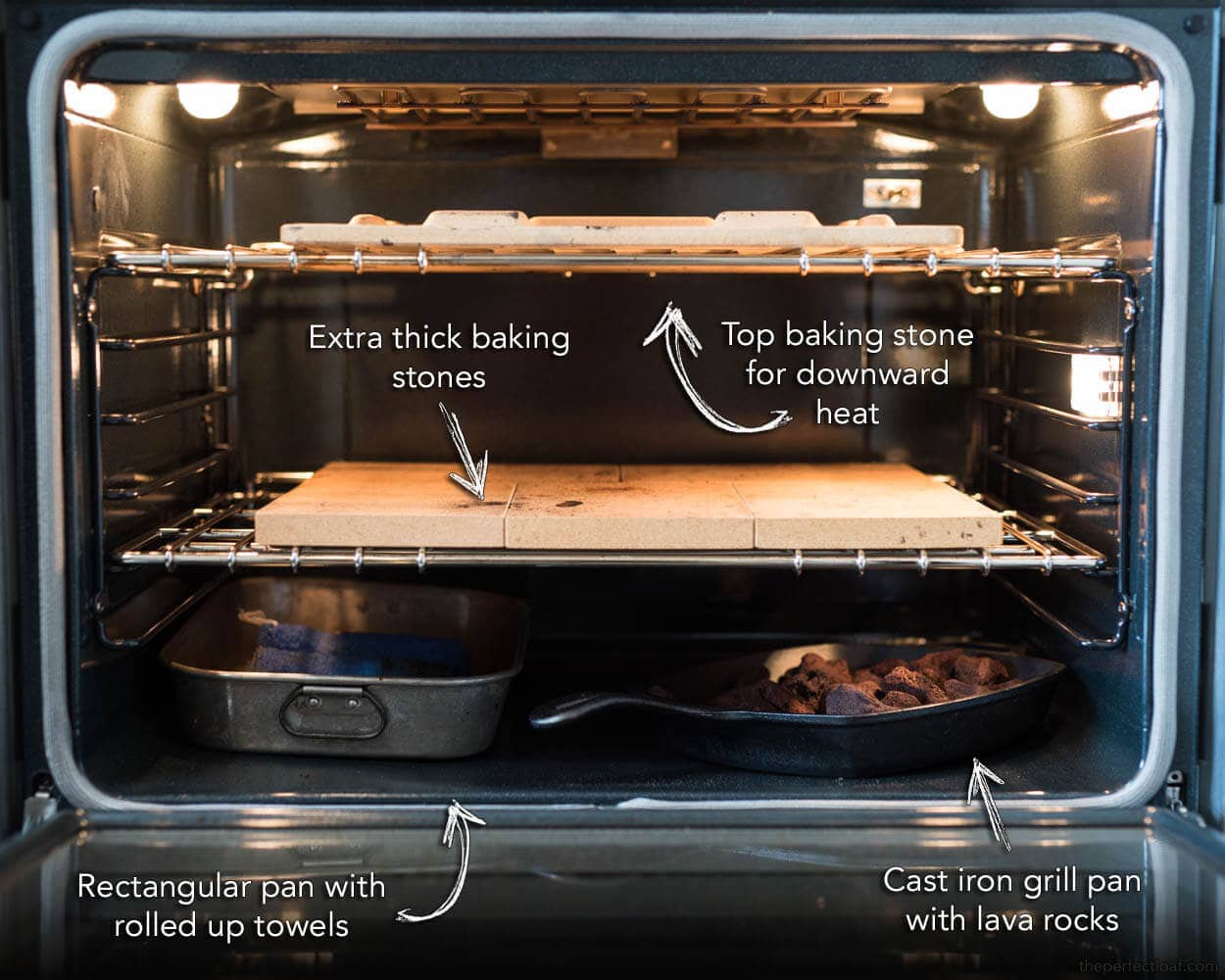 Now that we have a list of what things we need, where items will be placed, and why, let's get to the actual method (with the animated version below!).
Home oven steaming method
An hour before baking, turn on your oven (preheat)
10-20 minutes before loading your bread, boil water, pour over the towels in your rectangular baking pan, fully saturate them, and place them in the back corner of your oven
10-20 minutes after loading the pan, put each mass of dough on a separate piece of parchment paper
Place the dough and parchment underneath on a pizza peel
Score dough
Open the oven and slide the dough (with parchment) onto baking stones
Quickly lay a towel down on the oven door glass (optional, you can see me doing this below)

2

Carefully toss 1 cup of ice into your cast iron pan with lava rocks
Quickly spray loaves a bit with a hand spritzer (optional)
Close the oven door and watch your dough rise
20 minutes later, remove both steaming pans (careful these are extremely hot) to stop steaming
Bake as usual until done
Whew, that's it! Here is the whole process (minus the preheating and drenching of towels) in one trendy baking-with-steam GIF: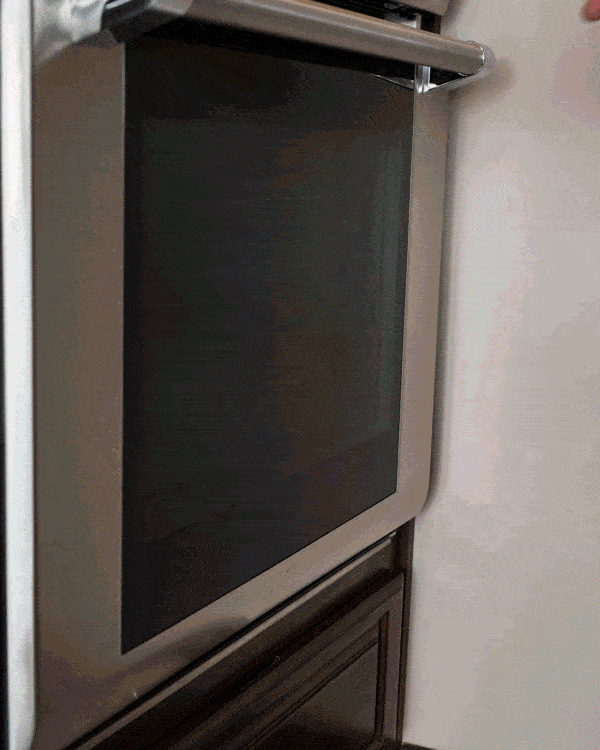 Why do we use two sheets of parchment paper for our dough? When you use two sheets, you can adjust the space between the loaves as they bake, if necessary. One of the worst things to happen is when the dough expands and joins with another loaf; this reduces the overall rise of both loaves. If you notice the loaves start to get a bit close as they rise, quickly slide them apart.
After 20 minutes of baking, we remove the cast iron and rectangular baking pan, so no more steam is generated, allowing your loaves to crisp up and harden off.
Caution: Please be careful with this method: if you drop too much cold water on your oven door, you might crack the glass. I have never had this happen to me, but I know of at least one baker who had this issue. Be sure to keep the water off the glass.
Another approach to baking bread with steam
Baking bread in a sealed post is possibly the easiest method of baking bread with steam at home. You place your dough in a preheated pot, close the lid, and put that in your oven.
That method works incredibly well, but the drawback is you can only bake round loaves this way. You're limited to the realm of round pots.
Conclusion
I like this method for baking bread with steam in my home oven because it allows me to cook two large loaves of bread at a time. I plan to bake four loaves at a time, and this will let me do that with no problem. Baking with a Dutch oven (or combo cooker) works exceptionally well, and I might still use that method if doing only a single loaf or a highly hydrated one (the pan will help keep the dough together). Still, I find myself using this new method more and more. The results have come out smashingly.
Small steam burns: worth it (as you can see below). 3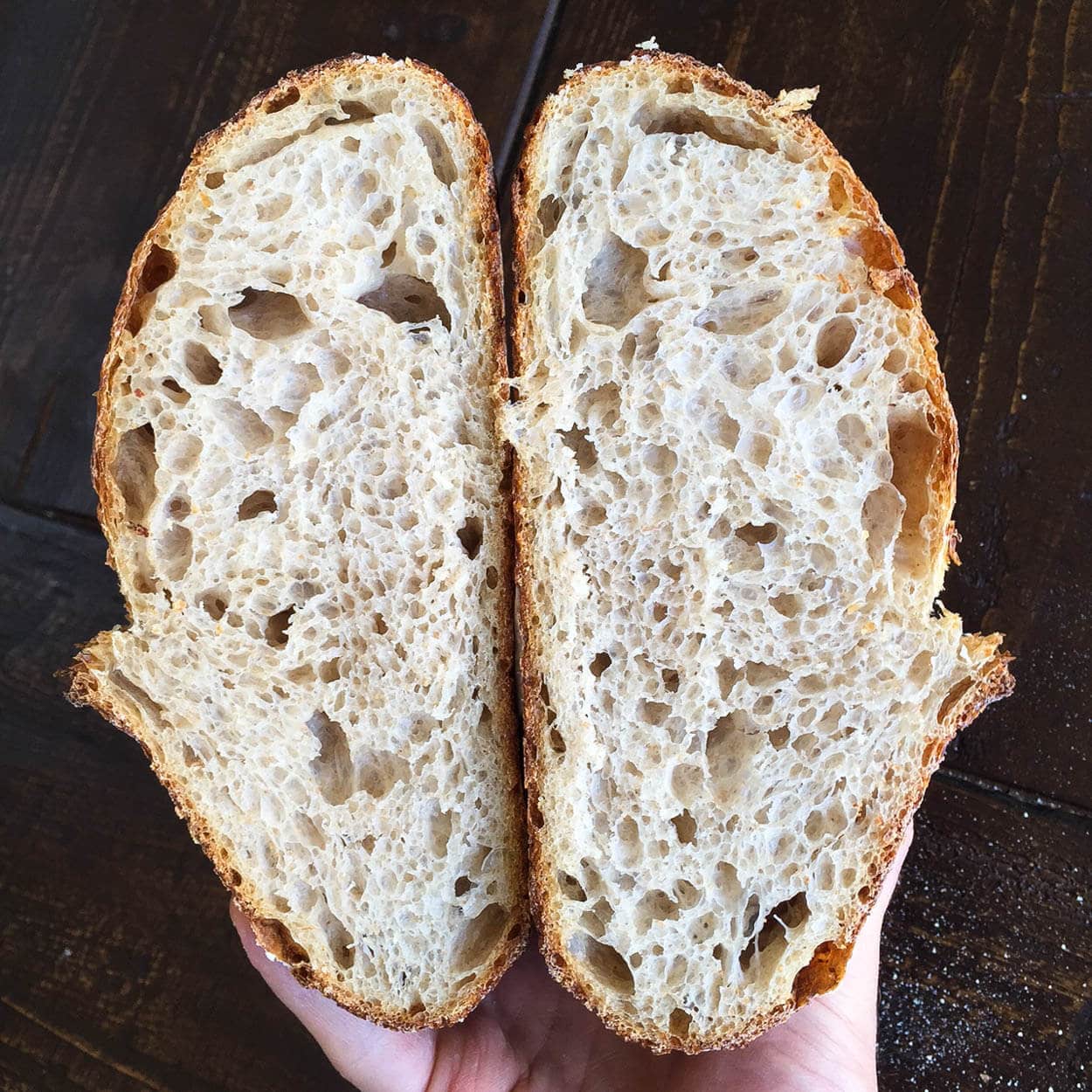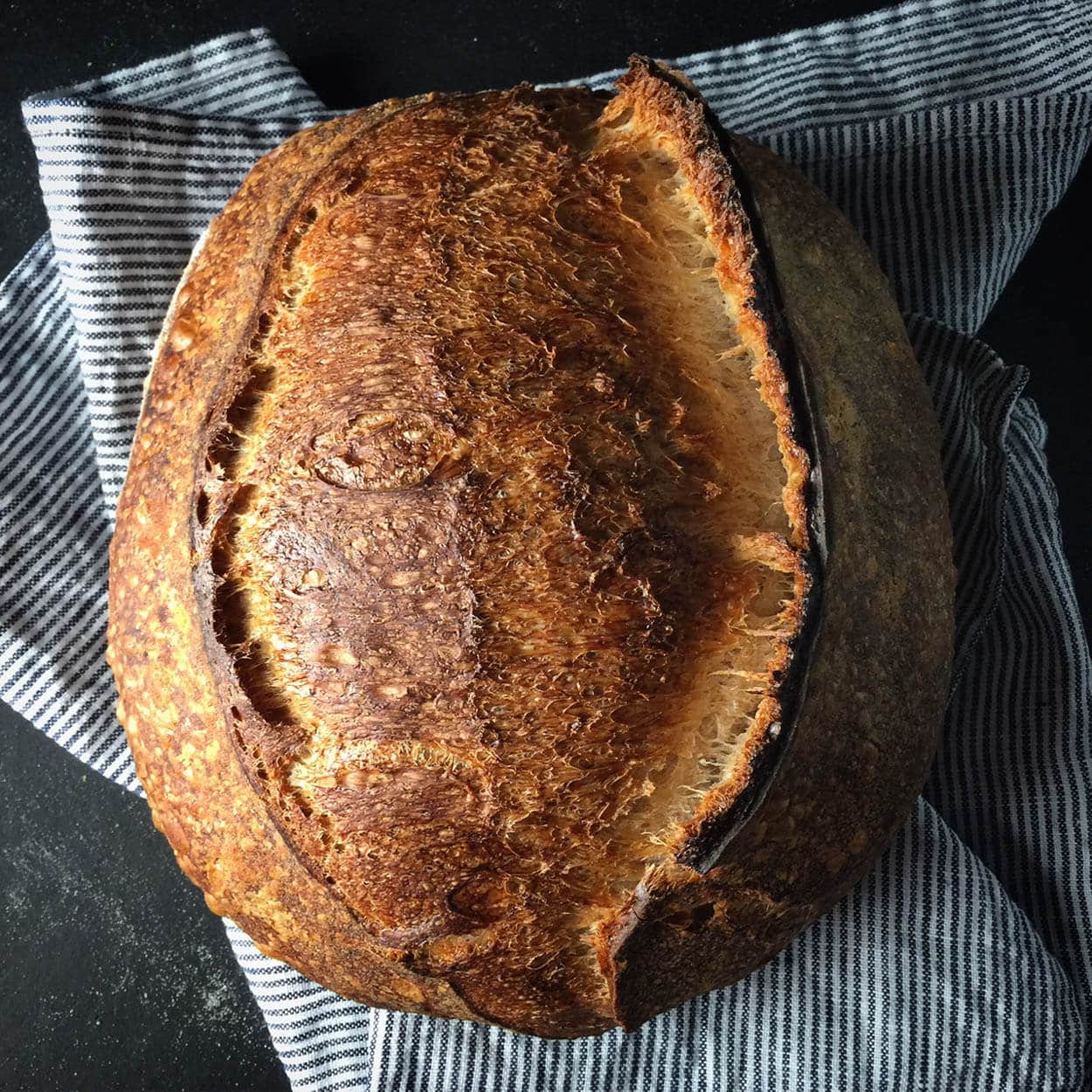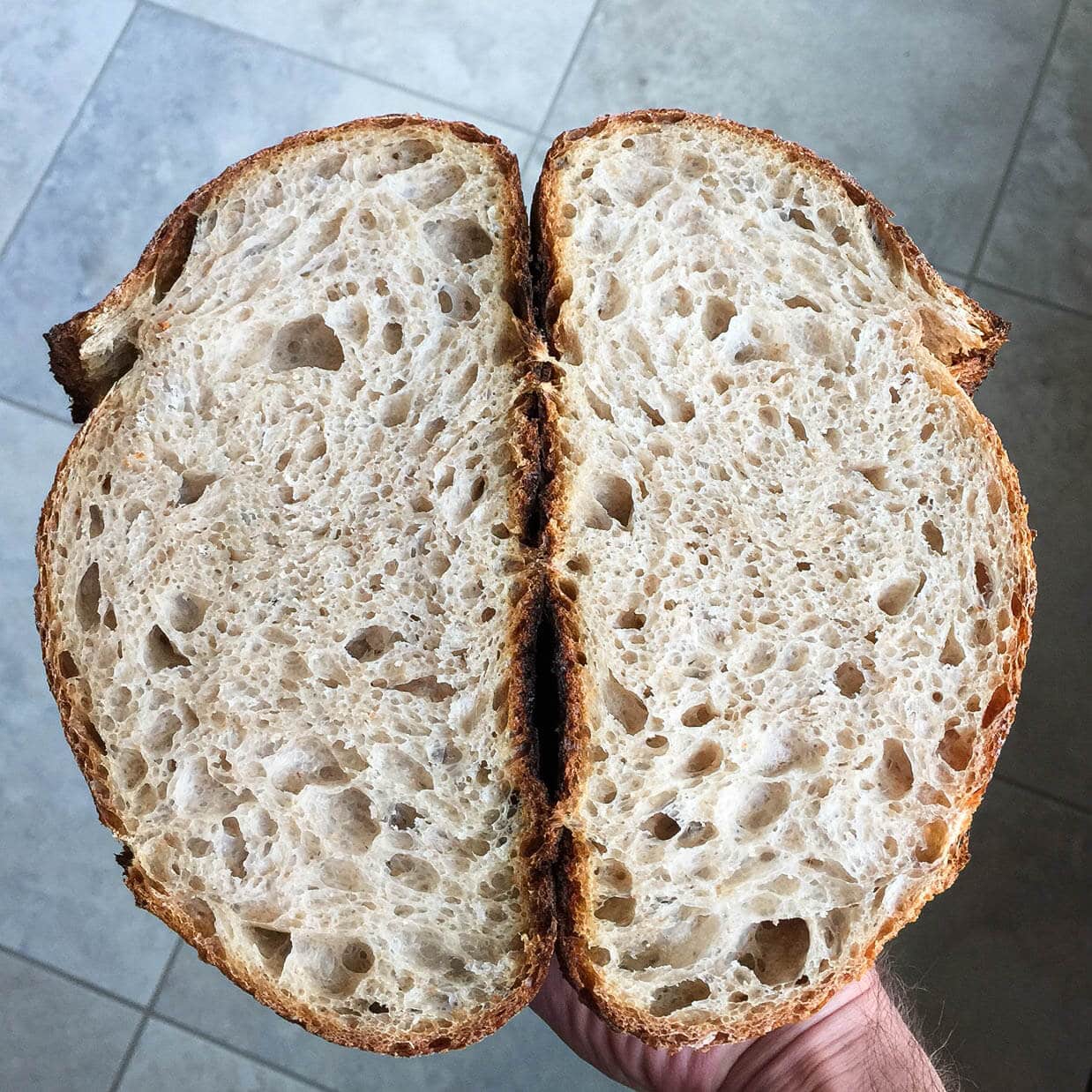 Any other steam generation recommendations out there? What do you use and why?
Having the right bakery equipment is crucial to running a successful bakery and restaurant business. Like other restaurant supplies and equipment, it is important to invest in high quality bakery tools and equipment when starting a bakery or baking subscription box business.
A number of things go into opening a bakery. These include choosing the right bakery design and interior décor, making great recipes of baked goods to sell, and having a solid eCommerce marketing plan.
Key Takeaway – Using the right bakery tools and equipment will save you time and help you make more money. High quality bakery equipment will help you create the perfect desserts, cakes, breads, and other baked goods.
So, what equipment do you need for your bakery? Let's look at the essential bakery equipment list for every baker.
What Equipment is Needed to Start a Bakery?
As a bakery owner, it is important you have specialized equipment for your bakery. Bread and pastry shops, cake shops, and ice-cream shops require different types of tools and machines.
For instance, bakeries that specialize in making cakes, having the right tools and equipment is important. Although basic cake modeling can be done by hand, It is easier to use cake making and decorating equipment to make cakes professionally.
There are a number of things to consider before buying bakery equipment. We'll get to that part in a bit.
First, let's review the ultimate equipment list for a bakery business.
Ultimate Equipment List for a Bakery
Bakery Kitchen Equipment
This category of bakery equipment and tools includes the basic kitchen equipment every baker needs to get started with their bakery business. Basic kitchen tools are usually affordable and you don't have to worry about the high maintenance costs, unlike heavy equipment.
Let's check some basic bakery equipment out:
Measuring Tools in Bakery
Measuring tools come in all shapes and sizes. Like the name suggests, they are used for taking accurate measurements of dry and wet ingredients like flour, sugar, milk.
Uses: You can use dry measuring cups to weigh dry ingredients such as spices, salt, flour, sugar, or baking powder.
Size: Comes in four standard sizes – ¼ cups, ⅓ cups, ½ cups, and 1 cup.
Types: Measuring cups are available as plastic, stainless steel, and porcelain.
Uses: You can use a liquid measuring cup to measure wet ingredients like milk, yogurt, or water.
Size: Usually comes with graduated measurement lines and in liters, centiliters, and milliliters.
Types: Liquid measuring cups are usually made of transparent plastic or glass.
Uses: You can use measuring spoons to measure small quantities of wet or dry baking ingredients.
Size: Measuring spoons typically come in sets of four and six spoons with different measurements and sizes.
Types: Measuring spoons some in plastic, metal, and other materials.
Baking Scale and Spoon Scale
Uses: Baking scales and spoon scales can accurately measure food ingredients conveniently.
Size: Baking scales and spoon scales are digital scales and come in grams and ounces. Depending on the type of scale you buy, baking scales have different measuring capacities.
Types: Baking scales are either digital with automatic measurement features, or analog.
Uses: You can use a timer to time the preparation of ingredients and cooking of the food.
Size: A timer typically has a countdown of up to 60 minutes.
Types: Digital timers, Egg times, and so on.
Uses: An oven thermometer is used to measure the temperature of oil, water, and food when using the oven. It can also be used to measure the temperature when melting chocolate.
Size: The temperature range is usually between 60 degrees and 580 degrees Fahrenheit.
Types: Digital instant-read, dial oven-safe thermometer, digital fork thermometer, and dial instant-read thermometer.
Mixing Tools in Bakery
Mixing tools are used for mixing ingredients, either wet or dry. Some can also be used to store and knead doughs. There are both manual and automatic mixing tools available.
Uses: Electric mixers are automatic mixing tools that can automate the mixing process. They can be used to whisk eggs and other wet ingredients. When a dough hook is attached, you can also use an electric mixer to knead dough.
Types: Handheld electric mixers and stand mixers.
Uses: Mixing spoons come in different lengths and are used for mixing ingredients in containers. They are easy to use and can make life easy for any baker.
Types: Metal mixing spoons, wood mixing spoons, porcelain mixing spoons, and plastic mixing spoons.
Uses: You can use mixing bowls to prepare and mix dry and wet baking ingredients. Mixing bowls are also used to store and knead doughs.
Types: Glass mixing bowls, stainless steel mixing bowls, plastic mixing bowls, and porcelain mixing bowls.
Uses: Similar to electric mixers, whisks are used to mix ingredients smoothly.
Types: French whisks, balloon whisks, flat whisks, spring whisks, and ball whisks.
Uses: Spatulas are flat and flexible mixing tools used for mixing and scraping mixing bowls and plates.
Types: Silicone spatula, stainless steel spatula, rubber spatula, and plastic spatula.
Preparatory Tools in Bakery
Preparatory tools and equipment in the bakery are used for the initial preparation of baking ingredients. They are essential parts of your bakery kitchen that you need to open your bakery business.
Uses: Bakers use flour sifters to sieve or separate clumps from flour, baking powder, and other powder-like ingredients. A flour sifter ensures that your ingredients are an even consistency.
Types: Battery-operated flour sifters, electric flour sifters, and stainless steel flour sifters.
Uses: Pastry brushes are used to spread butter, egg wash, or oil on food.
Types: Silicone bristles pastry brush and natural bristles pastry brush
Uses: A cake tester needle helps bakers to check if the cake is baked well without causing damage to the cake. They can also be used as cake decorations and exhaust needles. Although you can simply use a long toothpick to check for the doneness of cakes.
Types: Stainless steel cake tester
Uses: Baking paper is usually lined in baking pans so food can bake better and to prevent the food from touching the pan directly. Using baking paper will also save you a lot of cleaning troubles.
Types: Silicone mat. Parchment paper, wax paper, aluminum foil, and plastic wrap.
Uses: Pastry mats are non-stick surfaces that bakers use for kneading, forming, and cutting dough.
Types: Silicone pastry mat, marble pastry mat, and granite pastry mat.
Uses: Egg separators help to separate egg yolks from egg whites.
Types: Easy squeeze silicone egg separators.
Uses: A cooling rack allows air to flow and circulate around baked food. This ensures that the food is cooled when out of the oven.
Types: Stainless steel cooling racks, chrome-coated cooling racks, and aluminum cooling racks
Cutting Tools in Bakery
Cutting tools are essential items you need to start your bakery business.
Uses: Graters are used for shredding food ingredients, such as lemon, cheese, carrots, and other items, into smaller sizes.
Types: Box grater, rasp grater, rotary grater, spice grater, hand grater, and electric grater.
Uses: A pastry blender or dough blender is used for blending solid ingredients like butter, or lard, into flour or other powder-like ingredients to create a dough.
Types: Stainless steel pastry blender.
Uses: Cookie cutters are molds with sharp edges that are used for cutting dough into different shapes.
Types: Plastic cookie cutters, aluminum cookie cutters, stainless steel cookie cutters, and copper cookie cutters.
Uses: Dough cutters are used for slicing and portioning out dough.
Types: Thin plastic dough cutters, rubber dough cutters, and stainless steel dough cutters.
Uses: Pastry cutting wheels are used for cutting dough and making patterned edges.
Types: Manual pastry cutting wheel, multiple wheel pastry cutter.
Uses: A knife is used for cutting and chopping large food items into smaller pieces. You can also use knives for peeling and coring fruits and vegetables.
Types: Paring knife, carving knife, Boning knife, and bread knife.
Cake Making and Decorating Tools
No bakery equipment list is complete without cake making and decorating tools.
Uses: A cake turntable stand is used for smoothing sheets of icing, applying buttercream, pipe frosting, and decorating cake.
Uses: A cake board is a flat and thick board used for supporting and carrying cakes.
Types: Corrugated cardboard, marble cake board
Uses: A cake leveler is used for cutting and leveling cakes in order to ensure stability.
Types: Ring cutter with knife and ring cutter with single or more thin blades.
Uses: Cake spatulas are used for smoothing out icing and buttercream on the surface and sides of cakes.
Bakery Machine Equipment
This category reviews the heavy machinery and equipment you need in your bakery. Let's check out what they are.
Refrigerators and Freezers
Uses: Freezers and refrigerators are used to chill and preserve foods and baked goods.
Types: Chest freezers, drawer freezers, upright freezers, portable freezers, walk-in freezers, and cube freezers.
Uses: Ovens are the soul and life of every bakery. They are used to bake and cook pastries, cakes, pies, breads, cookies, and other baked goods.
Types: Combination ovens, convection ovens, conventional gas ovens, conventional electric ovens, toaster ovens, and microwave ovens.
Uses: Display cases are used to show ready-to-eat, ready-to-buy, and freshly baked goods.
Types: Bread case, display bin, cake stand, and bulk bin.
Uses: A bakery or restaurant POS platform streamlines your bakery management processes. With a POS system, you can easily integrate restaurant inventory management software, invoice management software, and order management solutions to run your business.
Bakery Safety Equipment
Complying with food safety regulations is a must, if you want to stay in business. Besides consumer food safety, it is important to keep your employees safe from bakery accidents as well. Here's a list of safety equipment to purchase for your bakery:
Gloves
First aid kit
Aprons
Bar rags
Food grade chemical supplies
Chemical safety data sheets
Date labels
Sani-buckets
3 Things to Consider Before Buying Equipment for Bakery
So, what should you do before buying bakery equipment and tools? Let's see.
Budget
It is important to draw out your budget and plan. As a new business owner, it is easy to get carried away by all the expenses that comes with opening your business. Drawing out your business process flow and plan will help you know exactly what you want to do and how you want to do it.
With a financial plan in hand, you can deduce if your business will survive with the money you have at hand or if you need to get a loan. Your budget will also determine the type of bakery equipment you'll purchase at first.
Most basic bakery equipment are not too expensive. However, heavy machines and commercial bakery equipment will definitely cost a lot of money.
So, lay it all down and review carefully. You can research equipment prices and consider buying second-hand equipment from wholesale distribution companies that sell bakery equipment.
Baking Equipment Supplier
There are a lot of baking equipment suppliers. However, it is important to work with a supplier that sells high quality tools and equipment. It is also crucial that your supplier can balance affordability and quality without compromising.
The best place to find suppliers is using a wholesale marketplace online like BlueCart. You can also reach out to wholesale dropshipping suppliers and vendors that work directly with baking equipment manufacturers.
Before making a purchase, check if the equipment as a warranty. When working with international suppliers, ask beforehand about the shipping and handling fee.
Cost of Maintenance
Another important thing to consider before purchasing bakery equipment is the cost of maintenance. Every machine breaks down after a while, but, the cost of maintaining it should not send you out of business.
Be prepared to do regular servicing and maintenance of the machinery. You can also read about the care of the equipment.
Frequently Asked Questions About Bakery Equipment
The bakery equipment you get for your business will determine your work output and the general productivity of your business. Here are some frequently asked questions about bakery equipment and tools.
How Much Does Bakery Equipment Cost?
The cost of bakery equipment depends on the cookware and category of equipment you want to purchase. Basic bakery equipment like spatulas and mixing bowls can cost between $12 – $50. Heavy bakery equipment like baking ovens and refrigerators runs between $350 – $15,000. To minimize costs, you can buy used bakery equipment from trusted suppliers.
What Is the Most Important Equipment in a Bakery?
There are a lot of bakery equipment. However, here's a list of the most important baking tools:
Measuring cups
Mixers
Rolling pin
Oven
Refrigerator
Knives
Mixing bowls
Safety equipment
How Much Money Does it Take to Start a Bakery?
To start a bakery business, you need between $10,000 and $50,000. However, this amount depends on your other overhead expenses, equipment costs, rent, and, labor costs.
Now For the Final Touches
With this essential bakery equipment list you can create a full proof plan and draw a budget. The equipment you purchase will determine how much you can make from your bakery business – get the best ones!
Streamline order management, grow your bottom line, and get back hours of your time with BlueCart. Schedule a demo now:
Beginning bakers and seasoned pros, gather around. This list of supplies will help you pros to organize your baking equipment once and for all. If you're a new baker, start setting up your kitchen with our list of must-have equipment, along with pastry tools to get you through any kind of sweet recipe. And if you have a cake recipe or trickier pastry recipe you're trying to perfect, make sure to take a peek at our list of nonessential tools that are nice to have and will make your process faster, easier, and more impressive.
Must-Have Baking Tools
1. Measuring Cups (Liquid and Dry) and Spoons
Baking is all about precision, so having a full set of measuring cups and spoons on hand is a must. Don't think you can get by with just one type of measuring cup, you'll need both dry and wet measuring cups to accurately measure all your ingredients. Keep these tools in a spot that's easy to reach, because you'll use them all the time.
Most measuring spoon sets include a tablespoon, teaspoon, ½ teaspoon, and ¼ teaspoon, while most measuring cups come in sets with one cup, ½ cup, ⅓ cup, and ¼ cup. For liquid measuring cups, you can get by with a 1-cup size, but it can be handy to have 2-cup and 4-cup ones in your cupboard, too.
2. Wooden Spoon(s)
One wooden spoon is enough, but this tool is so handy, it can sometimes be helpful to have a couple around. Wooden spoons are so sturdy they're great for all kinds of stirring. You'll be able to use them with even the thickest, heaviest doughs. Just remember to handwash them when you're done, so they don't end up cracked.
3. Rubber Spatula/Scraper
We're willing to bet you reach for your rubber spatula more often than you think. This tool is ideal for scraping the last bit of batter or dough out of a pan or for scraping all the nooks and crannies out of your jam jar. They're also super handy for folding together wet and dry ingredients. Note that silicone scrapers will stand up to high heat better than rubber ones.
4. Spatula/Metal Turner
When you need to transfer fresh-out-of-the-oven cookies to a cooling rack or serve a piece of cake from a 9×13 pan, there's no tool better than a good old spatula. Having one with a thin metal blade can be especially handy, and it'll be flexible enough to easily slide under anything you're moving without squishing the dough or crumbling your cookies.
5. Pastry Brush
This handy tool has more uses than you may realize. It can be used to grease a pan before pouring in cake batter, to coat the dough with melted butter or egg wash, or to "paint" milk on top of a pie crust. Especially if you're a frequent baker, this is a must-have!
Yes, you can use a wire whisk to beat together a few eggs, but it's handy for other things too. In particular, it's one of the best ways to thoroughly mix together dry ingredients. It's also great for stirring together a homemade custard.
7. Kitchen Scissors
Whenever we're making a recipe, baking or otherwise, we always have our kitchen shears handy. They can be useful in so many ways, including snipping fresh herbs, cutting parchment to fit a pan, or even just opening stubborn packages and containers.
8. Rolling Pin
Rolling pins are definitely most useful for rolling out pie crusts, cookie dough, and puff pastry, but there are other ways you can put this tool to work in your kitchen. For example, if you don't have a food processor and need to crush cookies, chips, or crackers for a recipe, just put them in a sealable bag, then use your rolling pin to smash them to pieces.
9. Fine-Mesh Sieve
You can put a sieve to work in a lot of different ways. For bakers, it's probably the most useful for sifting dry ingredients or adding a dusting of powdered sugar to a finished pan of brownies or cookies. This piece of baking equipment also comes in handy for draining wet ingredients (especially small items, like quinoa, that would slip through a regular colander) and removing seeds from raspberry sauces.
10. Chef's Knife
If you have only one knife in your whole kitchen, make it this one. A chef's knife is great for slicing, dicing, chopping, and mincing just about any ingredient your recipe calls for.
11. Paring Knife
12. Rectangular Baking Pan
A regular baking pan (13x9x2 inches) is a definite must-have. You can use it for so many sweet things—cakes, brownies, cookie bars—and, of course, it has savory uses as well. If you pick only one baking pan to stock your kitchen with, make it this one.
13. Round Cake Pan
You should have two of these baking essentials on hand, since you'll need more than one to make a layer cake. Round cake pans come in 8-inch and 9-inch diameters, but either size will work with most layer cake recipes—just be sure you have two pans in the same size.
14. Loaf Pan
Banana bread, pumpkin bread, zucchini bread—all of our favorite homemade bread recipes call for a loaf pan. If you also want to bake your own yeast bread, it'll pay to have two of these pans in your cupboard.
15. Pie Plate
Yes, the most obvious use for a pie plate is baking your own homemade pies, but there are other desserts that make this baking item useful to have around. You also can make savory pies for dinner, like meatball pie and taco pie, along with some frozen icebox pies. They work well as shallow dishes for dredging and breading meats, too.
16. Square Baking Pan
You don't always need to make a huge pan of brownies, and when you just want a small batch, you'll need a square baking pan. Cookie bars, cakes, brownies, and corn bread are just a few of the baked goods you can create using this baking essential.
17. Wire Rack
No one wants soggy, overbaked cookies and cakes for dessert, so make sure you've got a wire rack on hand. This handy tool allows air to circulate around baked goods as they cool, so they'll taste just as great at room temperature as they did fresh from the oven.
18. Muffin Pan
Use this pan to create a tray of freshly-baked muffins for a brunch, or to make cupcakes for your next birthday celebration. You can also use a muffin pan for many savory recipes, like meatballs, pizza cups, and mini meat loaves.
19. Baking Sheet/Cookie Sheet/Sheet Pan
You definitely need at least one cookie sheet in your kitchen, and you'll probably benefit from having two. If you do opt for two, we recommend having one with a raised side to bake your cookies, which allows proper air circulation and even baking. This pan is essential for baking almost any kind of cookie, but baking sheets and sheet pans with raised sides are also useful for cookies and work best for sheet pan dinner recipes.
20. Hand Mixer/Stand Mixer
While you don't need to go all-out on a fancy stand mixer, you do need at least a hand mixer in your arsenal of baking essentials. It will make mixing doughs and batters faster and easier, and it's by far the best way to mix ingredients into a thick, stiff cookie dough without tiring out your arm.
21. Parchment Paper
If you haven't been baking with parchment paper, start now. Spreading a sheet over your pan before you start baking will make cleanup much easier and prevent your baked goods from sticking to the pan. Avid bakers might consider investing in a reusable silicone baking mat to be more eco-friendly.